« December/January Mandolin Sessions: Minor Mysteries | Main | Strings revisited »

January 23, 2012 | New Yamaha THR10 Desktop Amp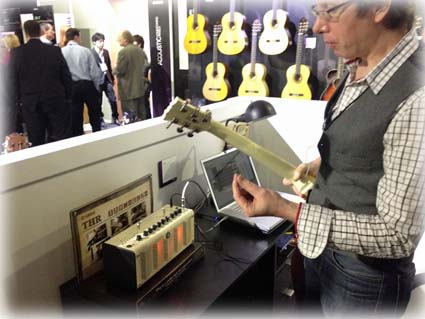 Creative environments have certainly changed over the years. Many reach their muse picking on the front porch, but others have taken a more high tech approach with desktop computer recording (let alone iPhone and iPad) capabilities. Laying down tracks or simply looking for a premium aural environment for the electric player you can use headphones, but some prefer the physical space of a small room to interact with the sound, not a huge amp, but a cubical of quality and a reasonable amount of crystalline monitoring. The new Yamaha THR series THR10 and THR5 just introduced at Winter NAMM is a great solution.
We saw these demonstrated at the Yamaha booth, and if there was one "Gotta Have" toy we couldn't live without at this year's Winter NAMM show, it's this one. Metal exterior with an almost vintage aesthetic, the 6 pounds (2.8 kg) of clear 10 watt stereo power is just enough to give the ambient experience needed in an intimate space. It includes 5 common amp models with 8 popular effects and tuner, and can either be powered by battery (for ultimate portability) or AC adapter, AND a quality 1/8" audio input for your MP3 player or iPod. If that weren't enough, you can use the mini USB cabling to hook into your personal computer with Cubase AI (included). We asked about iPhone/iPad apps, and though none are available right now, it's not unlikely Yamaha or a 3rd party will be out with that soon.
This amp is very much the start of a category unto its own. Not a stage amp, not a monitor, it's a third category, like the iPad was a whole new "lifestyle" computing philosophy. You sit with your iPad on your living room couch or plane ride and do things with it you wouldn't with your desktop or your laptop. The THR10 is similar in that you could leave this out as permanent "furniture" in your practice workspace, an aesthetic that fits both recreational and formal living environment, with a complete functionality unlike any other device.
The THR10 will street price around $299, with its smaller sister THR5 (5 watts, less EQ controls) at around $199.
Perfect for the electric mandolinist!
More details from the manufacturer. Yamaha THR10 Desktop Amp
i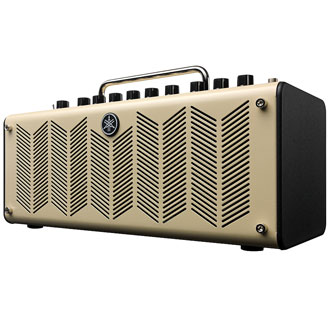 THR10 packs in everything you need from an off-stage amp. Real tube amp tone and dynamics, great sound at low volume, genuine hi-fi quality stereo playback and full recording capabilities. Prepare to spend a lot more time playing.

Posted by Ted at January 23, 2012 6:04 AM