« New electric mandolin from Fender | Main | New from Gypsy's Music--Teardrop Celtic model »

January 7, 2012 | Eva Holbrook and Shel. Live at Lightning 100.
It's been almost five years since we saw the lovely Holbrook sisters from the band SHEL live in Omaha, Nebraska. We caught up with the Fort Collins, Colorado ladies, Sarah, Hannah, Eva, and Liza in this terrific live acoustic radio performance captured by WRLT radio in Nashville between recording sessions.
Eva has been one of our favorite young talents, her writing and vocal skills, creative instrumental orchestrations, and of course her dynamic electric mandolin prowess is legendary.
Video link: Shel - Ruby Slippers - Live at Lightning 100

Eva's solo album review: The Very Last Dream
More from SHEL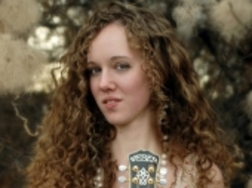 Posted by Ted at January 7, 2012 6:02 AM