« August 2013 | Main | October 2013 »

September 29, 2013 | Mandolin Cafe interview: JazzMando site creator
Everything you always wanted to know about the creation of the JazzMando site and its author. (Maybe less...)
The origin of FFcP. Jingles. Dogs...
We've been blessed with a full feature interview over at the world's most important online mandolin resource, the Mandolin Cafe with its creator, Scott Tichenor.
Honored to be a part of the team there!
Read: Ted Eschliman Interview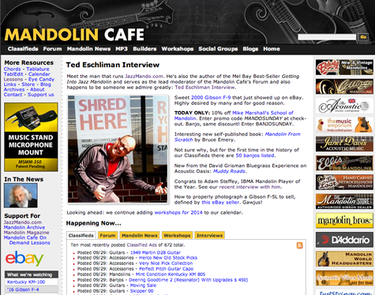 Posted by Ted at 9:29 PM

September 27, 2013 | Shuffle. Articulation. Drag.
In last week's Tips & Tricks column, we looked at the not-so secret ingredients of swing. You can say it all boils down to swing, but we maintain putting you in touch with these three measurable musical attributes can speed you down the path of what eventually becomes an intuitive manifestation.
If you haven't already read this, check out the article: Don't mean a thing. If it ain't...


Also, check out this terrific piano lesson give to former talk show host, Dick Cavett by jazz piano legend Oscar Peterson:

More Oscar Peterson
Posted by Ted at 4:36 AM

September 25, 2013 | Five Years! Getting into Jazz Mandolin
It's our 5th year anniversary since the book "Getting into Jazz Mandolin" was released (September 2008). We have some great free resources here on the site, but if you really want something in your hands that is both systematic and comprehensive, consider a purchase of "GiJM." It remains a strong Mel Bay best-seller, something you should consider for purchase, either for your own personal use or you can spread the love and give it as a generous and thoughtful gift to your mandolin playing friends.
This will bring joy and fretboard mastery to anyone willing to invest a little time in the FFcP based exercises as they are laid out in the context of unraveling jazz. However, this is not just for the jazzer, anyone seeking to leave the world of cowboy chords, let alone the key of G, will find this approach useful.
If you wanted an extra electronic copy to carry around with you, it's now available direct from Mel Bay in an eBook format.
Lots of great information for you here around the site, but there's nothing like the compact, portable access to the book's methodic approach.
Purchase information: Getting into Jazz Mandolin
Purchase information: Amazon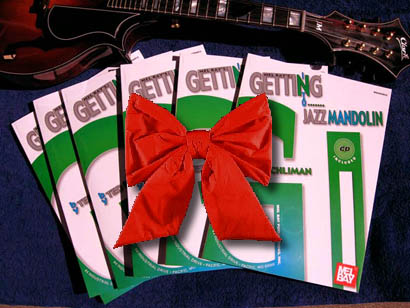 Getting into Jazz Mandolin
What this book offers:
A clear, consistent course progression. The player starts with something already known (the Major Scale) and develops patterns (FFcP) that can be intuitively expanded. Jazz variations are introduced incrementally, and by the end of the book, the player should be relatively comfortable improvising.
Clear language. Advanced music theory is explained with unpretentious prose, uncomplicated terminology and good humor. A mandolinist could simply play through all the exercises, and at very least, get more proficient with the fretboard, at best build some higher level jazz vocabulary.
Supportive Audio. The 70-minute CD included gives audio examples, as well as limitless opportunity to practice and jam with the exercises. An additional web-based audio page on the JazzMando.com website, Webtracks" offers expanded opportunity to hear and interact with even more sound tracks and professional artists' interpretations of the music and concepts.
Tab and notation. Exercises are written in both standard notation and mandolin tablature to communicate proper fretboard positions. Fingering markings are included to suggest effective finger placement.
Posted by Ted at 5:25 AM

September 23, 2013 | How to Grow a Band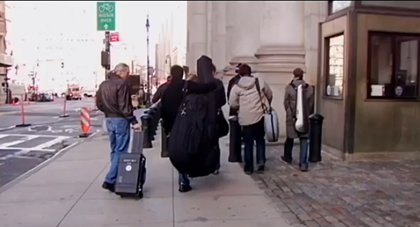 We want to put a plug in for filmmaker Mark Meatto's compelling documentary of the origins of Chris Thile and his current bandmates, the Punch Brothers. If you have a Netflix account, it's available to download for free, or you can rent or purchase it through Amazon Instant Video.
The movie prequels with some of the early prodigy days of the string musician, as well as the transition out of the grammy winning Nickel Creek phase of his career, and chronicles its early trajectory as the quintet found its genre-bending voice.
Highly recommended!
Video Link: How to Grow a Band

Posted by Ted at 5:33 AM

September 21, 2013 | JazzMando Proplec picks
A pick can be one of the least expensive ways to enhance your tone. There are expensive boutique picks available, as well as some mass-produced cheapies, but we're admittedly biased in our resounding preference for the signature JM Proplec pick. Rounded three-corner shaped, modest bevel, durable acetate material, and double-sided hot stamped for confident grip, we'll toot our own horn and claim it's one of the best values on the mandolin accessory market. At industry standard 1.5 mm, it's just the right thickness for string thwacking power but not too heavy to control.
Ocassionally the question comes up. Is the JazzMando pick any different than the standard D'Andrea Proplec 346 pick? The answer is yes, and even though the hot-stamped double siding seems trivial on the surface, this added feature really has a major impact on the tactile memory of your fingers, the interactive geo-position grip of the pick. Having the uniform surfacing in the same stamping from pick to pick is a great help in maintaining a consistent communication with the pick. Is it the same for everyone?
You be the judge. Try it yourself.
If you want a sample, you can send a self-addressed stamped envelope in the mail. Hit our Contact menu above to request the address.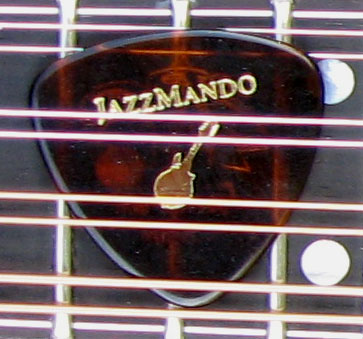 Prescription strength tone at an over-the-counter price...
Order quantities: Signature JM pick
More thoughts on picks: Top Picks

Posted by Ted at 8:08 AM

September 19, 2013 | Mike Marshall and Choro Famosa
Debuting in 2004, one of our favorite CDs was Mike Marshall and Choro Famosa's brilliant self-titled project. The music is timeless, recorded a decade after his classic Brazil Duets CD (1996, reissued in 2005), Marshall teamed up with some of Southern California's best choro musicians. Punctuated with powerfully pure clarinet and rolling percussion line, his tone is as beautiful as ever.
This is truly a must-have for your personal collection.
Purchase CD: Mike Marshall and Choro Famosa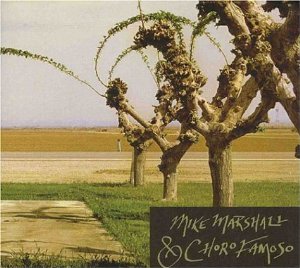 Posted by Ted at 12:42 PM

September 17, 2013 | Clark OMs on deck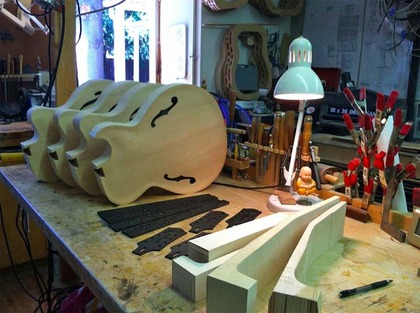 Click image for closeup
Almost as beautiful in progress as the finished product. Austin Clark recently posted some compelling pictures of the latest batch of guitar-bodied octave mandolins in his Facebook page. Forging 20-1/4" scale and 12- to 14-fret neck, the Idaho builder has developed an international reputation for quality OMs, in addition to his already stellar F- and A-bodies and 2-points.
One of our favorites of course, is our commissioned guitar-bodied Clark JM 5-string, also gaining popularity.
See more of his pictures of these and his other instruments on his Facebook page.
Link to OM album.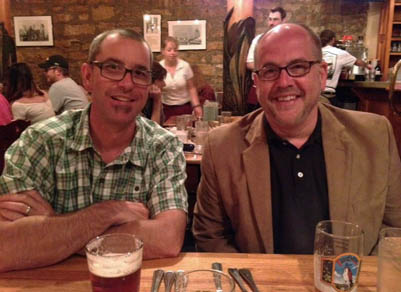 Austin Clark & Ted Eschliman
Builder website: Clark Mandolins
Posted by Ted at 5:18 AM

September 15, 2013 | MMQ Members play on Smart Mando Quartet
We had the chance to personally audition the craft of Hailey, Idaho builder Lawrence Smart in 2010 with a delicious fanned-fret 10-string mandolin and it was a treat.
Documented on YouTube is a rare opportunity to experience his "Element" quartet at this summer's Healdsburg Guitar Festival in the capable hands of the Modern Mandolin Quartet. Not often you get to enjoy the literal range of a builder's work in a stage performance like this.
Members of the Modern Mandolin Quartet, Dana Rath, Paul Binkley, Adam Roszkiewicz with substitute mandolinist, Lief Karlstrom.
Link: Modern Mandolin Quartet Members play on Smart Mando Quartet


Read past review: Lawrence Smart 10-string Mandolin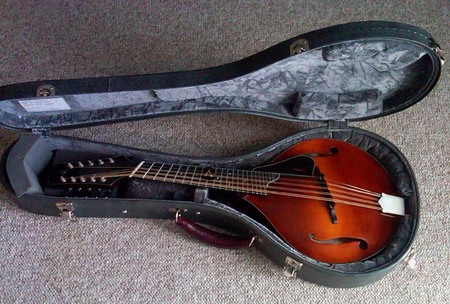 Posted by Ted at 7:08 AM

September 13, 2013 | Contoocook couple produces masterful mandolins
Great article in the Concord (New Hampshire) Monitor on the east coast's premier mandolin building couple Max & Lauri Girouard. Their craft has achieved nearly viral online popularity, selling at major retailers in Southwestern US and internationally at The Acoustic Music Company in Brighton UK.
From the article: "In 2011, Lauri suggested Max quit his day job at a Cambridge biotechnology company, where he ran precision equipment used to manufacture pharmaceuticals, so he could focus on building instruments. He took his wife's advice.
"'Surprisingly, even in a bad economy, we've got our head above water and we're in a stage of growth,' he said. 'The business is in the first couple of years, and we're turning a profit already. That's really good.'"
Read more: Contoocook couple produces masterful mandolins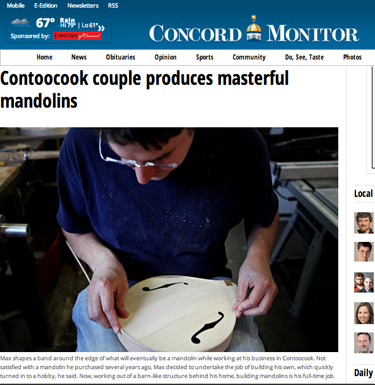 Read review: Girouard A-body mandolin (jazz-voiced)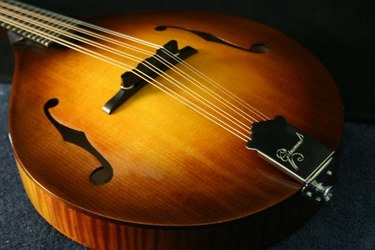 Posted by Ted at 5:32 AM

September 11, 2013 | New Shoreline Gold JL Smith Tele-mando
Nothing like the full-bodied quack of a Fender Telecaster guitar, and the iconic silhouette makes a great electric mandolin. One of the best kept secrets in today's "Tele-mando" building world is the work of Florida builder John Smith. His "JL Smith" 4- and 5-string instruments in their classic finishes are a fantastic workhorse instrument, capable of rich tone and built with impeccable quality control.
We've had our own JL Smith Sea Foam Green 5-string since early 2009. John recently introduced a classic Fender color, his version of Shoreline Gold. His 4-strings start at $799, and you can choose from a number of pickup options. Smith enjoyed a glowing review in Vintage Guitar Magazine in October 2009.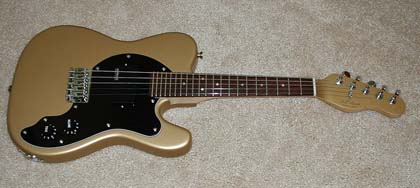 If you've been looking for "next step" electric up from a Mandobird or Saga especially with a Telecaster like sparkle and crack, this would be a great choice.
Builder website: JL Smith Mandolins
Read JazzMando Review: JL Smith 5-string Electric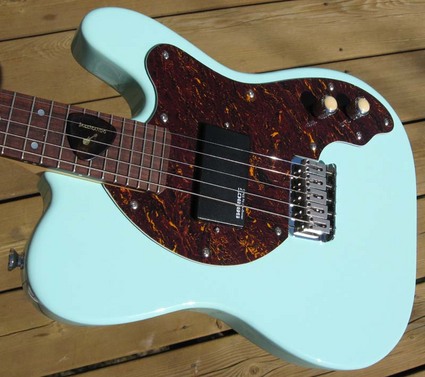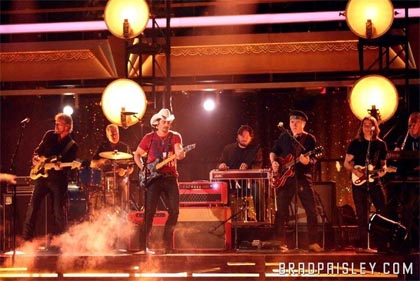 Brad Paisley Band. Far right, JL Smith 5-string electric mandolin
Posted by Ted at 5:28 AM

September 9, 2013 | George Barnes and the Jazz Renaissance Quintet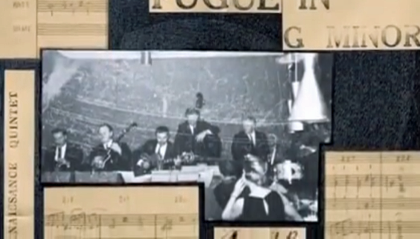 This 1962 recording of Bach's Fugue in G Minor is a treat for both classical and jazz enthusiast, proving the timeless appeal to one of the greatest musicians to ever compose.
From the performance notes: "Jazz guitar great George Barnes often cleansed his musical palate with Brahms, Beethoven, Mozart, Respighi, Ravel, Moussorsky, Tchaikovsky, Wagner-- and Bach. It was the Bach Fugue in G Minor, played by organist Virgil Fox under the baton of Eugene Ormandy that inspired him to explore its joy (a hallmark of George's playing) and complexity (a reflection of his musical genius) in the context of his Jazz Renaissance Quintet."
The six men who participated in this recording -- all close friends, masters of their art, and highly-respected in the New York studio scene -- were guitarist Bucky Pizzarelli (a longtime friend and studio colleague of GB, Bucky's classical training made him a natural for this piece), clarinetist Hank D'Amico (who honed his craft with Benny Goodman and Tommy Dorsey, among others), bassist Jack Lesberg (well-known for his work with Louis Armstrong, but just as much at home under the baton of Leonard Bernstein), and drummer Cliff Leeman (invaluable to such diverse bandleaders as Glenn Miller and Raymond Scott, and a key member of The World's Greatest Jazz Band). The original session, which took place on 25 February 1962 at A&R Recording in New York City, was recorded and remixed by engineer Phil Ramone, who began as a classically-trained violinist and became the world-renowned producer of such iconic recording artists as Paul Simon, Billy Joel, Ray Charles and Frank Sinatra."
Video Link: George Barnes and the Jazz Renaissance Quintet


Posted by Ted at 5:43 AM

September 7, 2013 | For Once in My Life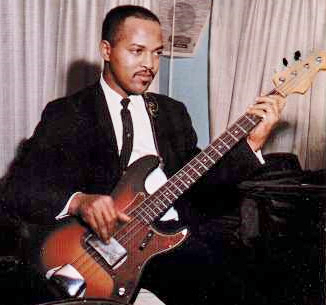 Nothing like listening to the hypnotic drive of an "in the pocket" bass player. The following video cleverly goes one better giving you a visual experience of a classic Stevie Wonder version of "For Once in My Life," isolating the incredible bass line.
Video link: James Jamerson; For Once in My Life

Posted by Ted at 5:56 AM

September 5, 2013 | Bottom of the (Minor) 9th
In a five year-old archive Mandolin Sessions archive file, we introduced some cool alternate voicings for minor chords. Instead of plain milk chocolate, we showed how to make them more flavorful. More Ghirardelli, if you will.
Here's an audio sample:

Minor 9th progressions
Like that?
Starts in D Minor, moves through the Circle of 5ths and the majority of the measures played are only 3-note chords; they sound pretty complete, especially if you were to add a bass part. Very simple fingerings, and the article will introduce you how to play them.
Read Mandolin Sessions archive article
Fresh Comp'n Part 1: Bottom of the (Minor) 9ths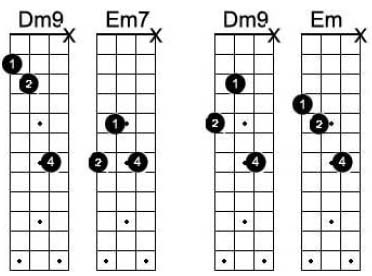 Posted by Ted at 5:24 AM

September 3, 2013 | Review; Weber Gallatin Soprano Mandolin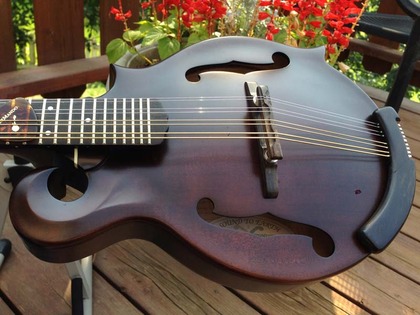 You think tensioning up an E string is frightening, try taking it up a 4th higher! Such is the case with the new Weber Soprano mandolin CGDA tuning we had the privilege of reviewing the past couple weeks.
The good news is we only broke one string, and better, drew no blood. Seriously though, the "sopranolin" was a treat and we have some nice things to say about the experience. Every mandolinist should have the opportunity to put one of these in his/her hands.
Get "high" with us as we wax poetic on Bruce Weber's personal Gallatin F-body soprano mandolin, now available through through the Weber dealer network.
Read review: Weber Gallatin Soprano Mandolin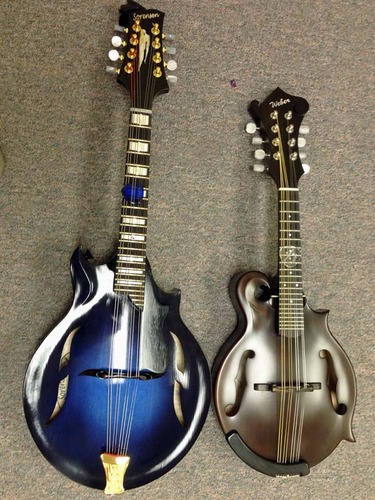 Size comparison with the Sorensen Sprite JM
Posted by Ted at 5:12 AM

September 1, 2013 | Shakira "Gypsy"
Okay. We'll confess we're not a card carrying member of the Shakira fan club, but we always dig catching the mandolin in the context of stage renditions of pop hits. The following video is an example of one. It was fun to see an Ovation mandolin, in our opinion one of the best stage mandolins ever produced.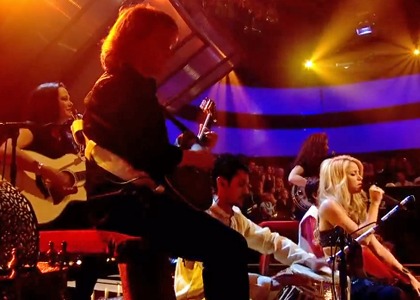 Video link: Shakira - Gypsy live performance

We'll give the super star and America Idol judge some credit for being as good a harmonica player as Bob Dylan.
Posted by Ted at 4:50 PM