« Review; Weber Gallatin Soprano Mandolin | Main | For Once in My Life »

September 5, 2013 | Bottom of the (Minor) 9th
In a five year-old archive Mandolin Sessions archive file, we introduced some cool alternate voicings for minor chords. Instead of plain milk chocolate, we showed how to make them more flavorful. More Ghirardelli, if you will.
Here's an audio sample:

Minor 9th progressions
Like that?
Starts in D Minor, moves through the Circle of 5ths and the majority of the measures played are only 3-note chords; they sound pretty complete, especially if you were to add a bass part. Very simple fingerings, and the article will introduce you how to play them.
Read Mandolin Sessions archive article
Fresh Comp'n Part 1: Bottom of the (Minor) 9ths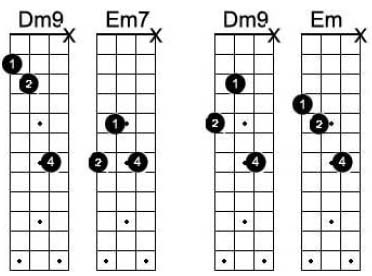 Posted by Ted at September 5, 2013 5:24 AM