« July 2013 | Main | September 2013 »

August 30, 2013 | Genre Hopping with Chris Thile
While we may not be all that wild about an overly overt audience member response even in the context of a stuffy symphony audience (even if it is Chris Thile), the artist has some very good points about the stimulating power of great art. The solo mandolin "genre hopping" demo is a rich 4 1/2 minutes of fun in the following Wall Street Journal Live video.
Always love watching him play.
Video link: Genre Hopping with Chris Thile

---
Is it just us, or does Chris look more and more like Quentin Tarantino every day?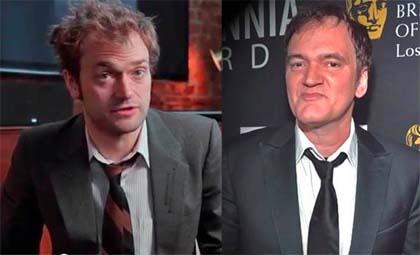 Posted by Ted at 5:19 AM

August 28, 2013 | Sorensen SXS mandolin. Sneak peak.
We were sworn to secrecy, but somehow the leaks have already got out and there are even videos floating around the blogosphere. Must be some kind of NSA thing...
California builder Steve Sorensen has a new model in prototype right now that shows great promise, the SXS, and we're looking forward to getting our hands on one this fall. His blue-burst Sprite JM has become a first call stage instrument for us.
Drool warning:
---
Read December 2012 review
Sorensen Sprite JM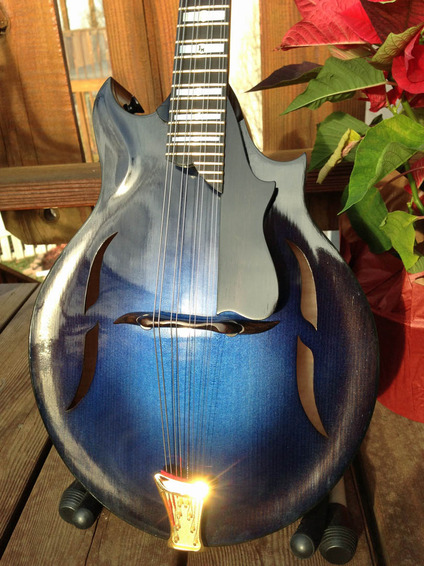 Follow on Facebook: Sorensen Mandolin & Guitar
Posted by Ted at 5:52 AM

August 26, 2013 | Chord vamp lessons
We were privileged to have our five-part chords series on Vamps including in the Mandolin Cafe resources pages last fall. We'd featured two FFcP introductory lessons a number of years ago, so this was a long time coming. If you haven't already, be sure to review them, not necessarily in sequence because we tried to write each lesson as a stand alone page. It's also important to internalize all the inversions, which isn't really that much with just three positions.
It's most effective to learn chords within a context of groups of chords. Fingers remember better when there's a sense of context, how each block differs from the next, which finger needs to move and/or resolve to the next. It's also important to learn good principles of smooth voice leading, and these popular groups of chords have been intentionally design with minimal movement.
Remember, a chord progression doesn't have to be sophisticated to sound sophisticated.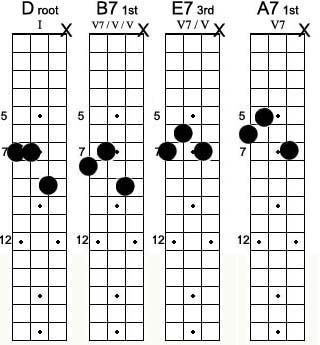 Once you're comfortable with the lessons--triads, passing chords, V7 leading and minor mode variations, take them to the next level by spreading the to other keys. You can run the Circle of Fifths or other transposition tricks, or even better, take songs you are working on and use these around the tonal centers expressed in these songs. In other words, "Autumn Leaves" which floats around E minor and G major would give you the opportunity to work out the vamps in those two keys before you start jamming to them. "There Will Be Another You" would use a lot of Eb and Ab major, so why not precede working on the song working on Vamps based around those keys?
We've given you the tools.
Now go build something fun.
View links: Vamps Lessons on Mandolin Cafe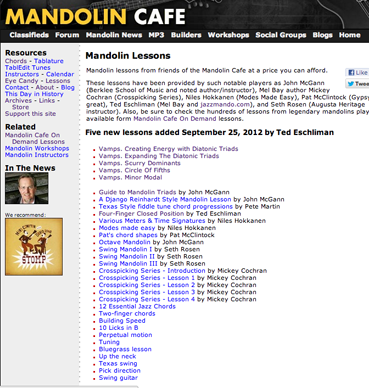 Posted by Ted at 5:30 AM

August 24, 2013 | Free PDF: "Tenor Book"
Primers on tenor guitar/mandola/tenor banjo aren't exactly plentiful, so we're delighted when we came across over in the Mandolin Cafe forum, a valiant effort to document the basics of CGDA tuning. Especially when they are offered as a free resource.
Below is a valiant effort by tenor enthusiast Sean Ryder worth downloading. note names, chords, Circle of 5ths, blank chord templates, you'll find a lot you can use here!
Link: Sean Ryder Tenor Book PDF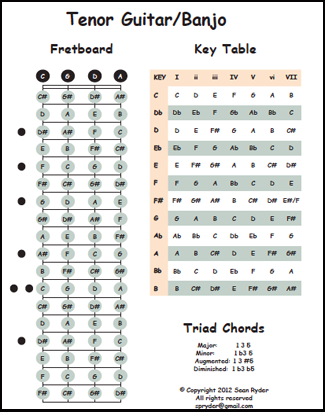 This resource is freely distributed for personal use, not intended for profit.
Enjoy!

Posted by Ted at 5:54 AM

August 22, 2013 | Does Jazz Put the Sin in Syncopation?
"We have all been taught to believe that "music soothes the savage breast," but we have never stopped to consider that an entirely different type of music might invoke savage instincts."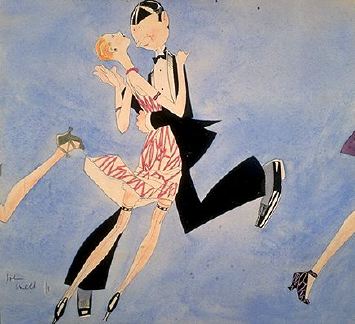 The following are excerpts from an intriguing 1921 "Ladies Home Journal" article on the effect of jazz on popular culture observed and written by Anne Shaw Faulkner, head of the Music Department of the General Federation of Women's Clubs. You might not be aware of this but there were some alarming concerns about the way jazz was impacting society:
"That jazz is an influence for evil is also felt by a number of the biggest country clubs, which have forbidden the corset check room, the leaving of the hall between dances and the jazz orchestras--three evils which have also been eliminated from many municipal dance halls, particularly when these have been taken under the chaperonage of the Women's Clubs.
"In almost every big industry where music has been instituted it has been found necessary to discontinue jazz because of its demoralizing effect upon the workers. This was noticed in an unsteadiness and lack of evenness in the workmanship of the product after a period when the workmen had indulged in jazz music."
She continues:

"What of jazz? It is hard to define jazz, because it is neither a definite form nor a type of rhythm; it is rather a method employed by the interpreter in playing the dance or song. Familiar hymn tunes can be jazzed until their original melodies are hardly recognizable. Jazz does for harmony what the accented syncopation of ragtime does for rhythm. In ragtime the rhythm is thrown out of joint, as it were, thus distorting the melody; in jazz exactly the same thing is done to the harmony. The melodic line is disjointed and disconnected by the accenting of the partial instead of the simple tone, and the same effect is produced on the melody and harmony which is noticed in syncopated rhythm. The combination of syncopation and the use of these inharmonic partial tones produces a strange, weird effect, which has been designated "jazz."
"The jazz orchestra uses only those instruments which can produce partial, inharmonic tones more readily than simple tones--such as the saxophone, the clarinet and the trombone, which share honors with the percussion instruments that accent syncopated rhythm. The combination of the syncopated rhythm, accentuated by the constant use of the partial tones sounding off-pitch, has put syncopation too off-key. Thus the three simple elements of music--rhythm, melody and harmony--have been put out of tune with each other. "
Its Effect.
"Jazz originally was the accompaniment of the voodoo dancer, stimulating the half-crazed barbarian to the vilest deeds. The weird chant, accompanied by the syncopated rhythm of the voodoo invokers, has also been employed by other barbaric people to stimulate brutality and sensuality. That it has a demoralizing effect upon the human brain has been demonstrated by many scientists.
"The human organism responds to musical vibrations. This fact is universally recognized. What instincts then are aroused by jazz? Certainly not deeds of valor or martial courage, for all marches and patriotic hymns are of regular rhythm and simple harmony; decidedly not contentment or serenity, for the songs of home and the love of native land are all of the simplest melody and harmony with noticeably regular rhythm. Jazz disorganizes all regular laws and order; it stimulates to extreme deeds, to a breaking away from all rules and conventions; it is harmful and dangerous, and its influence is wholly bad.
"In a recent letter to the author, Dr. Henry van Dyke says of jazz: "As I understand it, it is not music at all. It is merely an irritation of the nerves of hearing, a sensual teasing of the strings of physical passion. Its fault lies not in syncopation, for that is a legitimate device when sparingly used. But 'jazz' is an unmitigated cacophony, a combination of disagreeable sounds in complicated discords, a willful ugliness and a deliberate vulgarity."

As you were...
Read entire article: Does Jazz Put the Sin in Syncopation
Posted by Ted at 5:03 AM

August 20, 2013 | Don Stiernberg; Cinema Acoustique
We uncovered this long lost video in our archives from five years ago.
What happens when a hotel fire alarm creates a chance meeting in a stairwell with a television film maker on assignment for Bobby Flay (the Food Network) and three acoustic jazz musicians from Skokie? Well of course, the opportunity to capture on video an impromptu performance of Autumn Leaves. What else?...
This seven minute YouTube performance kicks in around 0:45. Featured are Steven Briggs, local "Swing Shift" duo partner, Dario Napoli, and JazzMando mentor Don Stiernberg. this "Suite 711" from the Skokie Hampton Inn is a video adventure.
Enjoy: Suite 711

Purchase must-have recordings: Don Stiernberg jazz mandolin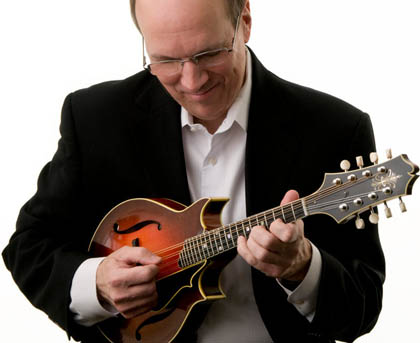 Posted by Ted at 5:34 AM

August 18, 2013 | Let's go outside. New FFcP exercise...
There's blowing. Then there's the appearance of "blowing" but crafting intentional, magical art that sounds like the artist is playing something way "outside," yet strangely appropriate.
When you listen to the pros improvise, they pull melodic nuggets that seem out of nowhere, but when you look under the hood, there are really just using basic tools that allow them to break the harmonic context on the surface. Then they're back.
Understand--the good ones know what they are doing. They never completely lose awareness of where they are harmonically.
Folk musicians improvise over what more or less amounts to a basic major scale. Often it's a mode, but even that can be traced back from that same major scale. In our recent Tips and Tricks column, we took a magical scale, the second most important scale to jazz, the Augmented 11th scale, and showed how you could learn the four FFcP versions and then easily inject this into any V7 section of the song.
There's a great exercise, a simple two-page PDF included you'll want to download and fool around with. One more sharp arrow to carry in your improvisational quiver.
Read article: Fresh improv; spicing up your V7 chords
Download PDF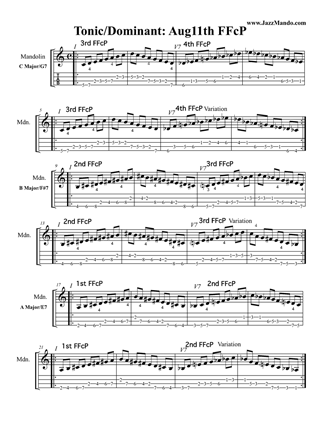 How about some accompaniment:

'V7 I' Audio
Posted by Ted at 7:28 AM

August 16, 2013 | Reminiscing the Rigel Q-95
Eight years ago we had the privilege of working with Rigel Mandolins developing "Gypsy Q" Q-95 mandolin. We probably weren't the first to come up with the notion of adding a lap point to a traditional A-body to form the the "Q" shape, but taking one of the most innovative 20th century twists on the mandolin body, the signature radiused-side Rigel A+ Deluxe, and adding this ergonomic feature made perfect sense to us.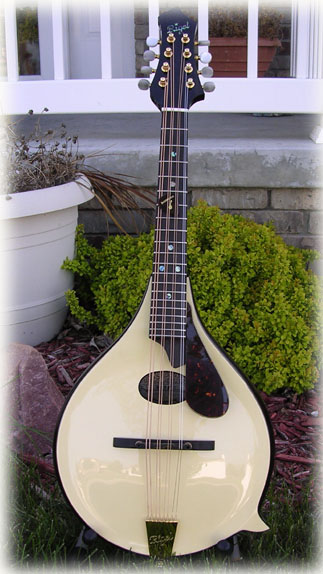 An A-body you could put on your lap and not slide off. Hmm.
Though the Rigel Instruments are no longer being mass produced in their Vermont headquarters, they are still available on a custom order basis through the company's founder, Pete Langdell. It is possible to have them handmade through the Rigel Instrument website.
Link: Rigel Instruments
Our story: Rigel Gypsy Q
History: How to make a Rigel Mandolin
Posted by Ted at 5:51 AM

August 14, 2013 | Dogs Playing Mandolin
Why not?
We introduced this six classic design years ago and reissued the shirt in our Cafe Press store.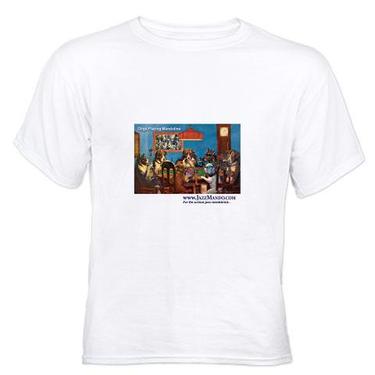 $21.99
Available in white and also in colors in Women's cut.
Check out the rest of our merch, including mugs, stickers, tote bags, and bibs.
Link: JazzMando Cafe Press Store
That's right, we said bibs.
Posted by Ted at 6:17 AM

August 12, 2013 | Update: Enhanced Jason Anick website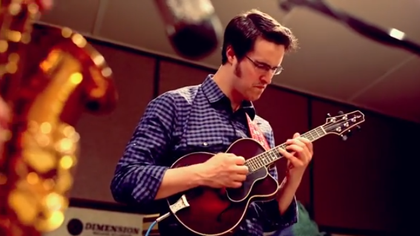 We've enjoyed watching the explosive career track of mandolinist/violinist Jason Anick. You'll see why too, when you view the introductory video embedded on his landing page, a documentary on the upcoming highly anticipated recording, "Tipping Point."
Video Link: "Tipping Point" - Official EPK - Jason Anick (Jazz Violin & Mandolin)

Tour the new Jason Anick Website
Posted by Ted at 5:29 AM

August 10, 2013 | Fighting the brain
Here you go:
Ab Bb C Db Eb F G Ab
The above sequence of notes would be terrifying to a beginning folk/bluegrass musician, all those notes with flat signatures behind them. "Does my mandolin even come with a Db on it?"
If we stepped back and realized through all the flats, this pattern spells out an Ab major scale, the intimidation level might go down a little, though it's rarely one you'd play in a jam session. Completely foreign.
If you played the following A B C# D E F# G# A, especially knowing it's a basic A major scale, you'd be very comfortable. If we told you to play the same set but move everything down a fret, you'd be okay with that.
Easy peazy.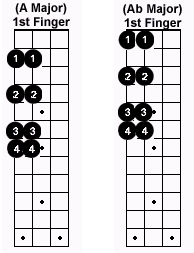 This simple trick is the essence of our FFcP approach to mastering the fretboard. Open strings are great for beginning fret musicians, but there's a wide open real estate of Ebs and Gbs out there to create beautiful music, and when you focus on the four FFcP patterns, the chromatic world is literally at your fingertips.
The following graphical puzzle illustrates how you can let your brain short circuit. Follow the instructions and say out loud the color, not the text. Not as easy as you might think. Unless you change the way you look at it.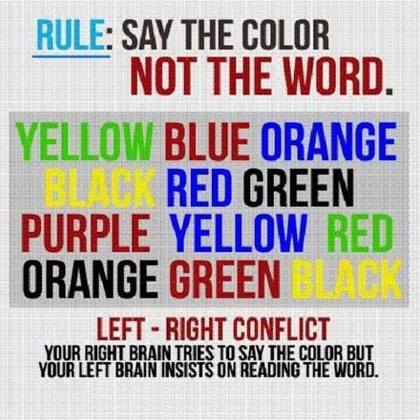 Don't let the expanded world of accidentals (flats and sharps) distract you. There's more simplicity there than you might think. You just have to change your mindset.
Read more about FFcP.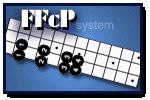 Posted by Ted at 5:34 AM

August 8, 2013 | Tom Bekeny; Jazzolin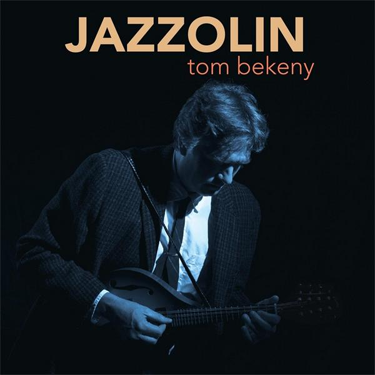 We've thoroughly enjoyed listening to the fresh instrumental release of mandolinist/fiddler Tom Bekeny, aptly titled "Jazzolin." The Iowan transplant (now California based), described as "adventurous" by current band lead Kathy Kallick has toured with many bluegrass bands (Laurie Lewis, Bill Evans) and has produced a DVD, "Beginning Mandolin."
Impressive is despite his decades of deeply established folk/bluegrass roots, the project sounds more like a jazzer playing a mandolin than a mandolinist playing jazz. Tom must immerse himself in the vocabulary of traditional jazz, he captures the nuance of phrasing and articulation like a veteran saxophonist and the delicate but supportive comping of a battle hardened session jazz guitarist. The arrangements are harmonically complex but never a challenge to the ear.
Master of fret and pick, the instrumentalist attacks each track with a balance of confidence and gentle abandon. One would do well to study and steal some of his chord-melody ideas, particularly in the clever opening chorus to "All the Things You Are." Artfully arranged and professionally executed, "Jazzolin" should be on your short list of jazz mandolin audio acquisitions.
Tracks
01 Lady Be Good
02 Y.I. Blues
03 The Way You Look Tonight
04 What's New?
05 Ode to Billie Joe
06 Moose the Mooche
07 All the Things You Are
08 Si Tu Savais
09 St. Thomas
Purchase information:
Amazon
CD Baby
iTunes
Artist bio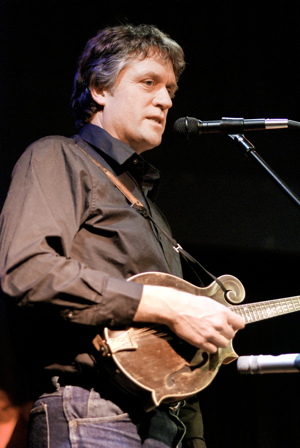 .
Posted by Ted at 8:44 AM

August 6, 2013 | NS Micro Tuner review

We first caught these at Summer NAMM last year. The new D'Addario Planet Waves NS Micro headstock tuner has been out since, and we have one pictured below mounted one on one of our favorite instruments, the Clark JM-5 Signature 5-string.
The headstock on this instrument was a challenge for the older NS Mini in placement. We were able to make it work well, but it took some mental energy to get it just so. Once there, we never felt the need to move it. The NS Mini became a virtual part of the instruments. Really, these tuners are so inexpensive, you might as well keep them on each and every one of your instruments (stores in the case), especially if you enjoy the more stealth feature of its design.
We're happy to say the slightly smaller Micro is even more flexible. We enjoy the new reversible "flip button" that allows you to place it on the headstock upside down with out having to physically change the display. New to this is a center that changes the orientation with software.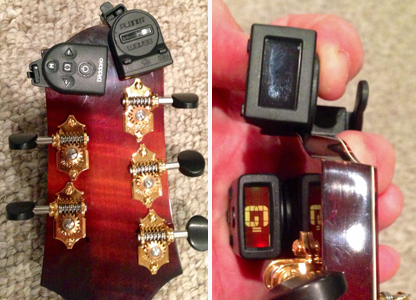 NS MIcro size comparison with previous gen NS Mini. Even smaller footprint.
The 2nd generation of the NS Mini offered a three color approach to tuning, not only the green "you're there" and red "you're not there," it added a yellow "almost there." This newer offers the same but we felt the responsiveness was even better on this newer NS Micro. The power automatically shuts off in 10 minutes, but you'd still want to manually turn it off to save battery. We never had problems finding CR2032 replacement batteries for our old ones, though.
An added bonus is the unit's metronome. It's flash only so it's handy for silent tempo starts (no sound), not so much as a pedagogical tool.
We think D'Addario has a winner here again. With a street price barely $15, you can't go wrong.
More information: PW-CT-12 NS Micro Tuner
Purchase: Dietze Music
Posted by Ted at 4:59 AM

August 4, 2013 | Chris Thile's Bach: Sonatas & Partitas 1
We've pre-ordered ours (avaliable August 6, 2013).
This one's a no-brainer. If you enjoy Bach AND are a Chris Thile fan, there's no question you'll crave this fabulous Nonesuch Records project for your library.
Purchase: Chris Thile; Bach: Sonatas & Partitas 1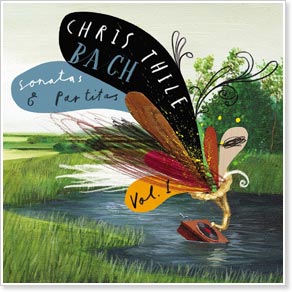 Listen to a sample track on iTunes.
Read archive : Why I like Chris Thile
Posted by Ted at 8:01 AM

August 2, 2013 | Having a ball (end, that is...)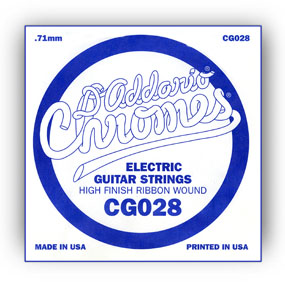 For those who seek a flatwound ball-end mandolin string, fear not...
Even though the JM10B JazzMando strings have been discontinued here, there is talk of them being ressurected by another string dealer. We'll certainly keep you abreast of developments once they become official.
Meantime, there are two sources for flatwound ball end electric, one our "sister" website from Martin Stillion www.Emando.com, who sells ball-end, loop-end, and an assortment of bronze and steel for some of the rest of the mandolin family in tested gauges. Visit his site for pricing information.
The other is to build your own out of D'Addario flatwound Chrome Series electric guitar strings. We sold these prior to the JM10B for Mandobirds, and eventually throug our work with D'Addario became the starting point for the D'Addario flatwound FW74 loop end strings.
These are the gauges the plain steel singles and flatwound Chrome singles come in. This is great if you want to customize your own, and since they are guitar scale, you should be able to use these in longer mandolin family instruments like mandola, octave mandolin, bouzouki, and mandocello.
Keep in mind your set will be made of plain singles, generally sold in 10-packs, and the wound ones in 5-packs.
Plain steel strings
Item # Product
PL007 Single Plain Steel 007
PL008 Single Plain Steel 008
PL0085 Single Plain Steel 0085
PL009 Single Plain Steel 009
PL0095 Single Plain Steel 0095
PL010 Single Plain Steel 010
PL0105 Single Plain Steel 0105
PL011 Single Plain Steel 011
PL0115 Single Plain Steel 0115
PL012 Single Plain Steel 012
PL013 Single Plain Steel 013
PL0135 Single Plain Steel 0135
PL014 Single Plain Steel 014
PL015 Single Plain Steel 015
Flatwound strings
Item # Product
CG020 Single XL Chromes Flat Wound 020
CG022 Single XL Chromes Flat Wound 022
CG024 Single XL Chromes Flat Wound 024
CG026 Single XL Chromes Flat Wound 026
CG028 Single XL Chromes Flat Wound 028
CG030 Single XL Chromes Flat Wound 030
CG032 Single XL Chromes Flat Wound 032
CG035 Single XL Chromes Flat Wound 035
CG038 Single XL Chromes Flat Wound 038
CG040 Single XL Chromes Flat Wound 040
CG042 Single XL Chromes Flat Wound 042
CG045 Single XL Chromes Flat Wound 045
CG048 Single XL Chromes Flat Wound 048
CG050 Single XL Chromes Flat Wound 050
CG052 Single XL Chromes Flat Wound 052
CG056 Single XL Chromes Flat Wound 056
CG065 Single XL Chromes Flat Wound 065
CG075 Single XL Chromes Flat Wound 075
CG080 Single XL Chromes Flat Wound 080
You can read about availability and pricing here:
Ball-end plain Singles
XL Chromes Flat Wound Singles
Read about using these to build your own custom loop-end sets.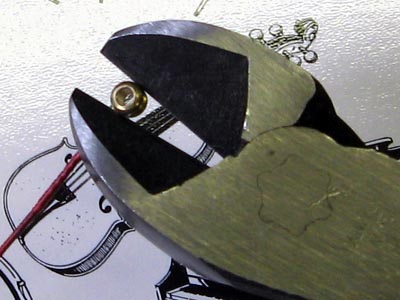 Posted by Ted at 10:03 AM