« Reminiscing the Rigel Q-95 | Main | Don Stiernberg; Cinema Acoustique »

August 18, 2013 | Let's go outside. New FFcP exercise...
There's blowing. Then there's the appearance of "blowing" but crafting intentional, magical art that sounds like the artist is playing something way "outside," yet strangely appropriate.
When you listen to the pros improvise, they pull melodic nuggets that seem out of nowhere, but when you look under the hood, there are really just using basic tools that allow them to break the harmonic context on the surface. Then they're back.
Understand--the good ones know what they are doing. They never completely lose awareness of where they are harmonically.
Folk musicians improvise over what more or less amounts to a basic major scale. Often it's a mode, but even that can be traced back from that same major scale. In our recent Tips and Tricks column, we took a magical scale, the second most important scale to jazz, the Augmented 11th scale, and showed how you could learn the four FFcP versions and then easily inject this into any V7 section of the song.
There's a great exercise, a simple two-page PDF included you'll want to download and fool around with. One more sharp arrow to carry in your improvisational quiver.
Read article: Fresh improv; spicing up your V7 chords
Download PDF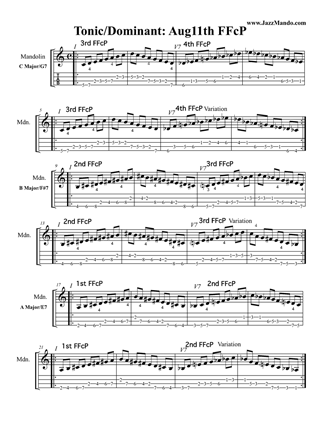 How about some accompaniment:

'V7 I' Audio
Posted by Ted at August 18, 2013 7:28 AM