« June 2013 | Main | August 2013 »

July 31, 2013 | About D'Addario FW74 flatwound mandolin strings...
Our supply of JM11 strings is officially depleted. It's premature to give details, but there is a good chance another reputable string dealer will be resurrecting the the line with Labella in the near future. We'll keep you posted.
Meantime, we're resurrecting a story of our own. With the recent street pricing increase of Thomastic flatwounds near $45 a set, this is timely information. Many be be unaware of the D'Addario option, the FW74 set, a string we partnered up with the leading string maker several years ago in developing. From our October 7th, 2010 archives, "The origin of a new string: D'addario FW74."

---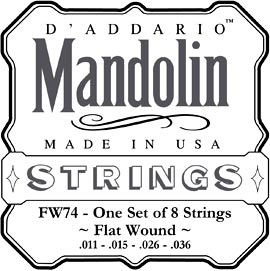 D'addario has just introduced a new flatwound mandolin string, and what is not widely known is the impetus and virtually all the intial design started right here with the research staff at JazzMando. We were already well into the successful development and marketing of the Labella JM11 strings, but felt the mandolin market needed a more worldwide distribution chain of economical flatwound strings. Labella was content to make us the wholesale distribution, and we just didn't want to take on that responsibility.
We were already experimenting with the D'Addario chrome series electric guitar single strings on the Epiphone Mandobird and found these strings to be effective on an acoustic mandolin when the balls were removed. We experimented with gauges and discovered we did not have to stray too far from what was working on the JM11s. In essence, D'Addario was already making the FW74, it was a matter of making them with loops instead of balls.
We met with the marketing department three years ago to pitch the idea. Keep in mind a thriving company like D'Addario always has projects on the drawing board for a huge number of stringed instruments, from electric guitar to ukulele, to oud, and once we sold them on the idea, it took many months to actually make it into development. It wasn't as simple as taking the balls off, they had to rework production, because winding a loop end string is still wound differently in manufacturing.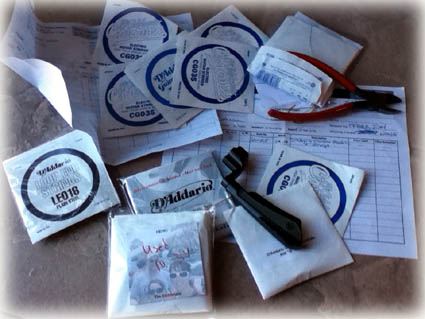 We wanted to see if they could reduce the cost and the inflexibility of playing area length by removing the silk wrapping found on the Labella and Thomastik strings. (Labella requires them in their process.) We found some tailpieces prevented the JM11s from working on all mandolins, and we wanted to remove that barrier with extra length. Unfortunately, it appears the cost savings is not drastic on these, as street pricing is landing in the same range as the Labella, still virtually half the cost of the Thomastik.
FAQ:
Who will be using these?
Flatwound strings are great for closed position fingering, something we advocate strongly. Classical, jazz, and more advance folk playing in the upper frets are arguably more comfortable with these strings, and reducing fatigue in the lower. The tigher wrap also produces more string fundamental, at the expense of bright zingy overtones. These are not a "drone" string, rather they are meant to be played in complex chromatic passages with smoothness and ease.
How much are these in comparision to other flatwound strings; why are they so expensive?
One misconception we need to address is the cost. In actuality, you should get anywhere from two-four times the play out of these with the corrosion resistant tighter winding. This means like the EXP series, if the cost is twice as much, you're getting more life at the same value. (Street price generally $13-15 depending on shipping.)
Are these meant to replace the Thomastik TI series?
Our goal was to come up with a string that was about 1/3 the price and we didn't quite make that. They will be about half, though. They aren't the same string. Some may argue they aren't as rich or warm, but many will like the fact that they actually pack more "ping." In the tonal spectrum, they are closer to sounding like a roundwound string, but maintain the flatwound feel.
Is the A flatwound?
This is a personal preference, and cost issue. Initially we wanted to keep the price down, but we have been prototyping an wound 17 gg string. That's still a little heavy for this set, but they might be available as singles. For now, the FW74 have a plain A string. This worked fine for the majority of our thousands of JM11 customers.
Is this the only gauge they come in?
Initially, we proposed three different sets. We wanted a medium set and a medium light mandolin, but more importantly we wanted an octave mandolin/mandola set. The marketing department wanted to move a little more slowly by introducing one unit at time. This was the compromise, but we hope the other two will come along as these prove market viability.
Do you plan to discontinue the Labella JM11?
Despite the attempts to make this like the JM11 strings, they simply aren't the same. They're not better, not worse, just a tad different. Yes, we've had some issues with E loops, D string cores, and winding lengths, but this three centuries-old company is still run by a family, and each situation was graciously remedied promplty without question and free replacements directly from Labella. The JM11s have the silk winding for locking down in the tuners more quickly, and they still have a bit more complex warmth. With our free shipping, they will probably be the same price as the FW74 if you only order a couple sets at a time and don't need to add more items to your online shopping cart. Frankly, we don't expect the FW series to affect JM sales. We even encourage our existing customers to experiment.

---

Understand, we have no financial involvement with D'addario Strings, no royalties, no commissions, no consulting fees. Not even free strings. Our goal on this whole project was to make more manufaturers aware of the growing need for the availibilty of flatwound strings. We talked with other string makers, specifically DR Strings, GHS, and Dean Markley, and no one but D'addario would tackle this project. We're already experimenting with other gaugings, including a wound 17 and wound 13, but there's always a distance in time between prototyping and market introduction. Again, our biggers concern is the gap in octave mandolin and mandola strings. We think we have a solution in a set that will fit both instruments, but D'addario needs confidence in their viablity.

We're open to your suggestions. Understand there is no single set that will make everybody happy, but we want to accommodate a broad range of preferences. The FW74 is just the beginnning.

Special thanks to the staff and crew that helped test these, Charlie, Jamie, Barb, Terry, David, and Levi.

Posted by Ted at 6:10 AM




July 29, 2013 | The end of JazzMando JM11 strings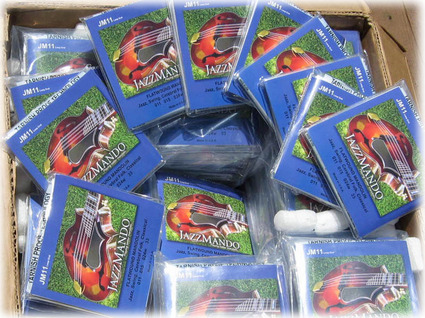 With bittersweetness, we're announcing that our signature JM11 flatwound mandolin strings will no longer be produced. These have developed a dedicated following, and though over the eight years we've sold them we've had a few batch quality issues, they've met the test of satisfaction and reorder.
APOLOGIES, BUT THE BULK CLEARANCE SPECIAL IS OVER. WE ARE OFFICIALLY SOLD OUT OF JAZZMANDO STRINGS, NOW.


For those that do like loop-end flatwound strings, we recommend the D'Addario FW74 string set. We worked personally with D'Addario R&D team in developing the best gauging. We're confident they will replace the JM11 strings adequately.

Posted by Ted at 3:23 AM

July 27, 2013 | Bach (plus!) for Mandolin
Many share our inarguable opinion that some of the greatest music ever penned was by J.S.Bach three centuries ago. The combination of math and aesthetic, the simple line within a complex harmonic progression, this musical genius shaped Western European forever. Any jazzer would do well to poke around under the hood of his mastery of the 'ii V7 I' progression. As a matter of fact, you'll find about any Bach lends itself to a swing feel.
We recommend the advanced beginner pick up Robert Bancalari's"J.S. Bach for Mandolin" as a starter. A compilation of suites, sonatas and partitas, the music fits the fingers and the mandolin's 5ths tunings. They can be therapeutic for the soul as well as a noble challenge for the serious hobbyist's sight-reading skills.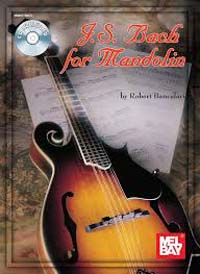 Purchase information: Mel Bay J. S. Bach for Mandolin
While you're poking around there, check out Oliver Waitze "Bach for Mandolin".
Purchase information: Oliver Waitze "Bach for Mandolin"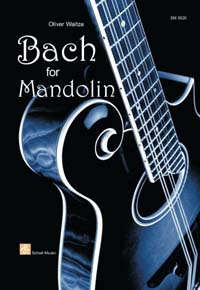 ---

If you want to go deeper into classical, these books are worth a look, too:

Mel Bay Baroque Music for Mandolin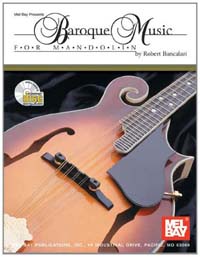 Mel Bay Renaissance Solos for Mandolin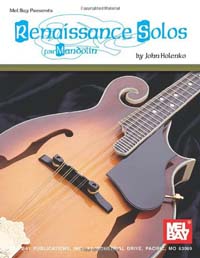 The Classical Mandolin (Early Music Series)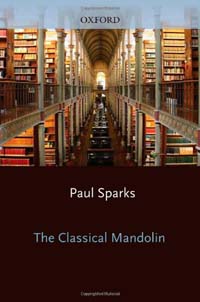 Vivaldi Concertos for Mandolin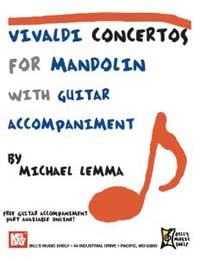 Telemann for Mandolin: 72 Compositions from the Works of Georg Philipp Telemann Arranged for Solo Mandolin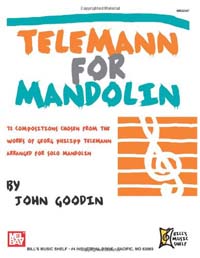 Go for Baroque!
Posted by Ted at 11:22 AM

July 25, 2013 | Mandolin Chord "Playing Cards." 3-note chords
Last spring we added to our Merchandise Center a unique package of four portable cards you can study and conveniently stow in your case. Premium 80 lb. glossy full-color 5.47" x 4.21" postcards, we include complete variations of popular blocks you can move up, down, and across the freeboard to get the most out of your accompanying. They're also a handy tool to use as a starting point for chord melody.
Better range and timbre, more versatility in transposing, this approach to building basic chords off your thickest strings helps with less shrill background comping, and keeps you out of the way of the soloists. They're also terrific as a building block other 5th tuned instruments including mandola, mandocello, tenor guitar, and 5-string mandolins.
All 3-note 7th Chord inversions, Major, Minor, and Dominant
Major 'ii V7 I'
Minor 'ii7b5 V7 i'
'I vi ii V7'
These are the basic harmonic "sentences" of jazz and popular music. Very important to have in your fingers!

Available in sets of four cards, priced at $5.00 each ($6.50 for Canadian and International shipping).
Purchase information: JazzMando 3-note Mandolin "Playing Cards"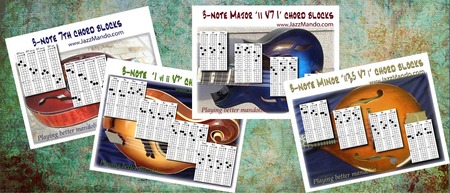 Posted by Ted at 6:53 AM

July 23, 2013 | John Reischman/John Miller take the Road again.
We're compelled to pile on the praise for John Reischman's latest project "Road Trip," somewhat a sequel to his jazz/Latin collaboration with John Miller a decade ago "Bumpy Road." This has been a good summer for new acoustic string jazz with Dave Gross' Mandology, The Eicher's "Mischievous Swing," and of course Don Stiernberg's "Mandoboppin'."
A bountiful summer harvest!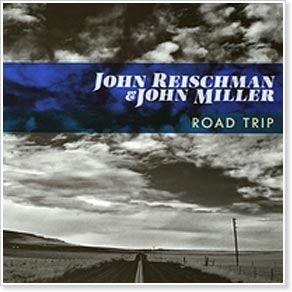 "Road Trip" broadens the sonic spectrum introduced on Bumpy Road with some upright bass (Cary Black) and adds some light percussion (Joel Litwin) on a few of the tracks. We're also treated with a taste of the tonemeister's mandola chops on a couple songs.
From the first track, that signature Reischman sound will grip you. His ability to extract mandolin tone is arguably unparalleled, and though he's known more for his bluegrass chops, his mandolin sings with Miller's complex accompanying jazz vocabulary. This whole recording is an absolute delight!
Required addition to your mando-centric library.
Purchase: Road Trip
John Rischman on tone.
Posted by Ted at 6:32 AM

July 21, 2013 | Builders for the 21st Century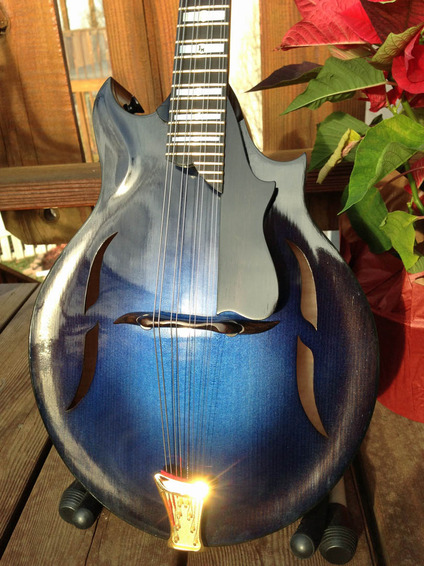 Blueburst Sorensen Sprite JM
We like to prime the pump of innovation when it comes to mandolin design and craftsmanship. Our "Builders for the 21st Century" page offers hand on reviews of world premier woodsmiths that have either tweaked classic designs or traveled completely new directions. To get a review, we require a two week trial to photograph and put the instrument through its paces, and in the last ten years, we've had some incredible instruments through the lab.
Some of these did not make it back and became a permanent part of the JazzMando studio.
Take some time to check out some builders you may not be aware of.
Link: Builders for the 21st Century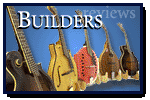 Posted by Ted at 6:48 AM

July 19, 2013 | Jayme Stone's Room of Wonders
The acoustic string jazz stylings of Rocky Mountain virtuoso banjo/composer Jayme Stone popped up on our radar about five years ago. His work is most compelling, his untraditional approach to the instrument in unique ensemble settings fascinating.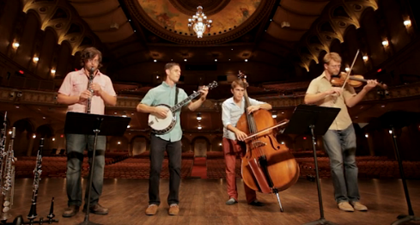 The 2008 Juno Award winner has an excellent performance of Bach's Contrapunctus IX from the art of the Fugue captured on video.
Enjoy!
Video Link:
Jayme Stone's Room of Wonders - Contrapunctus IX from the Art of the Fugue

Purchase music of Jayme Stone
Posted by Ted at 5:12 AM

July 17, 2013 | Think Music Heals? Trombone Player Begs To Differ.
Outside of an occasional finger pricked changing an E string or heavily cramped hands from contorting too many G chops, you have to admit, playing the mandolin is a relatively safe endeavor. Especially compared to the story of trombonist Scott Bean who tells of 15 years of a barking cough that for 15 years went undetected as the result of his playing.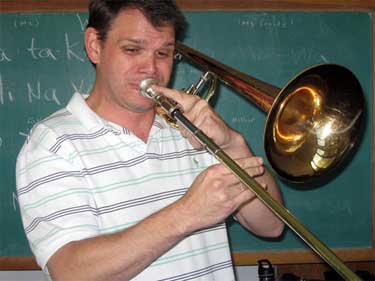 Playing a wind instrument can be a dirty, dirty game.
Read the NPR story: Think Music Heals? Trombone Player Begs To Differ.
Hypersensitivity pneumonitis.
And we thought M.A.S. was bad...

Posted by Ted at 4:51 AM

July 15, 2013 | Clark JM art
We were asked recently about the "red" mandolin at the top of the page (we call it Cherry Cola-burst), what has become the icon signature of the website. For those unacquainted, the instrument is a signature Clark JM 2-point mandolin we commissioned five years ago from Boise, Idaho builder Austin Clark, and is now part of our reviews in our builder spotlight.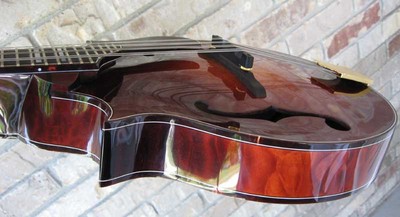 The instrument is featured on the JM11 strings, and available in our 3-note 7th Chord mug and Circle of 5ths Clock in the Cafe Press JM Logo Store.
Read Review: Clark JM 2-point mandolin
Purchase: Circle of 5ths Clock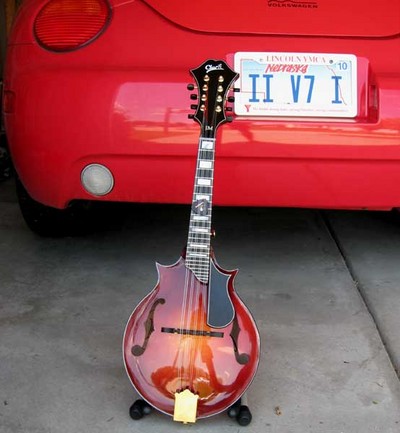 Posted by Ted at 5:12 AM

July 13, 2013 | Summer NAMM 2013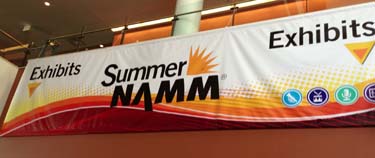 The summer incarnation of the NAMM convention is significantly smaller in stature than the uber-circus winter show, but it's a terrific opportunity for independent dealers to hook up with their industry partners, both on the wholesale and retail side. We enjoy going, and routinely try to shoot some pictures of new mandolins and accessories.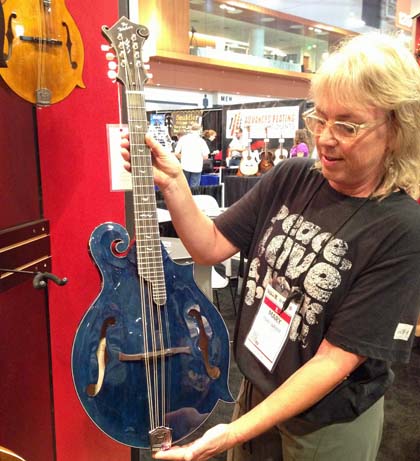 Mary Weber
This year, we had extended time with the folks at Weber: Bruce, Mary, and Cameron, and were pleased to see the expansion of several of their body types into the larger body shapes, mandolas and octave mandolins, and of course the new tiny sopranolin. (Still being promised one for review soon). The partnership with Two Old Hippies and Breedlove appears to offer new resources for Bruce to continue to innovate.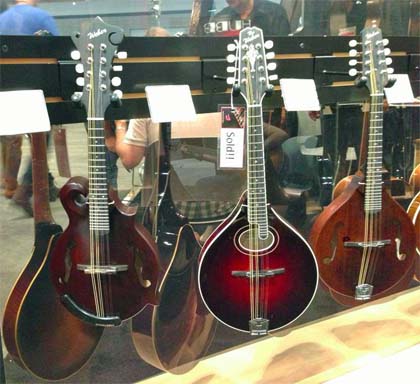 Sopranolin on the left
We were also pleasantly surprised to hook up on the trade show floor with Tom Ellis who had some of his new Pava line in addition to an array of inlay work, which surprisingly is the majority of his business focus. We stopped in for pictures from the usual suspects, Eastman, Music Link, and Saga--you can see some of these pictures in our message thread at the Mandolin Cafe.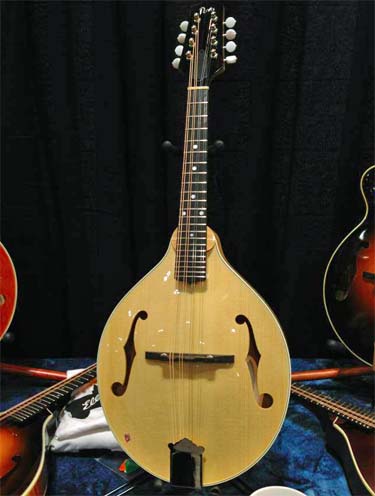 Pava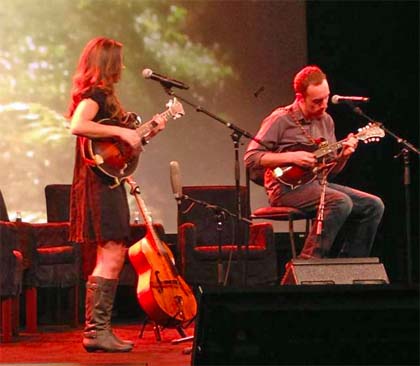 Sierra Hull
Posted by Ted at 6:36 AM

July 11, 2013 | Jason Anick Quartet; Bela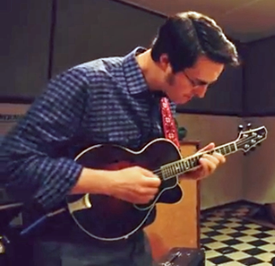 Speaking of Jason Anick, take a few minutes to enjoy his newly released YouTube vid, some great music, and a generous demonstration of his new Arrow Jazzbo 5-string.
Jason Anick Quartet - "Bela" - Live Studio Performance

More recent Jason videos
Posted by Ted at 5:27 AM

July 9, 2013 | 10 Questions: Jason Anick
We had the privilege of interviewing rising star multi-instrumentalist Jason Anick at the Mandolin Cafe a year ago. The swing fiddler/mandolinist has had a packed summer teaching workshops and touring with private and public performances. We're looking forward to the release of his next CD soon, too.
Jason goes into detail about his background, playing with prominent contemporary artists such as John Jorgenson and Robin Nolan, teaching at Berklee, personal growth from transcribing the greats, and his infatuation with the Beatles. It's a great read from a terrific artist.
Read interview: 10 Questions For Jason Anick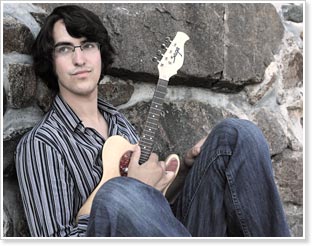 Anick on Amazon: Sleepless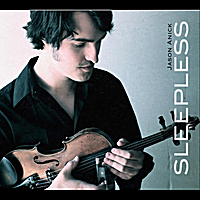 Posted by Ted at 5:34 AM

July 7, 2013 | The ebb and flow of music retail
You might not be aware that the site administrator's "day job" is part-owner of a midwestern music store chain. (Despite being a hundredaire from daily JazzMando string and book sales.) Today's article in the local paper eloquently describes the change of what for nearly nine decades was a musical dynamo, an icon in the arts community, the downtown Lincoln (Nebraska) Dietze Music store, 5,000 square feet of lessons, repairs, sheet music, pianos, and other music instruments.
The chain remains a top 100 retailer, but this one location has suffered from the retail plight of many urban areas. The store is closing, but the good news, two new branches and expansion of a third are the result. In two weeks, there will be five Dietze Music storefronts serving the Lincoln, Omaha, and Bellevue area.
The days of hanging with musicians, grabbing fresh new instruments off the hook, and bountiful accessories remain a challenge for the 21st century retailer to continue to offer.
Read article: Dietze Music closing O Street store after 87 years downtown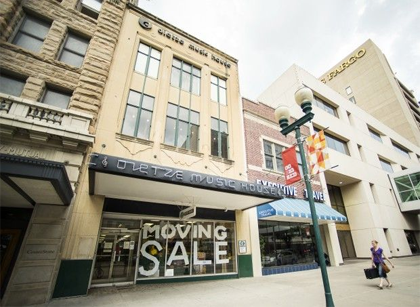 Kristin Streff; Lincoln Journal Star
Posted by Ted at 5:00 AM

July 5, 2013 | Star Spangled Banner
Independence Day was yesterday for those of us in the United States, but it's never too late to hear a great chord melody rendition of the Star Spangled Banner. Provided artfully for us here on his 2006 Weber Yellowstone from Ralph Porter.
Nice work!
Video Link: Star Spangled Banner

Visit the new Weber Mandolin Website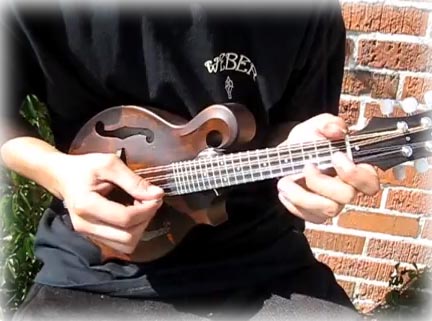 Posted by Ted at 5:10 AM

July 2, 2013 | Jim Hall on Johnny Carson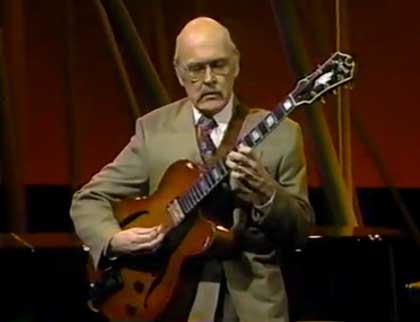 You hardly ever get to see extended musical sets on variety shows today, let alone featuring jazz. TV legend Johnny Carson was known for breaking comedians to the stage during his long screen career as a talk show host, and we forget, he also featured many fine musicians as well.
The following video treat features a progressive jazz piece from the Jim Hall Quartet, and a terrific rendition of the classic "Skylark." All we can say is if you ever wanted to build or buy it, this is the sonic model of what a great jazzbox mandolin should strive to sound like.
Enjoy video:
Jim Hall "Subsequently" & "Skylark" The Tonight Show with Johnny Carson (1992)

More Jim Hall at Amazon
Posted by Ted at 5:36 AM