« Builders for the 21st Century | Main | Mandolin Chord "Playing Cards." 3-note chords »

July 23, 2013 | John Reischman/John Miller take the Road again.
We're compelled to pile on the praise for John Reischman's latest project "Road Trip," somewhat a sequel to his jazz/Latin collaboration with John Miller a decade ago "Bumpy Road." This has been a good summer for new acoustic string jazz with Dave Gross' Mandology, The Eicher's "Mischievous Swing," and of course Don Stiernberg's "Mandoboppin'."
A bountiful summer harvest!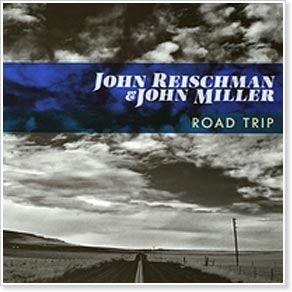 "Road Trip" broadens the sonic spectrum introduced on Bumpy Road with some upright bass (Cary Black) and adds some light percussion (Joel Litwin) on a few of the tracks. We're also treated with a taste of the tonemeister's mandola chops on a couple songs.
From the first track, that signature Reischman sound will grip you. His ability to extract mandolin tone is arguably unparalleled, and though he's known more for his bluegrass chops, his mandolin sings with Miller's complex accompanying jazz vocabulary. This whole recording is an absolute delight!
Required addition to your mando-centric library.
Purchase: Road Trip
John Rischman on tone.
Posted by Ted at July 23, 2013 6:32 AM