« May 2013 | Main | July 2013 »

June 30, 2013 | Mandolin Symposium pictorial documentary
We've enjoyed viewing the camera work of Maria Camillo at this week's Mandolin Symposium in Santa Cruz, Ca. Some of the world's biggest mandolin stars, and a crop of those who could be stars in the future!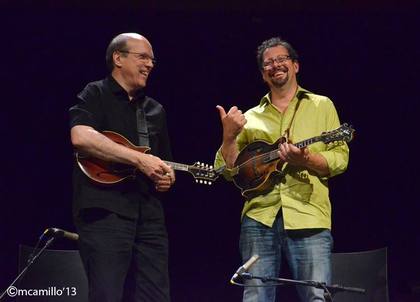 Check out the Mandolin Symposium's Facebook Fan Page for literally hundreds of great pictures!
Almost feels like you're there...
Like their FB Page
Posted by Ted at 6:50 AM

June 28, 2013 | Works for cold beverages, too.
Of course our popular 3-note 7th chord mug in the CafePress JazzMando Logo Store is great for an early morning cup of brew. These really are very useful, and emblazoned on the ceramic, a terrific personal educational tool.
Don't limit its use to hot beverages, though. Put them in the freezer for 30 minutes prior to pouring yourself a cool one.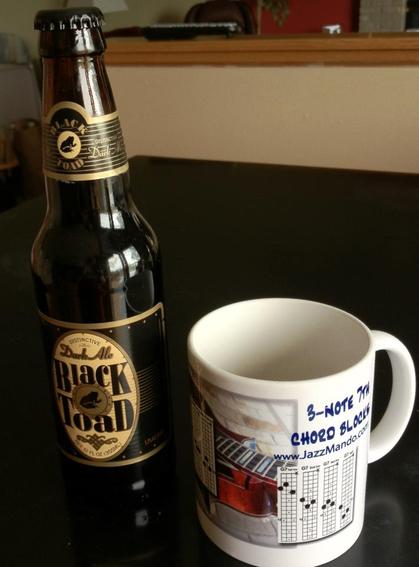 Major, Minor, and Dominant 7ths--you're all ready to go!
Purchase information: JazzMando 3-note Chord Mug.$15.99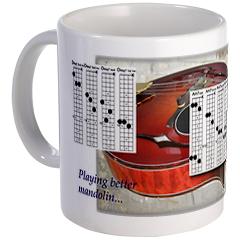 While you're there, how about a matching shirt?
Posted by Ted at 6:10 AM

June 26, 2013 | Using the picking hand to start good tone
One of our most popular series of articles on the Mandolin Sessions bimonthly webzine was on Thinking Good Tone from six years ago. We addressed some simple but powerful ways to alter the shape of your sound simply by concentrating on the picking hand. Long, robust, whole notes are a way to strip all the other distractions, and like a good home run hitter in baseball, consistently knock it out of the park.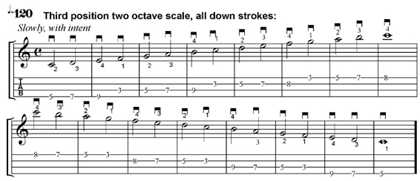 Check out the archive article, and be sure to spend some time on the PDF warm-up. This can dramatically alter your playing!
Read Using the picking hand to start good tone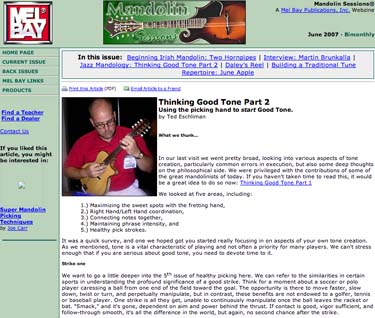 Smack!!!
Posted by Ted at 5:07 AM

June 24, 2013 | Gentlemen prefer blondes. Ladies, too.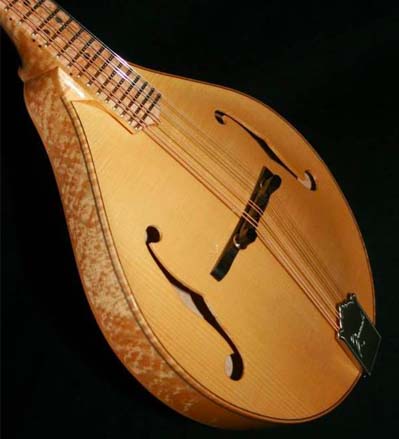 The New Hampshire building duo are at it again, this time with a stunning combination of maple woods, including a uniquely adorned maple neck. This Girouard varnish blonde A5 mandolin dazzles!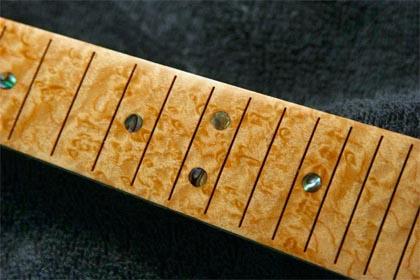 We highjacked their facebook page to bring you more tantalizing pics of this custom build, including James tailpiece and Waverly tuners. No doubt it sounds as great as it looks!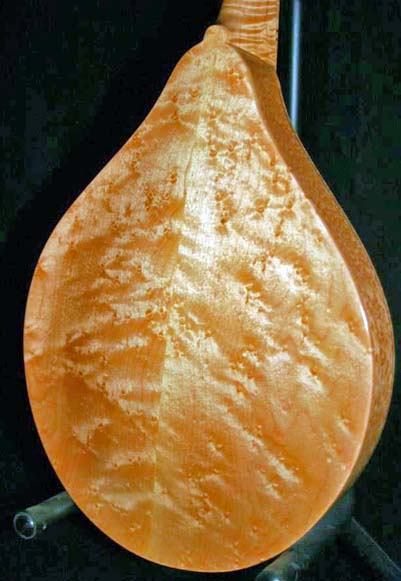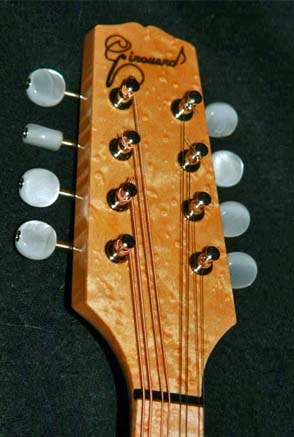 We've been pleased with our own honey ambered review A5. Come time to send it back last fall, we pried it out of the FedEx man's hands and sent a check back instead. Max and Lauri have recently become internationally acclaimed and from the following pictures, you can understand why.
Builder contact: Girouard Mandolins
115 Spring St
Contoocook, NH 03229
603-475-7883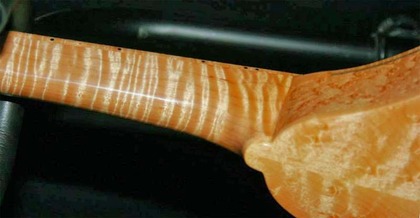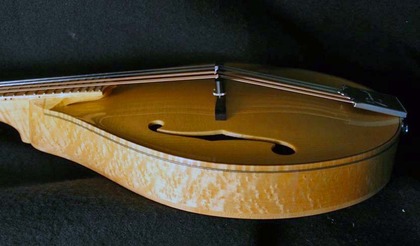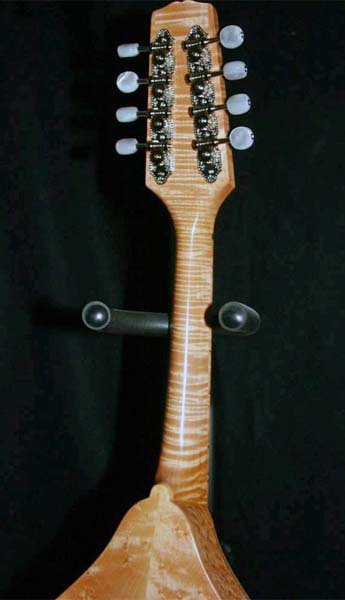 Posted by Ted at 5:06 AM

June 22, 2013 | Summer NAMM coming up

Hotel booked, plane tickets purchased, badges confirmed, we're looking forward to the Summer NAMM 2013 in the Music City July 11-13. The trip to Nashville used to lend a convenient excuse for a side trip to Gruhn's Guitars, but with this month's move several miles off Broadway and a busy meeting schedule, we're not likely to be able to visit that slice of mandolin heaven.
Probably best not to let allow another flareup of MAS...
Gruhn's Pics from last year's trip: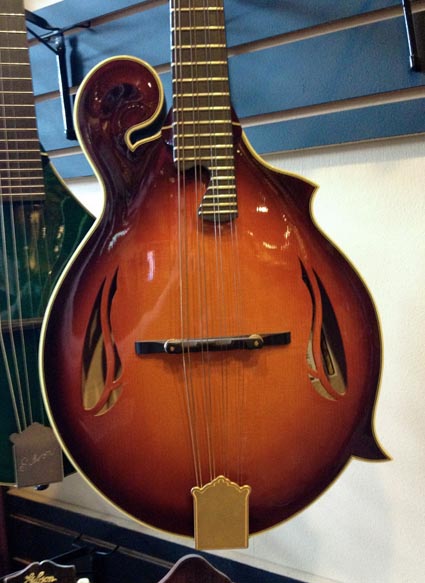 French built Coufleau F-body mandolin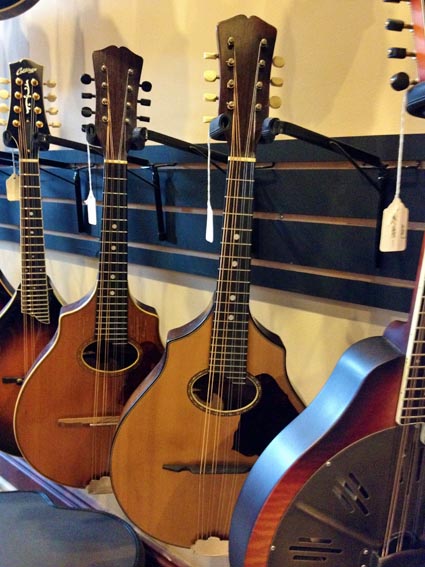 Lots Vegas...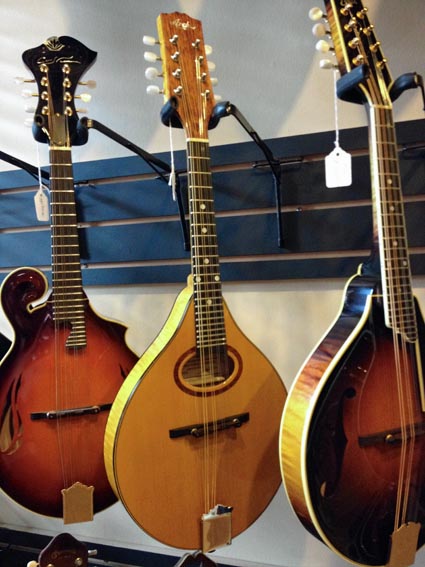 Golden Arches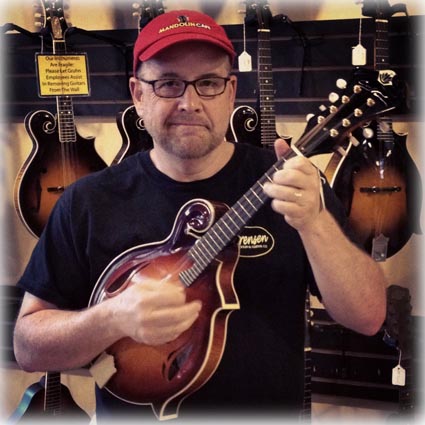 Posted by Ted at 5:47 AM

June 20, 2013 | Dave Gross and Mandology
This has been a fantastic spring for mandolin jazz. First it was The Eicher's Seine River vs. red dirt mastery of the Django jazz "Mischievous Swing," followed nearly simultaneously by another great installment of Don Stiernberg's traditional jazz "Mandoppin!" Now, a new player on the scene, the competent 8-string stylings of New Jersey native Dave Gross and a tight gypsy jazz ensemble in "Mandology."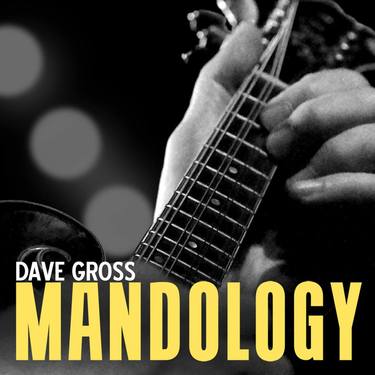 Gross plays with great tone and authority in an 11 song collection of delightful toe tapping acoustic string jazz, both Django classics and original compositions. Accompanied by guitarists Olli Soikkeli and Luke Hendon, and upright basist Ben Ruben-Schnirman his mandolin prowess is also rounded out by the convincing Grapelli-like stylings of jazz fiddler Rob "Bobby Hawk" Hecht . The five do a terrific job of maintaining the integrity of the genre, the playing is clean and vibrantly energetic.
We look forward to hearing more from this group in the future!
Selections:
1. Delaunay's Dilemma
2. Cool It!
3. Jelly Bean Bounce
4. Fish Fry Scam
5. Joseph! Joseph!
6. Coquette
7. Caravan
8. J'attendrai
9. Visitation
10. It Had to Be You
11. Seven Come Eleven
Purchase information:
CD Baby: Mandology
iTunes: Mandology
Facebook Page: Mandology
Video sample: "Cool it!" by Dave Gross and Olli Soikkeli

Posted by Ted at 6:12 AM

June 18, 2013 | If you're new...
We get new readers all the time and we want to make sure on your first few visits, you're rarely intimidated and compelled to dig deeper. Questions like this one from Josh: After plunking around on my own with fiddle tunes and jug band stuff on and off for years, I have decided to take playing seriously. This may be biting off more than I can chew--I can't read standard notation, and my theory is weak. Where do you think I should start?"
Our answer is in two parts. Best place to start (and it's where the "Getting Into Jazz Mandolin" book starts) is to get off the dependence on open strings and prepare for movability about the fretboard. The FFcP exercises will get you on your way. Plan on spending several weeks:
FFcP Studes (especially the Introduction.)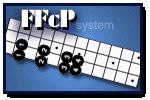 A few 'ii V7 I' chords will help:
Major 'ii7 V7 I' 3-note Mandolin Chord Blocks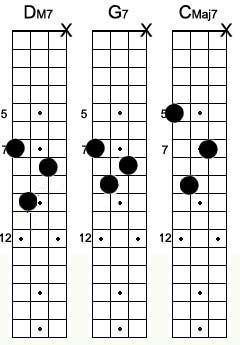 The rest you can pick up in the book:
Getting Into Jazz Mandolin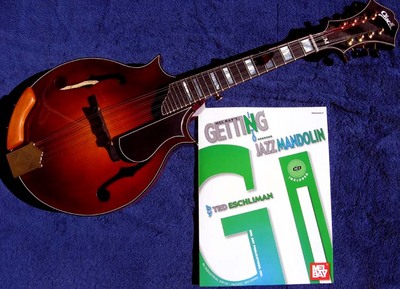 Posted by Ted at 4:27 AM

June 16, 2013 | New from John Baxter: Chordtunes
You know the author of the mandolin website Mandozine, John Baxter who has brought more than a decades worth of online resources including practice tunes, artist interviews, technique tips, recently guitar and uke oriented apps. You might be like many and own a copy of his Mel Bay Deluxe Encyclopedia Of Mandolin Chords published in March 2000, a great compendium for the beginning mandolinist.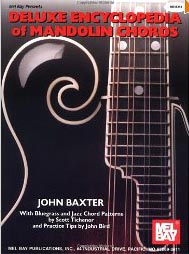 In cooperation with EUMLab, Baxter has released another music app resource for iPad, "Chordtunes," a sort of text editor for creating chord sheets for guitar, mandolin, and ukulele. Chordtunes supports six tunings, transposition, three PDF formats, a custom chord keyboard, and Dropbox support.
While we tend to focus here on movable chords up the neck, the app is quite valuable for the beginning mandolinist struggling with first position chords within the first seven frets. We asked John about this during initial development. "I only cover first position chords, with a few exceptions. That's the trade-off with using a keyboard for chord entry. There are only so many keys available on the keyboard. I would have loved to include at least two chords, but each tuning has almost 300 chords, and with six tuning, that's 1,800 chords. Maybe we can offer an extended chord font at an upgrade, but for now we have to live with one chord. We were going to group the chords by major and minor key, but that would have required multiple keyboards, and we decided to get it out, and then revisit the design after we get user feedback."
Resources like Chordtunes are invaluable for anyone starting out, and much handier than flipping through multiple pages of a book, for less than the price of a latte. Our more advanced approach at JazzMando has been introducing chord groups or "sentences" (I.e. 'ii V7 I') in context, being able to move them up the neck, but we remember using the Baxter Chord Encyclopedia starting out.
Purchase information: EUMLab Chordtunes
$2.99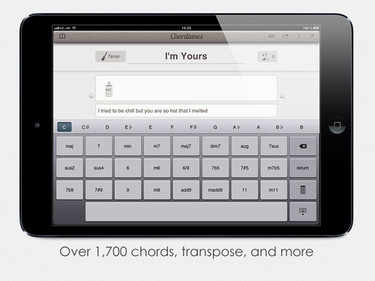 Mandozine website.
Posted by Ted at 7:04 AM

June 14, 2013 | Don Stiernberg; Mandoboppin!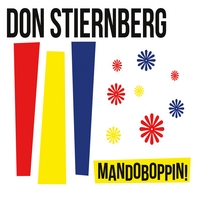 Fret multi-instrumentalist Don Stiernberg rarely fails to meet high expectation with the release of every project he's recorded with his Windy City co-conspirators. His regular "tuxedo musician" gig schedule with a steadily working crew the last three decades has honed his craft well years after his initial entry into the professional world as protege of jazz and entertainment legend Jethro Burns. He's created a unique signature sound of his own, and his latest "Mandoboppin'" is exactly that, pure, undiluted Stiernberg.
Don doesn't stray from an already established successful ensemble formula. Four-to-a-bar guitar (Andy Brown), warm but driving upright bass (Jim Cox), tasteful drum (Phil Gratteau) accents complement the veteran mandolinist's soloing. The only thing new is the addition of the polished ivory of pianist Larry Harris who outside of an occasional glistening chorus always supports and fills with a traditional jazz harmonic continuum. Balance is simply magnificent.
There's bebop (title track), lush ballad (The Very Thought of You, Questions & Answers), latin (Bix in Rio, Magnanimous), Blues (Blues Santa Cruz, Short Sleeves in December), and a fistful of hard swing (Donniebrook, Life Itself, Three Down Town), pretty much the whole palate of textbook traditional jazz. Unlike many of the previous projects, the majority of the cuts are original tunes. Engineer and longtime industry friend Steve Rashid does a marvelous job of recording the magic with his studio prowess. The sound is clean and crystal clear.
We've always considered Don as a friend but even more so as personal mentor. Around the JazzMando website, we talk jazz. Stiernberg does it. Only a handful of mandolinists can do it as well.
Selections:
1. Life Itself
2. Questions and Answers
3. Mandoboppin'
4. Bix in Rio
5. Donniebrook
6. The Very Thought of You
7. Three Down Town
8. The Wacky Waltz
9. Between the Devil and the Deep Blue Sea
10. Blues Santa Cruz
11. Magnanimous
12. Short Sleeves in December
Purchase information:
CD Baby
iTunes
Artist Website: Don Stiernberg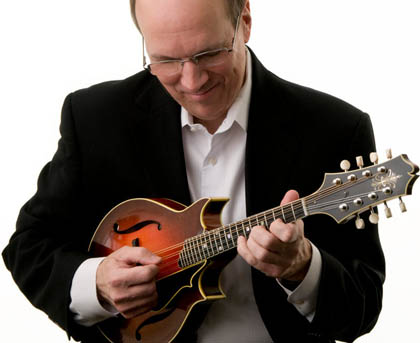 Posted by Ted at 5:19 AM

June 12, 2013 | Ivory and Red Bobelock cases in stock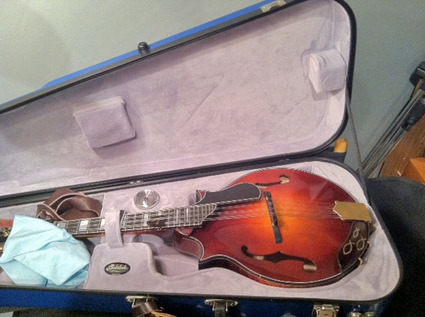 The Bobelock "Arrow" mandolin case remains a personal favorite. We just returned from a cross country flight and even these aren't technically flight rated, we were confident storing the instrument in the overhead compartment. A heads up that two of these are in stock at Dietze Music, ready to ship in red or ivory exterior for only $189 (mention JazzMando for $15 domestic shipping). We reviewed this a year ago and have had the entire time to testify to the quality having owned two, one in blue and a second in red personally.
(Disclosure: Financial interest in this store)
From the review:
"The outside groove and ridge space-age detailing is dynamic and bright colors add to quote from their website, 'a little extra personality to your already fabulous ability to play the mandolin,' available in red, blue, ivory, and black. The little things we like, case feet on four sides, make it easy to store anywhere, and in a multitude of positions. The wide grip handle is well positioned and comfortable to the grip."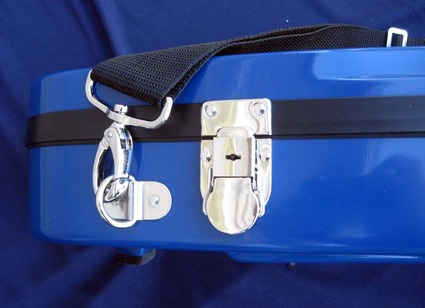 Purchase information: Bobelock Arrow fibreglass mandolin case
Mention "JazzMando" in the comment field for reduced $15 domestic shipping. (Sorry, International and Canadian shipping not available.)

Includes:
Inside case blanket
Padded travel cover
Hygrometer
Shoulder strap
"Super seal" valence closure
One accessory compartment with lid

Posted by Ted at 5:05 AM

June 10, 2013 | ArtistWorks Video Exchange: Doug and Mike Marshall
We mentioned the online video instruction of mandolin mega-star Mike Marshall through the Academy of Bluegrass last November. In addition to access to a library of visual instruction part of the ArtistWorks experience includes use of their patented Video Exchange system where you submit videos of your playing and Mike himself goes over your video and responds by video giving you feedback on your playing.
We wanted to share with you what this breakthrough in educational technology looks like through one of their YouTube samples:
Video Link: Video Exchange: Doug and Mike Marshall

Mike teaches hundreds of lessons in his online Video Exchange Feedback Mandolin School at the ArtistWorks Academy of Bluegrass, including:
Moveable Chords
Three Moveable Chords
Cuckoo's Nest
Red Haired Boy
Target Notes - Golden Slippers
Target Notes - Liberty
Tremolos
Harmonizing the Melody
Doable Double Stops
The Mandolin's Place in the Band
Playing Fills Behind a Vocalist
Kickoffs
Blues Scale
Sitting on Top of the World - Blues
1-6-2-5 Progression
Red Wing
For a personal testimonial, read James Condino Mike Marshall School of Mandolin Review
Additional information:
Mike Marshall's School of Mandolin
Free Mike Marshall mandolin lessons from ArtistWorks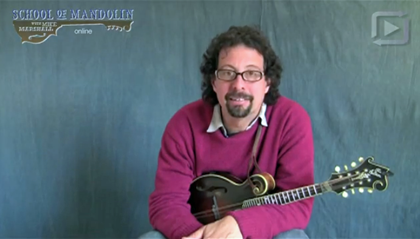 Posted by Ted at 5:26 AM

June 8, 2013 | Chris Thile on EXP strings
Always great to hear and see mandolin royalty on YouTube, and the latest collaboration of Chris Thile and D'Addario Strings certainly no exception. Though the 3 minute video is more or less a commercial for the EXP mandolin strings, Chris's playing is always easy on the ears.
Video Link: D'Addario: Chris Thile on EXP Mandolin Strings

If flatwound strings are not your thing and you really need the punch of a phosphor bronze construction, we think the EXP series is the best solution out there. They are more expensive than the standard J series, but the longevity of the strings because of the coating makes it a worthwhile investment. Also, the strings are slightly smoother, cutting down on finger friction and noise.
Purchase D'Addario EXP74 strings
Read: Why I like Chris Thile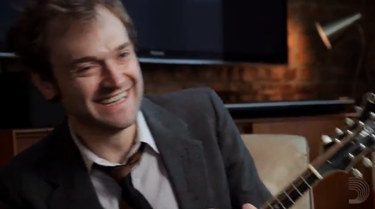 Posted by Ted at 5:22 AM

June 6, 2013 | We Should Build Mandolins; Fretboard Journal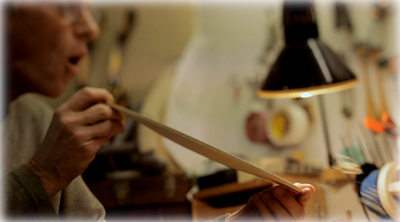 Fretboard Journal has produced a terrific online video mini-documentary on Texas building legend Tom Ellis and the development of the new Pava A-body mandolins from the collaboration with experienced woodsmith Pava Knezevic.
Slow down for 8 minutes, sit back and enjoy the story of the magic of these instruments.
Video Link: We Should Build Mandolins

Posted by Ted at 7:13 AM

June 4, 2013 | Girouard Mandola on the Cafe Classifieds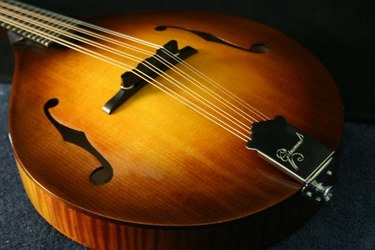 Happy to see our friends Max and Lauri with a new addition to their line of Girouard mandolin family instruments. The latest, a dazzling 15.9" scale autumn-burst mandola, posted for sale in the Mandolin Cafe Classifieds. Lauri tells us "It has a 15.9 scale that keeps it easy to play and mando stuff is easily transferred over. The slightly longer scale with thinner gauge strings and top graduations give an even tone and volume and not a floppy C string."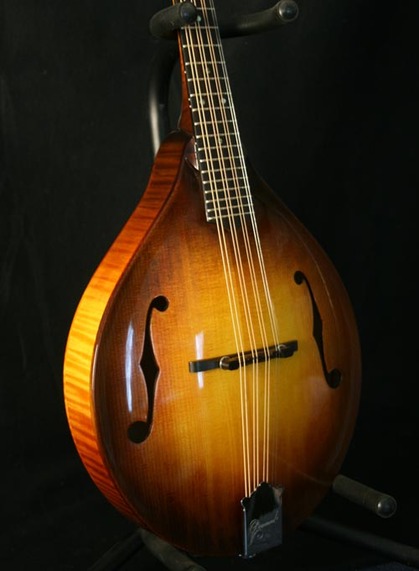 Price posted is a reasonable $1925 and if it's anything like the A-body mandolin we reviewed (and purchased!) last fall, it should make someone very happy. The Girouard mandolins have grown quite popular lately, with sale to both national and international markets.
Red Spruce Top
Red Maple Back, Sides and Neck
Macassar Ebony radiused finger board
Macassar Ebony headstock with Girouard gold MOP inlay
Bone Nut
Link to Cafe Ad: Girouard mandola
Builder review: Girouard A-body mandolin
Email: Girouardmandolins@yahoo.com
115 Spring St
Contoocook, NH 03229
603-475-7883
Posted by Ted at 7:22 AM

June 2, 2013 | The Eichers' new release "Mischievous Swing"
It's not just tornados that blow big in Oklahoma. The nation's southwest plains has received a lot of attention about this recently, and we think it's time to notice something far more positive and creatively powerful. The Eicher family of U.S. plains powerhouse acoustic string jazz players have turned in another brilliant release in the Django incarnation of their band, Mischievous Swing, and aptly self-titled "Mischievous Swing."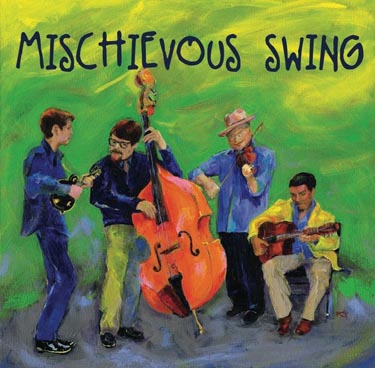 Father Shelby and sons Isaac and Nathan have teamed up with guitarist Ivan Peña to bring up some of the best acoustic swing we've heard this side of the river Seine with a mixture of classics (Avalon, Honeysuckle Rose, Indiana), a couple progressive jazz (Take Five, Spain), and some well-crafted originals penned by Shelby (fiddle) and Isaac (mandolin). Sans percussion, the ensemble still cooks in the textbook Django style quartet, driving bass (Nathan) and le Pompe of crunchy, pulsing gypsy guitar. The four trade caffeinated energy tightly like, well... family!
The high quality playing of the Sooner troop is clean, well recorded and polished. It's less Texas swing this manifestation, smaller ensemble, pure gypsy quartet. We were surprised to see this follow so closely on the heels of their successful September 2012 release, Dance of the Gypsies, but impressed none the same. It's obvious the crew has been putting in a lot of time together.
This is the first of this summer blockbuster recordings to add to your jazz mandolin bucket list.
Highly recommended!
Listen and purchase: Mischievous Swing
Tracks
1. Honeysuckle Rose
2. Faux Nouveau
3. Swing Al Fresco
4. Take Five
5. Indiana
6. Spain
7. You Know Dat's Right
8. Valenciana
9. Night in Paris
10. Avalon
Artist website: Mischievous Swing
Previous release: Dance of the Gypsies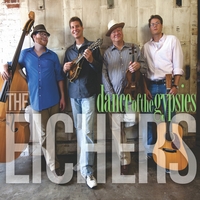 Posted by Ted at 6:57 AM