« For Once in My Life | Main | New Shoreline Gold JL Smith Tele-mando »

September 9, 2013 | George Barnes and the Jazz Renaissance Quintet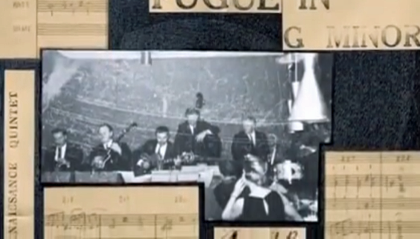 This 1962 recording of Bach's Fugue in G Minor is a treat for both classical and jazz enthusiast, proving the timeless appeal to one of the greatest musicians to ever compose.
From the performance notes: "Jazz guitar great George Barnes often cleansed his musical palate with Brahms, Beethoven, Mozart, Respighi, Ravel, Moussorsky, Tchaikovsky, Wagner-- and Bach. It was the Bach Fugue in G Minor, played by organist Virgil Fox under the baton of Eugene Ormandy that inspired him to explore its joy (a hallmark of George's playing) and complexity (a reflection of his musical genius) in the context of his Jazz Renaissance Quintet."
The six men who participated in this recording -- all close friends, masters of their art, and highly-respected in the New York studio scene -- were guitarist Bucky Pizzarelli (a longtime friend and studio colleague of GB, Bucky's classical training made him a natural for this piece), clarinetist Hank D'Amico (who honed his craft with Benny Goodman and Tommy Dorsey, among others), bassist Jack Lesberg (well-known for his work with Louis Armstrong, but just as much at home under the baton of Leonard Bernstein), and drummer Cliff Leeman (invaluable to such diverse bandleaders as Glenn Miller and Raymond Scott, and a key member of The World's Greatest Jazz Band). The original session, which took place on 25 February 1962 at A&R Recording in New York City, was recorded and remixed by engineer Phil Ramone, who began as a classically-trained violinist and became the world-renowned producer of such iconic recording artists as Paul Simon, Billy Joel, Ray Charles and Frank Sinatra."
Video Link: George Barnes and the Jazz Renaissance Quintet


Posted by Ted at September 9, 2013 5:43 AM