« September 2013 | Main | November 2013 »

October 31, 2013 | Paul Glasse signature Arrow mandola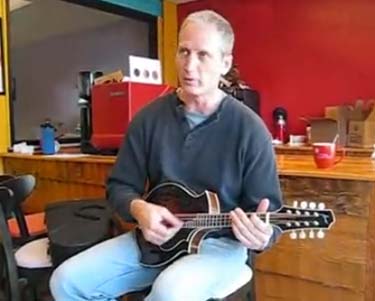 This video has been out a few years, but we always enjoy the artistry of Lone Star State jazz mandolin master Paul Glasse, even in an informal setting. Experience his signature Paul Lestock "Arrow" mandola.

Video Link: Paul Glasse at the Roastery

Read our Mandolin Cafe Paul Glasse Interview
Visit: Paul Glasse Reverb Nation Page
Music on Amazon
Posted by Ted at 1:10 PM

October 29, 2013 | Stage Fright?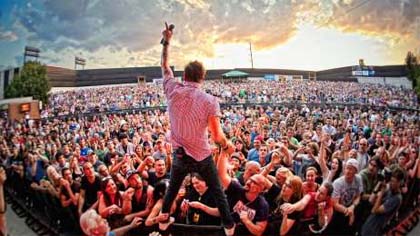 Playing, public speaking, we've all had those moments of performance squelching terror to some degree. It's called "stage fright" and the following Mikael Cho video animation from KAPWA Studioworks explores some of the physical manifestations associated with the phenomenon.
Heart pounding, sweaty palms, struggling for a breath? These can be the extreme, and understanding your own body's reaction is half the battle to conquering their detrimental effects.
Video Link:The science of stage fright (and how to overcome it)


Posted by Ted at 5:55 AM

October 27, 2013 | Minor 7th chord streams. So What?
Almost a year ago we introduced some effective m7 chord patterns that could be run up (and down!) the neck as chord streams. Not only do they sound cool, they are the key to comping on some great modal jazz classics, like So What, Impressions, Maiden Voyage, Footprints, Milestones, and Take Five.
It's simple. Learn the inversions--you don't even have to worry about the labels. Insert an inert filler chord and you can play any minor modal jazz classic like a boss.
Enjoy!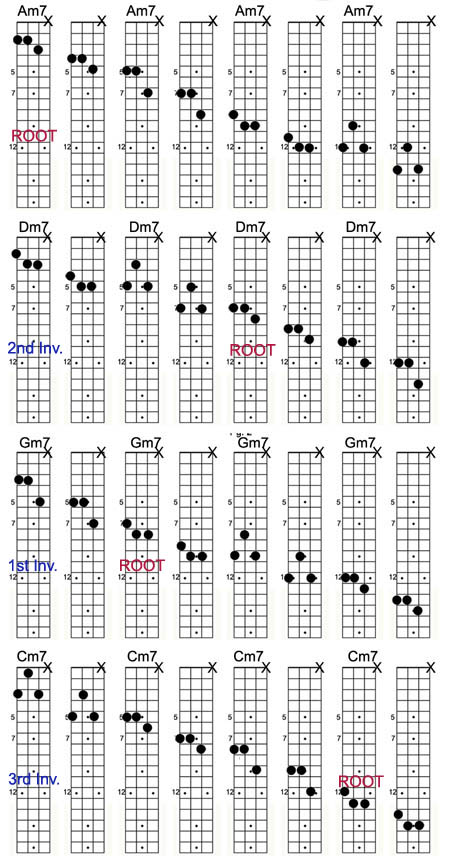 Read article for more explanation in our Tips archive:
Minor 7th Chord Streams. Under the hood.
Download PDF of the above:


Minor7thChordStreams.pdf
Posted by Ted at 8:09 AM

October 25, 2013 | Mandolin Tuning with Mike Marshall
It's a longish video, but Mike Marshall's recent ArtistWorks YouTube entry is pure gold for one of the mandolinist's most difficult pursuits--playing in tune.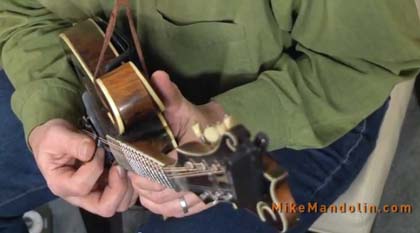 In eleven thorough minutes, he covers important tips to check intonation and cross-check and explains some of the common hazards that create player frustration.
Highlights:
Tuning up to the note, rather than down: Tunes the tension of the string toward the gear. (Keeps it from slipping later while you're playing.)
Using a rest stroke to isolate pair units
Electronic tuner vs. ear
Checking octaves
Allowing for nuance of fret adjustment
Matching 12th fret with harmonics
Double checking with the 5th fret
Video Link: Mandolin Tuning with Mike Marshall

Sign up for more instruction: ArtistWorks

Posted by Ted at 7:29 AM

October 23, 2013 | Mann SEM-5 Octave Baritone
Jon has had the video below up for a few years, but we enjoy going back to review his innovative design, a 5-string octave/baritone electric mandolin. The instrument is tuned in the lower four strings like an octave (below) mandolin, and the thinnest string goes up a 5th to a B. All five in order: GDAEB.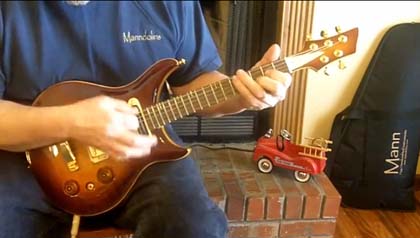 The instrument is very close to the range of a guitar, but spaced in 5ths. This instrument is 18.2" in scale, but he will also build in 19.5" and 4- and 8-string configuration.
As you can tell from the vidoe, he's also expert in suggesting alternate pickup configurations for your style of music.
Video Link: Mann SEM-5 Octave Baritone

Website information for Jonathan Mann: Manndolins
We have one of his baritones of our own. Great for jazz!
Posted by Ted at 5:33 AM

October 21, 2013 | From the author's perspective, Mandolin for Dummies
We had the privilege of interviewing popular clinician and upper midwest premier mandolinist, (now celebrated author!) Don Julin a year ago about the release of his book, Mandolin for Dummies. The prestigious internatioanl publisher Wiley & Sons, has done well with this, and rumors of a follow-up release are out there.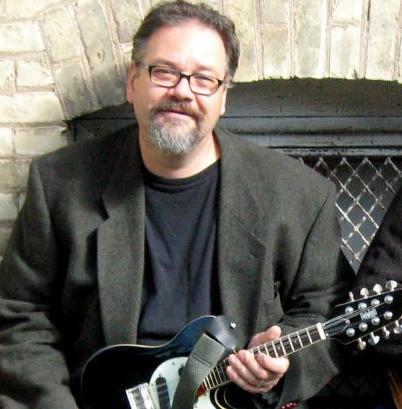 In the interview, we asked Don to give us a summary of how the book is organized, and this is how he described the five parts:
1. Being Bitten By the Mandolin Bug. An introduction to the mandolin including the anatomy of a mandolin, the mandolin family of instruments including mandola, mandocello, octave mandolin, and mandobass, tuning the mandolin, and different ways of holding the mandolin (standing, sitting, with a strap, etc).
2. Starting the Play the Mandolin. These chapters cover basic skills needed to play the mandolin including proper ways of holding the pick, left-hand grip, counting exercises, left- and right-hand dexterity exercises, simple strumming styles using basic open chords, picking styles including alternate picking, down-stokes, and cross-picking. This section also includes a chapter on Jethro Burns style three-string chords and a chapter on scales and how they relate to common melodies. Beginner to intermediate level songs are used in this section to demonstrate many of the techniques presented.
3. Putting Playing Styles into Practice. All about styles of mandolin playing. The styles represented: old-time string band music including fiddle tunes, rags, and blues, bluegrass, Irish music, jazz/swing, (David Grisman) Dawg music, and a small chapter on world music including Italian folk music, European classical music and Brazilian choro. In each chapter, characteristics of the style including chord progressions, strumming or rhythm patterns, syncopation, and melodic ornaments are demonstrated with public domain and original pieces of music. Many of my tunes are included along with original music by John Goodin and David Grisman.
4. Purchasing and Caring For Your Mandolin. From your first mandolin purchase to full blown MAS, this section is full of photos of a variety of body styles both acoustic and electric with a rough idea of what you would pay for a beginner or student model and what you might expect to pay for a professional grade mandolin. This section also covers changing strings and other simple procedures like adjusting the action and setting the bridge for proper intonation, along with a chapter on all of the latest and greatest accessories for the mandolin lover.
5. The Part of Tens. All Dummies books include The Part of Tens. In this section there are three chapters: 10 tips on becoming a better mandolin player, 10 mandolin players you need to know, and 10 ways of tapping into the mandolin subculture.

---

If you don't already have this important resource in your library, we strongly recommend it.

Read interview: An Interview with Don Julin

Purchase book: Mandolin for Dummies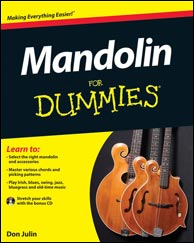 Posted by Ted at 6:15 AM

October 19, 2013 | Pumpkin Spice Mando
We'll go on record as not being fans of the seasonal culinary plunge coffee houses and restaurants dive into every time we get to this spot on the calendar, the onslaught of Pumpkin Spice. Seeing this invade not only a Starbucks latte, but ice-cream and (gack...) beer--just not something we get excited about. Pumpkin should be confined to pie, and of course a pumpkin colored mandolin.
A delicious vintage A-body pumpkin back & sides mandolin with cream top is a traditional favorite. One instrument from our archives that was a standout was a custom Rigel Q-95, all pumpkin back & sides and ivoroid pick guard.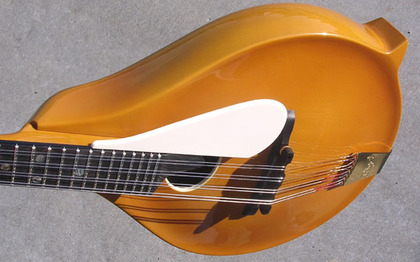 The 'Gypsy Q' with its unique lap corner had a short run, but could still be purchased from Pete Langdell at Rigel Instruments through a custom order. You might also consider commissioning one with a cream top.
Visit site: Rigel Instruments
More about the Rigel Q-95.
Posted by Ted at 9:04 AM

October 17, 2013 | Swing 39 Quartet:"Entre deux Tours"
How about a little guitar, upright bass, and oud today?
Throw in the stylings of some jazz vibraphone, and you have the recipe for some tasty, outside the box Gypsy music. We're fans of France's Swing 39 Quartet, and from the video clip below, you'll soon hear why.
Enjoy!
Video link:Swing 39 Quartet:"Entre deux Tours"

Artist website: Swing 39 Quartet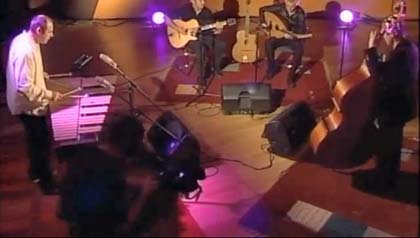 Posted by Ted at 2:55 PM

October 15, 2013 | Causes of bad tone
We cataloged a condensed list of tone culprits in a 2006 "Tips and Tricks" article worth reviewing. Sometimes we get wrapped up in the instrument itself as the cause and not "operator error."
There's something to be said for a quality build on an instrument generating beautiful tone, but you can still make a mediocre instrument sound better with enhanced playing skills. The concepts aren't as complex as you might think.
*Missing, not milking the sweet spot with the fretting fingers
*Inaccurate pick timing (RH/LH coordination)
*Choking or failing to hold the tone through to the start of the next note.
*Running out of gas, prematurely losing phrase intensity
*Tepid pick stroking, lack of "follow-through."
What can be done about this?
Read article for greater detail: Cataloging Bad Tone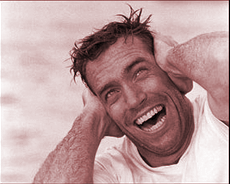 Posted by Ted at 6:10 AM

October 13, 2013 | Chris Biesterfeldt; "Urban Mandolin"
One thing you probably never thought you'd hear is, "I really dug the mandolin on that Jaco Pastorius tune," but you're guaranteed to echo that yourself after you listen to New York multi-instrumentalist Chris Biesterfeldt's freshman mandolin jazz trio CD release "Urban Mandolin." His train-songish rendition of the classic 70's Weather Report jazz-fusion fave "Teen Town" is dead-on, laugh out loud accurate, and one of the freshest acoustic string jazz interpretations you'll hear.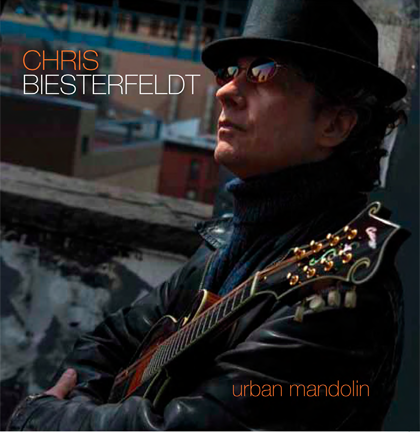 Chris Biesterfeldt; "Urban Mandolin" Release 11/5/2013
Backed by texturally scant rhythm section Adam Armstrong on upright bass and Eric Halvorson on drums, his trio delights with 16 tracks, mostly straight ahead jazz with a slight detour into some pop (Beach Boys, Bonnie Riatt), some Pixinguina choro, and a track of "switched on" Bach. The diversions make it eclectic, but make no mistake, the bulk of the project is a solid mix of bebop and contemporary jazz. Bird, Monk, Corea, Diz, you couldn't ask for a better sample of textbook trio jazz repertoire, but in this case, the piano is replaced with the capable fret prowess of Biesterfeldt on his Collings mandolin. His tone propels with rich sustain and articulation precise and confident.
Outside of the Brazilian choro ensemble, it's not often you hear the mandolin drive the energy in a band, let alone sustain it through the bulk of an hour long recording. Even in its more familiar bluegrass role, the instrument takes a back seat to the collaborative of banjo or guitar. If we had any criticism it would be the indefatigable gait through the entirety of the song manifest. The barn-burning pace in this acoustic joyride is borderline hyperemic, yet resoundingly engaging and satisfying throughout the CD.
Biesterfeldt is best known for his in-demand Broadway orchestra session work on guitar, and even some of his contemporaries like Dave Styker were surprised to discover he played the mandolin, let alone this masterfully.
"Urban Mandolin" is the jazz mandolin surprise of 2013, and we can't recommend it enough. You want this!
Tracks:
1. Bebop (Dizzy Gillespie)
2. Quasimodo (Charlie Parker)
3. Freedom Jazz Dance (Eddie Harris)
4. Bach G-Minor Presto (Johann Sebastian Bach)
5. I Can't Make You Love Me (Mike Reid / James Allen II Shamblin)
6. Teen Town (Jaco Pastorius)
7. Bright Size Life (Pat Metheny)
8. Ready and Able (Jimmy Smith)
9. Armando's Rhumba (Chick Corea)
10. Bye-Ya (Thelonious Monk)
11. Witch Hunt (Wayne Shorter)
12. Segura Ele (Benedicto Lacerda / "Pixinguinha" Alfredo Vianna)
13. God Only Knows (Brian Wilson / Tony Asher)
14. Back at the Chicken Shack (Jimmy Smith)
15. Some Skunk Funk (Randy Brecker)
16. Rollo Interior (Frank Zappa)
Purchase information:
CD Baby
iTunes
Amazon
Artist management: Jazz Promo Services
Posted by Ted at 6:19 AM

October 11, 2013 | Joe Egan Tenor Guitar
Intrigued? So are we. Joe Egan of Vancover Island BC Egan Custom Guitars recently posted this tenor guitar build on a Mandolin Cafe thread and we couldn't resist posting it here, too. Check out the demo below.
Video Link: Tenor Guitar

Top: Sitka Spruce
Back: Flamed Western Maple
Sides: Claro Walnut
Scale: 21.5"
12th fret body joint (bolted on from the outside)
Joe isn't known for building mandolins but this tenor is downright dreamy!
Website: Joe Egan Guitars
Posted by Ted at 4:55 AM

October 9, 2013 | Music teacher turns students on to mandolin
A serendipitous opportunity and an ambitious music teacher parlayed a Fender Music Instrument Company grant into mandolins into the hands of 19 willing young Nebraska fifth-grade students in the country's heartland. The Grand Island Independent reports a marvelous story of vocal teacher Emily Roemmich and a golden chance to develop mandolin skills and musicianship.
Strains of "Music Man" like story. Well worth the read!
Link to article: Music teacher turns students on to mandolin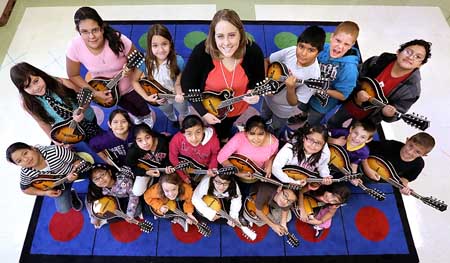 Barrett Stinson
"Dedication to pursuing grants for her students' music education has paid off for Emily Roemmich, music teacher at Jefferson and Starr Elementary schools in Grand Island (center), and her students. One benefit of this extra funding is the mandolin group at Jefferson Elementary Roemmich is standing with. The 19 students are the only such mandolin group in the state."
Posted by Ted at 5:23 AM

October 7, 2013 | Clark A model for sale
We've commissioned two different marvelous Clark mandolins over the last few years, and we're happy to report there's a great opportunity to acquire some of the Idaho builder's incredible craftsmanship immediately--without the wait! He has a consignment Engelmann top/Spruce back A-body ready to be shipped.
He tells us the mandolin has a huge bottom end and clear, sweet highs, and has even been known to sneak it out and play it himself. $3K for an instrument for a world class builder like Austin is definitely a worthy investment in tone and playability.
Check out his MandolinCafe ad: Clark A Model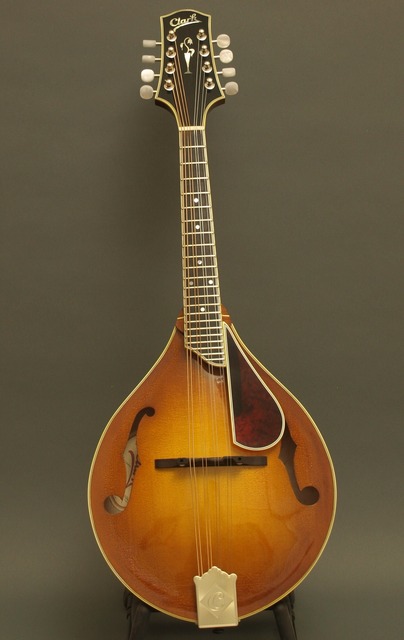 Read past reviews:
Clark JM Two-point
Clark JM-5 guitar-bodied 5-string mandolin
Austin Clark Two-point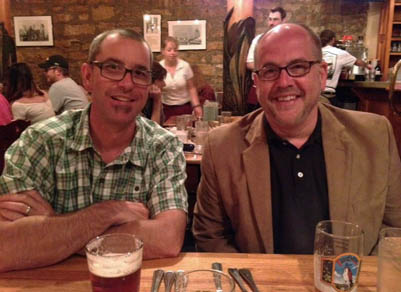 Posted by Ted at 5:31 AM

October 5, 2013 | Guitar to mandolin
Many of our readers come from a guitar background, and we've gone to great lengths to encourage these players to not think of the mandolin as just a "little guitar." There are three major strengths to exploit to make it uniquely mandolin, tremolo, range, and cross-picking. We discussed it in a recent Mandolincafe.com interview, and in depth in this week's Tips and Tricks column.
Make the most of these attributes.
Don't be "clacky."
More details: Guitar to mandolin

Posted by Ted at 11:56 AM

October 3, 2013 | The Evolution of the Jazz Mandolin with Tim Porter
Fascinating lecture/demonstration going on this month in the National Jazz Museum in Harlem in New York. The five part series has already started, but you can still catch the last sessions if you're in or near the Big Apple!
Jazz for Curious Listeners:
The Evolution of the Jazz Mandolin with Tim Porter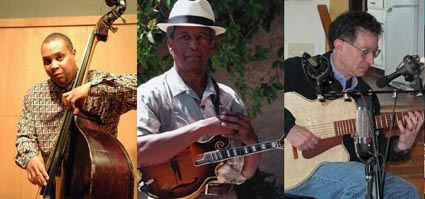 All of the sessions will feature live performances of tunes appropriate to the period with Tim Porter on mandolin, Joe Selly on guitar and Santi Debriano on bass.
7:00 - 8:30pm
Location: The National Jazz Museum in Harlem
104 East 126th Street, Suite 2C
Donation Suggested | For more information: 212-348-8300
Session dates & descriptions
Tuesday, October 1
"Once Upon a Time"
The first segment on the evolution of jazz mandolin will examine the 17th and 18th century origins of the mandolin in the Mediterranean to its 19th and early 20th century arrival in North and South America.
Tuesday, October 8
"Two Step" Ragtime and Choro
Part two of the jazz mandolin sessions will discuss the simultaneous popularity of ragtime in America and choro in Brazil. The syncopated or "ragged" rhythms of ragtime laid the groundwork for jazz during the early years of the 20th century. At the same time, choro music, often played on mandolin, was being composed and played in Brazil.
Tuesday, October 15
"The Mandolins are coming! The Roaring 20's to the Big War"

While choro music was becoming the rage in Brazil, Dave Apollon, a Russian immigrant and mandolin virtuoso, was carving out a major place for himself and the mandolin in the emerging world of jazz. In the third segment of the jazz mandolin series, we discuss the explosion of mandolin playing and the development of mandolin groups in the teens and 1920's. The growing popularity of the instrument led the Gibson musical instrument company to launch a marketing campaign to sell the instrument and produce a family of instruments paralleling those in the violin family, with mandolin, mandola, mando cello, and mando bass.
Tuesday, October 22
"Triad and Trifecta" Swing, More Blues and Bluegrass
The mandolin music of the 1930's, 40's , 50's, and 60's was influenced in large part by six musicians: Dave Apollon, Bill Monroe, Yank Rachell, Howard Armstrong, Tiny Moore, and Jethro Burns. The fourth segment in our mandolin series takes a look at these masters and the spreading of mandolin to blues, bluegrass and swing. Yank Rachell and Howard Armstrong were separately employing the instrument in blues, folk music, and popular music of the time. Bill Monroe was developing a different style of music called bluegrass, which combines some of the traditional music of the British Isles that survived in Appalachia with elements of jazz. Billie "Tiny" Moore was a Western swing musician who played the electric mandolin with legend Bob Wills and the Texas Playboys in the 1940s. Kenneth C. "Jethro" Burns, born the same year as Moore, was an extremely influential mandolinist who performed primarily in a country music setting where he introduced many country mandolinists to sophisticated jazz harmonies and improvisational techniques as well as the music of Duke Ellington, Django Reinhardt, and Cole Porter.
Tuesday, October 29
"Fast Forward to Today's Foremost" Blues, Bebop and Beyond
The last session in our series on the jazz mandolin will focus on the further development of mandolin jazz through Swing, Bebop, and the present with discussion on the contemporary mandolinists such as Andy Statman, Mike Marshall, David Grisman, Barry Mitterhoff, Peter Ostrousko, Sam Bush, Don Stiernberg, Jamie Masefield (of the Jazz Mandolin Project), and Chris Thile.
More information:
Website: The National Jazz Museum in Harlem
Facebook Events page: The National Jazz Museum in Harlem
Artist Bio: Tim Porter
Posted by Ted at 6:10 AM

October 1, 2013 | New from V-picks: Jalapeno
It's new and evidently spicy, too! The new 1.mm semi-pointed triangular Jalapeno V-pick, laser holed and designed with Derek St. Holmes is now available from V-pick direct at $5.00.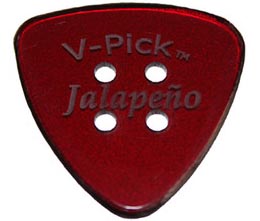 We experimented with the holes in the first prototype incarnations of the new JazzMando pick. Although these are great for reference and grip, we found the picks extremely brittle and capable of snapping easily. Still, if you can dial back the passion and play with better control, this won't be an issue. Company founder Vinni Smith tells us he has not had a rash of complaints.
We're interested in the red material, though and considering making them available for the same price as our blue JazzMando picks. The material is more expensive since we have a custom etched two-sided pattern sell them for $14.95 delivered. (Clear acrylic, $9.95) Contact us privately if the red is something you would like to purchase.
Purchase from V-pick: Jalapeno pick
Purchase: Jazzmando V-pick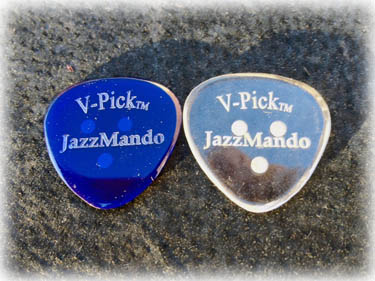 Posted by Ted at 5:23 AM