« From the author's perspective, Mandolin for Dummies | Main | Mandolin Tuning with Mike Marshall »

October 23, 2013 | Mann SEM-5 Octave Baritone
Jon has had the video below up for a few years, but we enjoy going back to review his innovative design, a 5-string octave/baritone electric mandolin. The instrument is tuned in the lower four strings like an octave (below) mandolin, and the thinnest string goes up a 5th to a B. All five in order: GDAEB.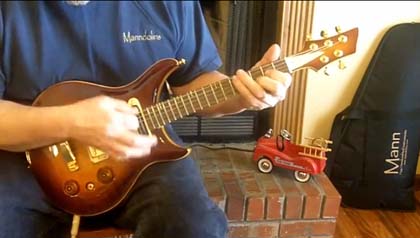 The instrument is very close to the range of a guitar, but spaced in 5ths. This instrument is 18.2" in scale, but he will also build in 19.5" and 4- and 8-string configuration.
As you can tell from the vidoe, he's also expert in suggesting alternate pickup configurations for your style of music.
Video Link: Mann SEM-5 Octave Baritone

Website information for Jonathan Mann: Manndolins
We have one of his baritones of our own. Great for jazz!
Posted by Ted at October 23, 2013 5:33 AM