« Clark A model for sale | Main | Joe Egan Tenor Guitar »

October 9, 2013 | Music teacher turns students on to mandolin
A serendipitous opportunity and an ambitious music teacher parlayed a Fender Music Instrument Company grant into mandolins into the hands of 19 willing young Nebraska fifth-grade students in the country's heartland. The Grand Island Independent reports a marvelous story of vocal teacher Emily Roemmich and a golden chance to develop mandolin skills and musicianship.
Strains of "Music Man" like story. Well worth the read!
Link to article: Music teacher turns students on to mandolin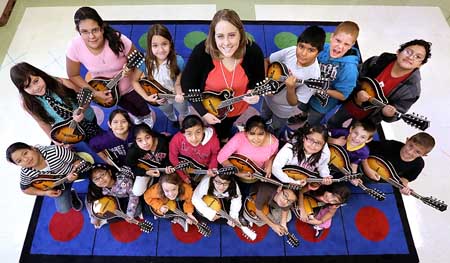 Barrett Stinson
"Dedication to pursuing grants for her students' music education has paid off for Emily Roemmich, music teacher at Jefferson and Starr Elementary schools in Grand Island (center), and her students. One benefit of this extra funding is the mandolin group at Jefferson Elementary Roemmich is standing with. The 19 students are the only such mandolin group in the state."
Posted by Ted at October 9, 2013 5:23 AM