« Mandolin Cafe interview: JazzMando site creator | Main | The Evolution of the Jazz Mandolin with Tim Porter »

October 1, 2013 | New from V-picks: Jalapeno
It's new and evidently spicy, too! The new 1.mm semi-pointed triangular Jalapeno V-pick, laser holed and designed with Derek St. Holmes is now available from V-pick direct at $5.00.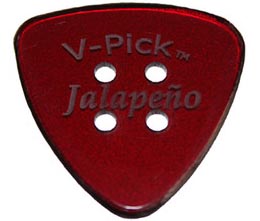 We experimented with the holes in the first prototype incarnations of the new JazzMando pick. Although these are great for reference and grip, we found the picks extremely brittle and capable of snapping easily. Still, if you can dial back the passion and play with better control, this won't be an issue. Company founder Vinni Smith tells us he has not had a rash of complaints.
We're interested in the red material, though and considering making them available for the same price as our blue JazzMando picks. The material is more expensive since we have a custom etched two-sided pattern sell them for $14.95 delivered. (Clear acrylic, $9.95) Contact us privately if the red is something you would like to purchase.
Purchase from V-pick: Jalapeno pick
Purchase: Jazzmando V-pick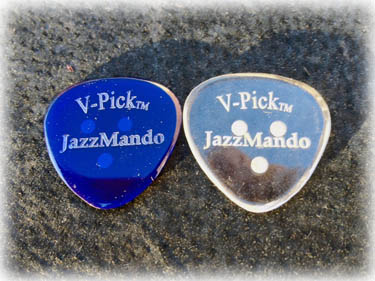 Posted by Ted at October 1, 2013 5:23 AM