« March 2010 | Main | May 2010 »

April 30, 2010 | Thirty!
The theme for this week in the JazzMando Research Lab has been "10-string." A rare opportunity for extended hands-on comparison, we've been able to take a close look at three different approaches to 10-string design at once. (Rough job, but somebody's got to do it...) The first two regular mandolin scale, a JP Charles archtop bandolim, with more of the characteristic Brazilian brilliance (tempered by our use of D'addario Chrome Flatwound strings), the second was the recently reviewed Gypsy's Music nylon string with its warmer, richly round tonal character.
The third is one we hope to give a detailed report on soon. Fresh off the bench of New England Luthier Pete Langdell of Rigel Instruments, this R-200 start its life off as an 8-string mandola, and with a new neck, bridge, tailpiece, tuners, K&K pickup, and the revolutionary fanned fret system, the instrument is now a 10-string. We're asked frequently about the adjustment in playing this system, but really, it only takes a few minutes to adjust. Since you have mandolin scale (14-1/2") on the E-strings and mandola scale (16") on the C-strings with a the inside strings graduated between, it isn't any different than the natural adjustment one might make playing the two different instruments in one setting. If you want access to the best in both ranges, you have to make the acclimation one way or the other.
The voicings offered by the extended range of a 5-course instrument are a joy to experiment with. We lean toward 3- and 4-voice chords, and being able to more easily fill out a two-octave scale over more fretboard real estate means more opportunity for chord melody and solo playing.
Thirty! That's a lot of strings!

Posted by Ted at 5:57 AM

April 28, 2010 | 10-string review; Gypsy's Music nylon strung mandolin
We've had our bit of self-indulgence with Walt Kuhlman's latest innovation at Gypsy's Music based out of Scottsdale, Arizona. The growing US interest in 10-strings has made new demands for some of the more adventurous cottage builders, and it's been interesting to see how they go about tackling some of the inherent design difficulties in the extremes of register. The disparity between the lowest tension C and the highest E course is a challenge wrought with compromise. Without messing with the length, you have either C string "flab," or an E string that is inconsistently taut.
Enter Walt's out-of-the box solution: a nylon course mandolin. This is a very fun instrument to play, and while we'll admit our initial reservations when he first approached us, after a week of playing, we think he's got a winner. Read our review for more details; we hope to get a video up later this week, too.
Builder's Spotlight: Gypsy's Music nylon strung mandolin
Posted by Ted at 6:09 AM

April 26, 2010 | JM11 Flatwound strings; easy on the fingers, easy on the ears.
Knock on wood (spruce, preferably), it looks like our latest batch of JM11 flatwound strings has been defect free, and we have enough of a supply to make your mandolinning pleasantly smooth to your fingers, and your ears. If you seek a warmer, richer sound, and don't demand an obnoxious percussive "smack" out of your mandolin, these are what you are looking for, and an inexpensive way to upgrade your mandolin sound.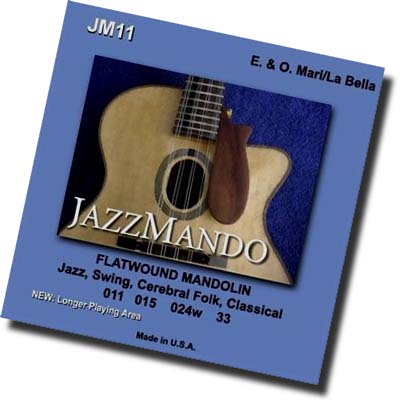 The polished custom flatwound Labellas have a much closer, tighter wrap which resists corrosion and wear from oxidation and player perspiration (similar to the world renown Thomastiks). The steel alloys lends a crisp, subtle "punch" for a sophisticated bell-like articulation. Player comfort from the smooth strings makes these feel as great as they sound!
Though initially designed for jazz, these will also work well for the classical, folk, and blues mandolinist. They won't "spank" banjos in a loud acoustic setting, but they will give you definition and a warm character for more intimate solo and small ensemble environments.

We'll throw in a free signature JazzMando Pick for you to try, too, but if you're already familiar with the ProPlec's cleaner, purer articulation "slide" and release (because of the polished bevel found on more expensive custom-made picks) you might be ready for more. You can get quantities of this pick with the strings or just buy more picks by themselves (4, 10, 24, or 48 pack).
Strings are sold 2 for $29.95, 1 set for $16.95, and that includes US Domestic and Canada. (We can also ship to most countries for $7.00 additional.)
Purchase: JM11 Flatwound Strings
Posted by Ted at 6:02 AM

April 24, 2010 | Teaching strings is sometimes stressful
And you thought you had a tough job! Enjoy the special moments of tension in this brief video of this high school orchestra rehearsal.
Video Link: Middleton High School Rehearsal
Posted by Ted at 6:17 AM

April 22, 2010 | May 3rd Mandolin Mashup
New England area mando-enthusiasts, if you are anywhere near Boston, you won't want to miss some of Berklee's brightest young stars featured at the May 3rd Mandolin Mashup at the Berklee Performance Center featuring Sierra Hull, Jake Jolliff, Eric Robertson, Dominick Leslie and more. The second annual Mandolin Mashup is a showcase for Berklee's finest mandolin virtuosi in a variety of settings and styles. Directed by JazzMando friend, John McGann.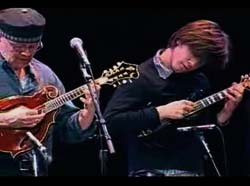 More information: Berklee Mandolin Mashup
Show starts 8:15, Admission $2
Berklee Performance Center
(617) 747-2261
136 Massachusetts Ave.
Boston, MA 02115

Posted by Ted at 6:20 AM

April 20, 2010 | The Epicurean Musician
So what do Mike Marshall, Chris Thile, Scott Tichenor, and Jamie Masefield have in common? Of course you'd be right if you stated the obvious, lightning fast mandolin chops and a premier music sensibility, but you'd be interested in knowing this extends beyond the fretboard and into the kitchen. The latest documentation of this is an online interview from the Epicurean Musician featuring the culinary interests of ground-breaking musician, Vermonter Jamie Masefield.

Guess it is about the "chops," and in Jamie's case, lamb.
Enjoy the read: The Shackleton Dinners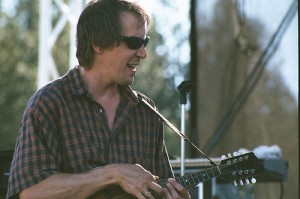 Also, New Englanders, don't forget about Jamie's workshops with Django in June, 6/15-20!
Registration: Django in June 2010

Posted by Ted at 6:14 AM

April 18, 2010 | Introducing "Mandolin Moments"
New to the world of cyberspace is a resource of mandolin news, chords, history, links, and recording outlets from web designer, Reidar Falch, started in April of 2010. Welcome, Reidar!
Though based out of Norway, the website text is in English and offers something we don't see enough of, particularly Tenor mandola (CGDA) chords, known simply as mandola this side of the Atlantic. Festivals are listed, not only European but for the domestic USA as well. We expect to see the site continue to grow, although it's started off nicely.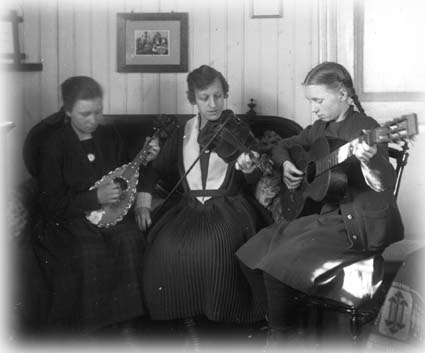 Best wishes Reidar and staff at Mandolin Moments on their new venture!
Explore site: Mandolin Moments

Posted by Ted at 7:25 AM

April 16, 2010 | The Fast Show "Jazz Club"
A little video diversion for you to prepare you for the weekend--this fresh take on jazz, a spoof about the "innovative" trumpet playing technique of artist Jackson Jeffery Jackson from the popular BBC comedy "The Fast Show," is guaranteed to make you chuckle.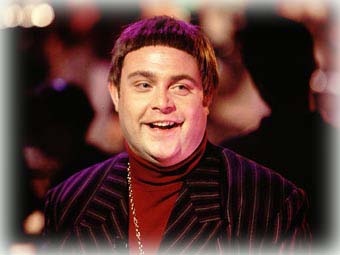 "Tune? There's no tune...
This is jazz!"
Video link: The Fast Show "Jazz Club"
Posted by Ted at 5:57 AM

April 14, 2010 | New Ribero H10 bandolim
We've been privy to some pictures from Brazilian builder Tércio Ribeiro of his new custom H10 10-string bandolim built for our friend, New Orleans mult-instrumentalist, John Eubanks. In addition to his teaching studio and work with Rick Trolsen and Gringo do Choro, John has recorded a good share of the guitar accompaniment tracks on our "Getting Into Jazz Mandolin" method book.
Tércio tells us John's bandolim features some improvements since the last H10 instrument (designed for Brazilian superstar Hamilton de Holanda), including a new kind of varnish gleaned from tips of Nilton de Camargo, a violin luthier that lived and worked in Cremona, Italy. "He showed me how to use the ancient natural resins mixed with shellac, on the same way of the best italian arch instruments. And it really get the sound better. I changed the shellac of the first bandolim I made to Hamilton and the one I made to Joel Nascimento and both confirmed that the sound grew up! I can say to you that my instruments got a new step with this mix of natural resins and shellac. I made some changes inside, braces, and outside. I'm doing a internal treatment with albumin and natural resins too. Hamilton came yesterday to my workshop to test drive the bandolim of John Eubanks and he said: 'he will be very very happy with this bandolim!'"
John was slinging his warhorse Rigel A+Deluxe last time we saw him in concert. We'll be excited to hear this new creation when it makes its trip north!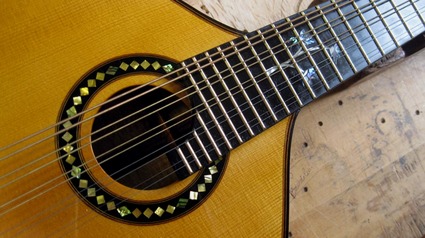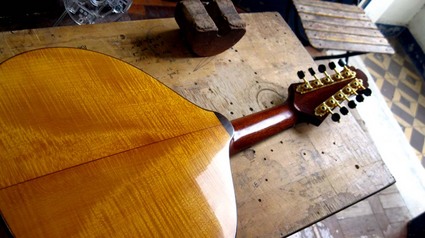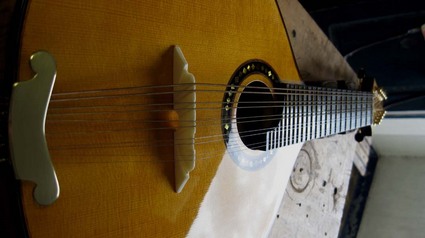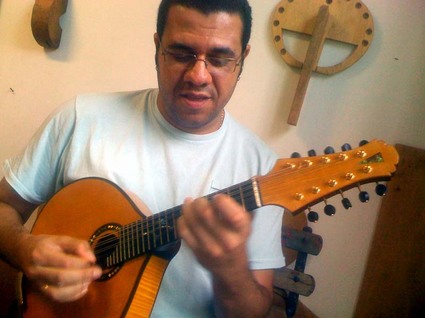 Read about builder: Tércio Ribeiro
Posted by Ted at 5:49 AM

April 12, 2010 | Two Clearance Rigel Mandolins
These are going to drive us crazy, exceptionally good prices on a used Rigel CT-110 and an unusual grey Q-95 . You may recall, we were a major part of the development team in designing the Gypsy Q; read about its features in our Spotlight on Instruments of the 21st Century. (MP3 samples included) These were both just listed this weekend, and we don't expect them to last long at these prices, once they start answering the phones this morning.

Fiddler's Green has been a faithful sponsor of JazzMando for two years now, and is a huge resource for the vibrant, internationally acclaimed Austin, Texas music scene. When these two gems are gone, there are bound to be other enticing treasures at the store like them to follow...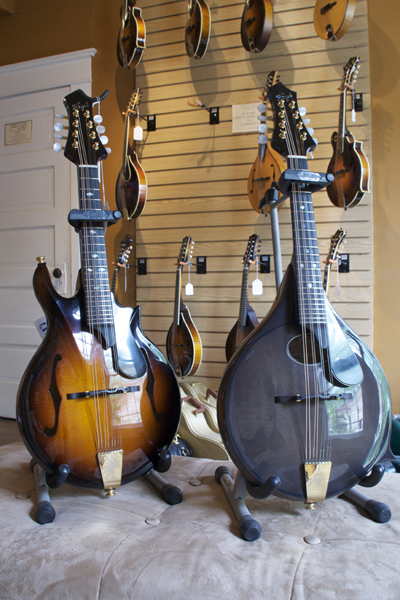 Rigels listed in the Mandolin Cafe classifieds: Rigel CT-110, Q95
Store website: Fiddler's Green
Posted by Ted at 5:31 AM

April 10, 2010 | JazzMando pick holder
So someone hands you a '26 Loar. You want to truly soak it in and savor the experience, but reach into your pocket and alas, no pick...
Don't EVER let this happen to you. Never leave home without a pick, and there's no better insurance than a limited edition JazzMando pickholder/key fob. Black premium Canadian leather adorned with gold-trimmed button and ring, this "hardware" is the answer to a Maiden's Prayer for when you're there introducing yourself to another mandolin, and your stash of picks is nowhere to be found.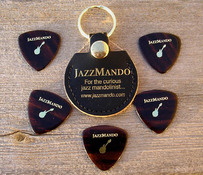 Store two or three picks, maybe a bus token or quarters for the laundry in your pocket at all time attached to your keys with this handy little accessory. Sold only with a package of 5 JazzMando signature ProPlec picks, but for $10.00 you get the picks, pouch, AND domestic shipping. (Canada and most European countries, too)
You wouldn't leave home without your keys; now you don't have to leave without your pick either!
Order information: JazzMando 346Pick'nGo
Operators are standing up...
While you're at it, celebrate the arrival of spring with a new JM Pick T shirt.
Posted by Ted at 6:01 AM

April 8, 2010 | Acoustic Vibes Music
Over the Easter weekend, we had the chance to stake out a little slice of mando heaven at Acoustic Vibes Music in Tempe, AZ, about 12 miles from Sky Harbor Airport in Phoenix. If you ever have a layover or extended stay in this happening part of the southwestern US desert, you'll want to carve out some time to hang out in this wood and steel paradise.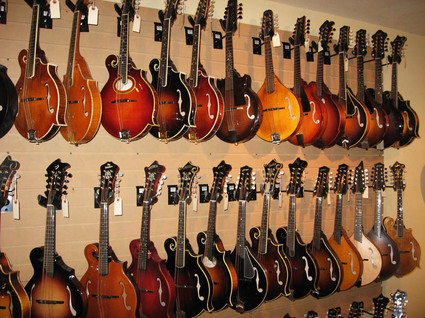 World renown mandolin brands such as Breedlove, Collings, Weber, New Mad, Phoenix, and Eastman adorn the climate controlled wood slatwall room, along with a myriad of boutique guitar brands such as Baden, Santa Cruz, Bourgeois, and Huss & Dalton. We also spotted one of the country's most exotic displays of high end ukuleles including Koaloha, Pono, and Kanile'a.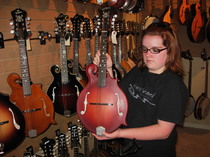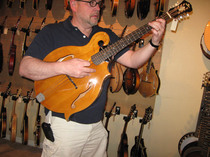 Click pictures for close-up

Acoustic Vibes is a hallmark Weber dealer; we were most impressed with the sonic power of a cedar top red satin Gallatin, and charmed by a very well set up Weber Mandocello. The later was astonishingly easy to play.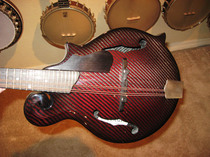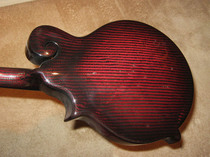 Seeing the used red Kevlar laced carbon fibre New-MAD F-body was like visiting an old friend. Not many of these were made, but typical of the store's collection of rare, but highly desirable hard to find instruments, including the stunning matched pair of Rigels, tobacco-burst fraternal twins A+Deluxe and G-110.
See and purchase any of these on the online showroom: Acoustic Vibes Music

Posted by Ted at 5:52 AM

April 6, 2010 | Lizard ear combinations--April Mandolin Sessions
You randomly place your fingers on the mandolin fretboard and strum the chord. You move a finger or two, and the combination pleases the ear. You don't know why, it just sounds good. Only later do you go back and figure out what it is and slap some kind of label on it.
This is the approach of our latest entry for Mel Bay's Mandolinsessions.com bi-monthly webzine we call "Lizard Ear Chords." The notion is simple, the intellect doesn't always have to be engaged to create or enjoy chords, sometimes they just magically happen. We have to take the moment and grab them. Maybe we'll understand them better later (and be able to reproduce them up and down the fretboard), but like a lizard enjoying the warm sunshine on a rock, the point is to embrace the sound for the sake of the sound.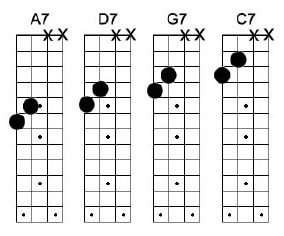 We'll be soliciting more Lizard Ear Chords for some follow up. Is there something you've discovered lately and want to share? Let us know.
Enjoy: Chord Combinations for the Lizard Ear
Check out our MandolinSessions JazzMandology Archives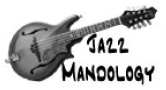 Posted by Ted at 7:36 AM

April 4, 2010 | Vintage Don Stiernberg at Acoustic Oasis
You may have already heard about the new Acoustic Oasis downloads services at the Acoustic Disc website. In addition to selecting from five decades of music David Grisman has personally collected (many of these no longer available anywhere else), there is also a terrific opportunity to get the music and the original album art files off the discs. We've enjoyed some of the more jazz-centered string material by MaMaVig (Jamie Masefield), and some terrific Frank Vignola ensembles, but in particular, the re-release of the previously out-of-circulation 1983 "Mandolin Restaurant" by jazz master Don Stiernberg, is an answer to a maiden's prayer.
We were privy to a recording of this from the artist himself a few years ago, and are delighted to see this now commercially available. Recorded early in his career in Don's nurturing professional crib in Chicago, the mostly original tunes feature the assistance of mandolin heavyweights Sam Bush, David "Dawg" Grisman, the swing mandolin mentor himself, Jethro Burns, harmonica legend Howard Levy, along with some of the Windy City's best rhythm players, including John Parrot on guitar, long-time Stiernberg friend and producer Steve Rashid on keyboard.
The downloadable files are available in MP3 ($8.95) or the higher quality audio FLAC format ($10.95). Be a little patient with the website now, as navigating is a bit slow. We'd suggest going straight to the library to see what other bones in the Dawghouse are available, but don't leave without picking up this treasure, especially!
Download Don Stiernberg's "Mandolin Restaurant."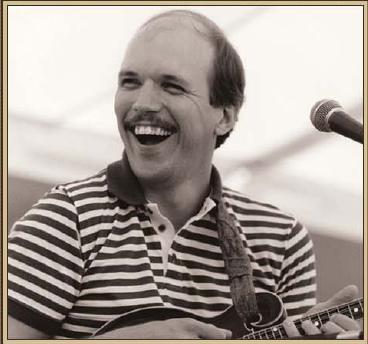 We Belong Together (4:44)
Windshield Wipers (4:35)
Django (3:32)
Blues for Ed and Myra (4:13)
Cape Verdean Blues (5:34)
The Masquerade is Over (5:44)
Opus 7 (4:36)
Ayash (4:21)
Posted by Ted at 6:54 AM

April 2, 2010 | Spring cleaning: The Jupiter Silkweave Polish Cloth
Over time, the detriments of perspiration, incremental rubbing, and smudging can be devastating. Skin oil (A.K.A. "acid sweat") is hard enough on eroding and oxidizing strings, but the finish of your instrument is something you want to pay attention to.
Commercial polishes are out there for that occasional "spring cleaning," but we advocate a better preventative measure and protection for your instrument through a simple, untreated soft cloth. Micro-fibre or chamois is great; you especially want to a Terry cloth (towel) or anything with harsh fibers. Don't let anyone tell you a soft T-shirt is good enough; there's no such thing, at least on a fibrous level. You may not notice immediately the long term destruction yielded of an improper cloth, but unfortunately once the damage is done, it's irreversible. Maybe you like that mojo of a worn instrument, but chances are likely, the person who may end up buying your instrument won't feel the same. (Most would rather break in their own instrument.)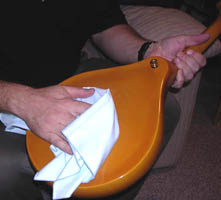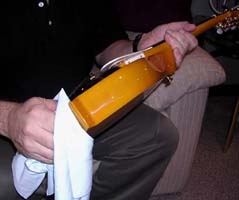 Wiping finger prints of the instrument daily is your best course. Make it a habit of wiping down your mandolin prior to putting the instrument in your case. This short term investment of time will prevent build up, keep your instrument looking nice, and preserve its overall value.
Check out our Jupiter Microweave Polish Cloth. We have literally shipped these across the global, from Japan to the Czech Republic and across the United States as well. (For other instruments besides mandolin, too!) $5.25, and if you keep them clean and don't use any polish with them, they work on eyeglasses as well.
(Quantity discounts available.)
Posted by Ted at 6:41 AM