« April 2010 | Main | June 2010 »

May 30, 2010 | Marcos Moletta; Gypsy Jazz on Electric Mandolin
From Rio de Janeiro, an informal but spectacular clip of some Django style jazz on a Fender 5-string electric mandolin, actually a "Guitarra Baina" in South America. 40 year-old Marcos Moletta is a talented multi-instrumentalist musician who is also a master of the Rabeca, a native Brazilian fiddle. He credits his musical influences from such diverse flavors as Jimi Hendrix, Pat Metheny, Bob Marley, Pixinguinha, Frank Zappa, and Wes Montgomery. You can see some other equally inspiring videos on his MySpace page.
Enjoy video: Marcos Moletta; I'll See You in my Dreams

Artist MySpace Page: Marcos Moletta
More videos: YouTube Channel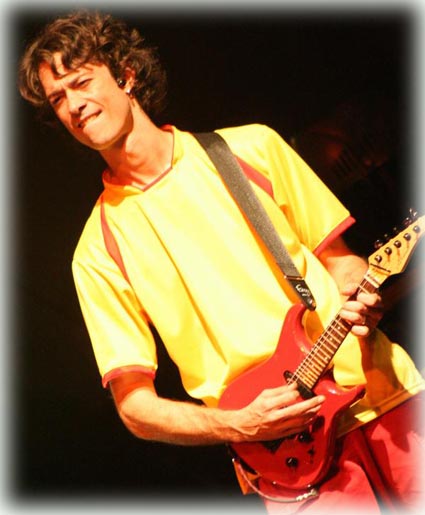 Posted by Ted at 6:45 AM

May 28, 2010 | New from MandoMorphis: 2010
New from an Emerald City based cadre of highly talented eclectic fret musicians is an equally eclectic assortment of songs, mostly original and influenced from a diverse palate of folk roots, jazz, classical, and just plain free-blowing improvisational material. "2010" is the recorded compilation of a slew of Seattle musicians called "MandoMorphis." Ensemble members include Matt Sircely (Hot Club Sandwich, and frequent clinician at the Mandolin Symposium), Orville Johnson, Michael Connolly, David Tiller, Pete Frostic, Adam Larrabee, and the group's leader and designated Den Mother, Scott Schaffer.
All your favorite stringed instruments are included: violin, dobro, guitar, octave mandolin, but the one common thread is they all play mandolin at one-time or another on the project. It's a varied blend of deliberate musical calculation and free-spirit mayhem, but the one thing you can count on with this crew is energy. If you're into the aleatoric jam-band format, you'll have plenty of material to enjoy in the 17 song collection.
David Grisman meets Phillip Glass, the band never completely abandon the bluegrass driven instrumental textures and pentatonic vocabulary, but they inject a fresh contemporary and occasionally abstract harmonic sensibility. Be prepared for mando departure...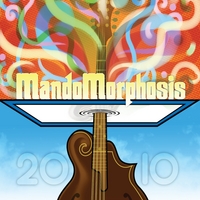 Purchase Information:
Band Webite: MandoMorphisis

Posted by Ted at 5:20 AM

May 26, 2010 | New from K&M; KM15530B violin stand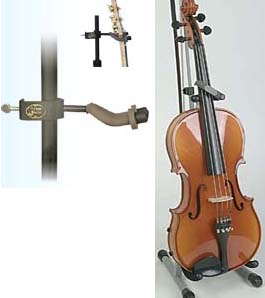 For a stage set-up we look to violin stands; shape, weight and size being very similar to the mandolin. In the past we've been very fond of the Comfort Cradle (String Swing) CC04 violin pole mount (left), because of the small (as in "no") footprint. When snuggged down, it's as stable as the microphone or music stand you mount it on. Of course if you don't have another stand around, our second choice has been the Sho-all (Ingles) SA-20 violin stand (right). Steady, stable, and low to the ground, that mandolin's not going anywhere & you have to work at it to tip it over...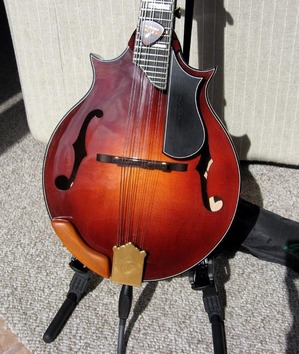 One problem remains for the "plugged-in" mandolinist. If you have a cord coming out of the endpin jack, you have a major physical balance problem with the SA-20 because of the floor flush mounting. You'll end up putting undue pressure on the cord, and disturb the stability of the mandolin.
Enter a new solution, the K&M 15530B violin stand. Relatively new to the US domestic market, this finely engineered equipment lifts the instrument clear of the floor yet still keeps a secure low profile.
You'll also notice the squarish rubber-coated fold-out lower arms hold the instrument, and tilted back, offers a confident security.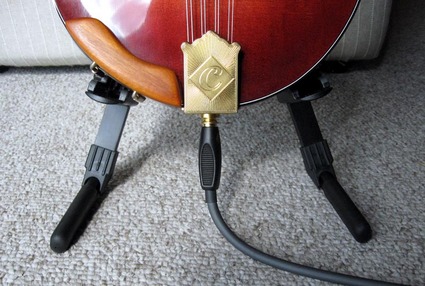 Compact, stable aluminum violin stand. Fully height adjustable instrument support arms can be adjusted to fit a variety of violin (and mandolin/mandola) sizes..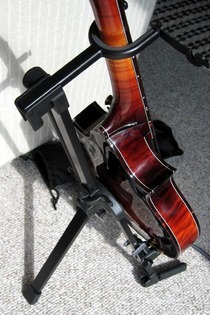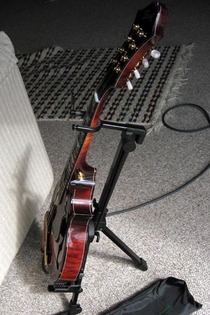 Click images for closeup
We've tested other K&M brand stands for sheet music and other instruments, and they are consistently manufactured of sturdy construction (aluminum) and high tech German engineering, yet lightweight and extremely compact. (Think Volkswagen Super Beetle.) Some of them are complex to assemble initially (need a pilot's license), but once you get the routine, each pivot each twist makes the stand smaller than competitive products. This is the case with the KM15530B; lots of adjustments, but by the time you have it completely fold into its nylon bag, it can be tucked unobtrusively into your accessory bag.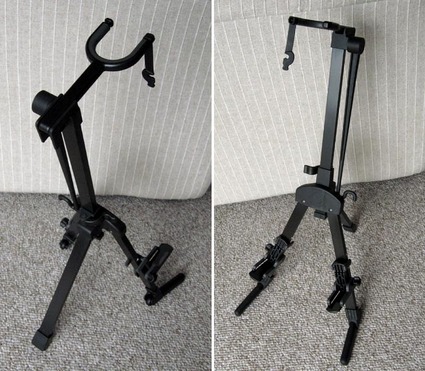 Height adjustment using a non-slip clamping lever that conveniently slides into place, the solid yoke has a no-slip safety lock to provide extra protection. A light rubber catch at the top of the stand allows you to quickly secure the instrument's neck for longer periods of storage.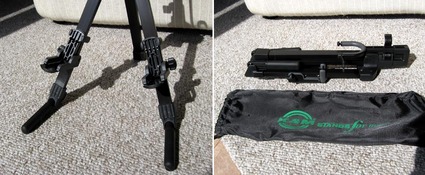 The instrument support arms are lined with soft plastic material to protect the instrument finish..

Expensive? With a street price around $40 yes, but if you want quality, reliability and unbeatable compact storage, the K&M is the stand to have for a variety of sizes of mandolin or violin.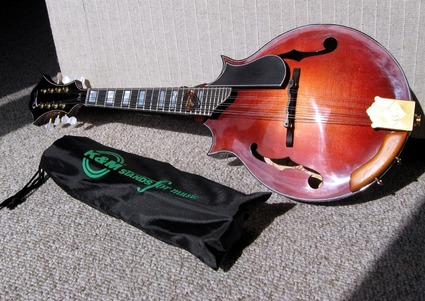 Manufacturer Specs:
Item: 15530-000-55
List Price: $49.99
MAP: $39.99
Features integrated bow holder
Folds small for travel/storage
Extremely Lightweight
Strong, stable construction
Fits a variety of violin (and mandolin) sizes
Safety lock on yoke
German engineering
Details:
Fully height adjustable instrument support arms are lined with non-marring soft plastic.
Height adjustment using a non-slip clamping lever. The solid yoke has a safety lock for extra protection.
Specs:, Aluminum, Weight 1.1 lbs., Folded size 13.7" X 4.3" X 2.7", Height: from 14.1" to 22.4"
Purchase: KM15530B violin stand

Posted by Ted at 5:38 AM

May 24, 2010 | 3/4 violin; 10-string mandola
If you will, indulge the site administrator the opportunity to show off a father/daughter moment. Twelve year-old violinist is being accompanied by her dad on his 10-string Rigel "Fandola" in this rendition of the classic recital piece, Gabriel-Marie's, "La Cinquantaine."
View Video: "La Cinquantaine." 3/4 violin with Dad on 10-string mandola.

Rigel 10-string fanned fret R-200 custom mandola. More pictures to come in a full report.
Stay tuned...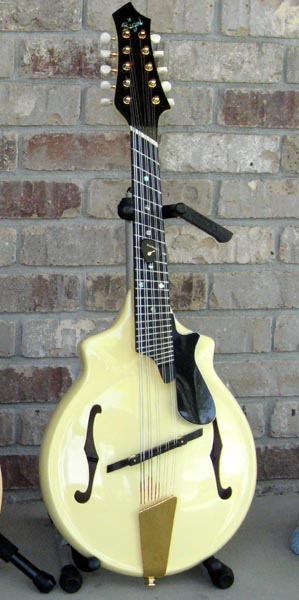 Posted by Ted at 6:02 AM

May 22, 2010 | JazzMando on Mandolin Moments; The Interview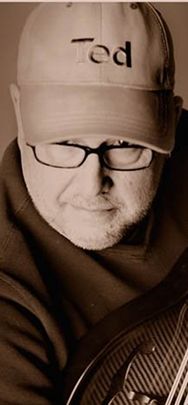 Usually it's us doing the interviewing but we were thrilled to be on the other end of the exchange.
We mentioned the new European mandolin website, Mandolin Moments a few weeks ago. Our interview with new found friend Reidar Falch from Norway is up for you to read. If you've ever wondered how JazzMando.com came about and a little history about its site author, this is an excellent summary. (If you'll indulge our narcissism).
Be sure to check out some of the other articles with a little more European collective slant on the mandolin world. Interesting to see what our brothers and sisters are doing are doing with our little 8-string wonders across the pond.
It's also exciting because here stateside, we get to brag to those that don't know us very well, we are very big in Europe.
Thanks, Reidar. Congratulations also on the new baby. (In addition to the website)
Read article: Ted Eschliman's JazzMando

Posted by Ted at 6:08 AM

May 20, 2010 | Clean up your wardrobe. It's spring!
Spring has sprung; time to purge your old ratty T-shirts and get some new ones. We heartily suggest the addition of a JM Pick Shirt to add to your summer fashion ensemble. This high-resolution closeup graphic of the world-renown JM pick is emblazoned on a white short-sleeved, tear away label Tee, 100% cotton, and available in large, extra large, and XXL (recently restocked).
Extra large graphic, to take your friends' eyes off your gut
Stylish ribbed sleeve cuffs
Comfy Haynes 5.4-oz 100% preshrunk cotton
Neck rib is seamless, and TearAway tag easily be removed
Shirts available in Large and Extra Large $15.00 (includes First Class Postage USA domestic; contact us for outside US rates). Limited XXL available for $3.00 more.
Order through the JazzMando Merchandise Center.
JM Pick Shirt acquisition details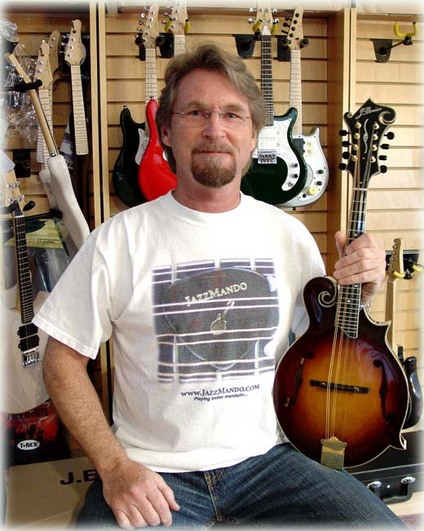 Pictured above is super hunk, Jeff Cowherd, creator of the fine JBovier line of mandolins. Very hush, hush is a secret project he's holding, and you have an exclusive glimpse of it here. We'd tell you more about this, but then we'd have to kill you afterwords. Read more about JBovier:
JBovier F5Z
JBovier EMC and EMC-5 electric mandolins
Posted by Ted at 6:02 AM

May 18, 2010 | Bob McCarthy Music; "Where I Live"
We recently stumbled across an amazingly talented fretted multi-instrumentalist we feel compelled to share. New Englander, Bob McCarthy, based out of Winnisquam, New Hampshire offers a special blend of jazz, contemplative folk, and eclectically pastoral instrumental music incubated in the New York and Boston area coffeehouse sensibilities of the 60s and 70s. Since then, he added to a thriving solo career, stage experiences with some pretty high caliber artists including the likes of Larry Coryell, Harry Chapin, Taj Mahal, Leo Kottke, Neil Young, and hosts of additional diverse musicians.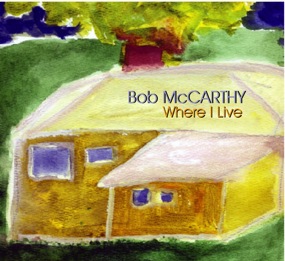 As a mandolinist/guitarist, he has produced some highly credible CDs, including one we're quite enchanted with, "Where I Live," produced by Berklee College Professor Randy Roos. McCarthy is also a talented visual artist, and his collection of videos based on his charming original music, photographs, and soft abstract rustic paintings is well worth the time exploring on his Facebook, MySpace, and YouTube accounts. A humble soul, Bob enjoys the outdoors, a specially serene, modest rural mode of life, including intimate time spent with nature and his older Belgian Tervuren dogs. His guitar/mandolin/vocal music captures a Norman Rockwell folk lifestyle and delivers within a Thomas Kinkade vantage. His sound and lyrics are astonishingly cerebral, quietly passionate.
Enjoy Video: Before The Storm; Bob McCarthy

Though he has many projects under his belt, we want to especially recommend the "Where I Live" CD in metaphorical rotation in the JazzMando offices the last couple weeks, available at iTunes, CDBaby, and off his personal website. At minimum, check out his amazing videos.
MySpace: Bob McCarthy Music
Purchase CD: Bob McCarthy Music
Facebook: Videos
Become a fan. We are!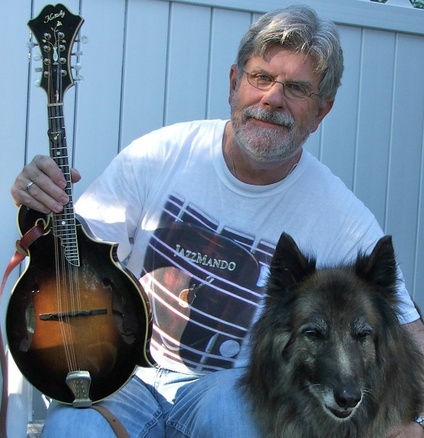 Posted by Ted at 5:49 AM

May 16, 2010 | Classifieds find: Colorado builder David Griffin
We caught this fascinating Pagelli-5 inspired mandolin over on the Cafe Classifieds and had to find out more. Builder David Griffin describes himself as a hobby builder since 1995. This is instrument is his thirty-second, twenty of which have been mandolins. He tells us, "I know it ain't no F-5 but it can pass for one sonically. I'm sure the Jazzy crowd would love it!"
The instrument bears the general dimensions of a traditional F-5 mandolin with standard width at the 12th fret and nut, and is cut from bear-clawed sitka spruce top and crotch figured two-piece black walnut back and sides. Fretboard is gently radiused ebony with "banjo" sized frets, the finish is nitro laquer with oiled neck.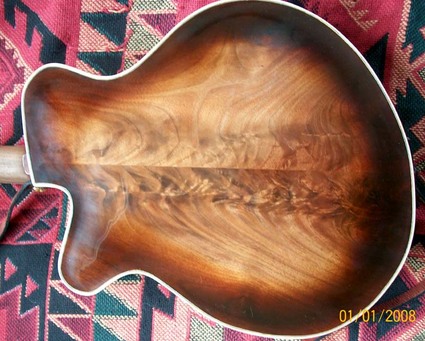 In addition to its unique silhouette, it's striking cosmetically with its multi-veneered headstock (top & back), curly maple bound fingerboard and pickguard, and the abalone purfling adorning the top and fingerboard. Redwood burl was implemented for the headstock, pickguard, and tailpiece.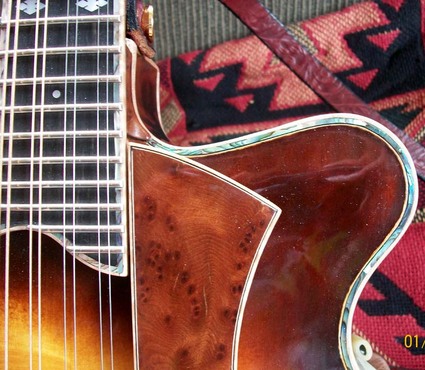 Its additional pro features included Mother of Pearl nut and gold Schaller tuners (black worm gears). Notice his handmade brass inset in the tailpiece.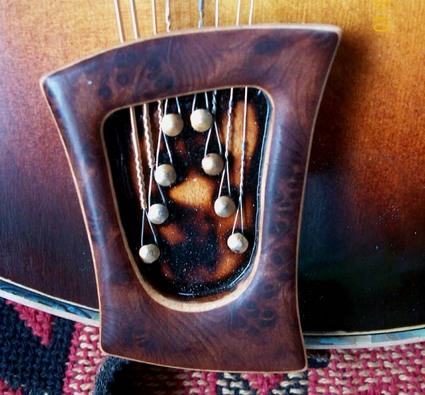 Interesting black walnut "Soundblade" (removable Kuhn style rubber foot mounting) for enhanced back resonance: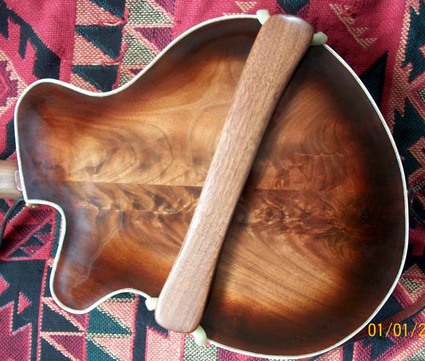 Looks like a seriously fun instrument!
He's listed it for $3400 at the Mandolin Café Classifieds website: Pagelli-5 inspired mandolin
Contact: David Griffin


Posted by Ted at 12:21 PM

May 14, 2010 | The Ooks Of Hazzard
We were aware of some of the great recordings of the clever bluegrass parody group, Hayseed Dixie, but we didn't know the breadth of some of the other pop music treats on YouTube, like the following cover of MGMT's "Kids."
Face it, Ukes are irresistible, especially in the hands of the "Ooks of Hazzard." (Original here)
Enjoy video: The Ooks Of Hazzard - Kids (MGMT Cover)


Posted by Ted at 5:43 AM

May 12, 2010 | Spring Can Really Hang You Up the Most. Really...
We have an aural treat for you, submitted by JazzMando staff researcher, Mark Wilson whose archive lessons here on Chord Grips have helped many of our readers grasp (pun intended) a systematic approach to fingering and creating their own chords up and down the fretboard. Mark, an accomplished upright bassist, is a proud owner of a Gary Palsmeier custom-built 5-string guitar-bodied jazz mandolin, in his words, Maccaferri meets D'Aquisto. Gary is himself, a widely popular performer on the Kansas plains music scene.
Enjoy this self-recorded interpretation of the 1955 Frances Landesman/Thomas Wolf standard, Mark on bass, mando, and midi organ and drums.
Listen:

Spring Can Really Hang You Up the Most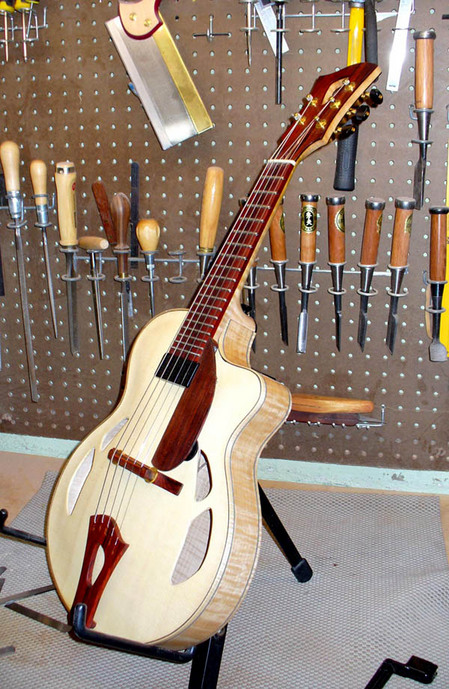 Review: Grips



Posted by Ted at 7:55 AM

May 10, 2010 | Stuff you can get for free at JazzMando
You might already be aware of the vast informational resources here on the JazzMando site, including our weekly "Tips and Tricks" column, and our bi-daily "What's New" (did you know you these can deliver an RSS feed?), but what's really cool is the stuff you can get for free.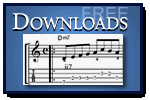 One of our most visited pages statistically is our "Popular Downloads", including our introductory FFcP lesson, stock 'ii V7 I' fingerings, Guides and Gravity exercises, special Altered Scales Studies, a Lydian mode workout to stretch your hands and warm up your fingers," and a special picking finger exercise "Sweeping for Tone." Of course we also break down our FFcP Studies into seven areas of development on a separate FFcP page.
Check it out: Popular Downloads
Like these? Share your thoughts with others in these special social media communities:
FFcP Facebook
Mandolin Cafe FFcP Cafe Users Group
Twitter: FFcPmandolin:

Did we mention you get a free JazzMando pick with every string order?

Posted by Ted at 5:38 AM

May 8, 2010 | Taser your favorite mandolinist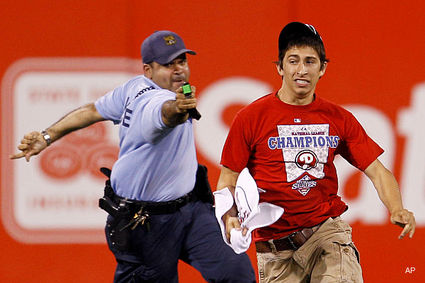 Earlier this week, a teenage Philadelphia Phillies fan rushed the field at Citizens Park and was dramatically brought down by a cop wielding a taser. Ill-begotten as this prank was, we've found the opportunity for a little Photoshop fun, and wanted to give you the same...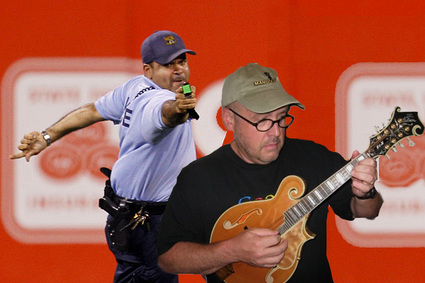 Feel free to work your own Photoshop magic on the background below and inflict corrective measures on your favorite musician friends.
Tip: No banjo players. Tasers don't work on them.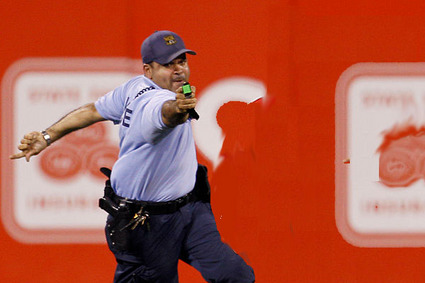 (click for larger image)
Posted by Ted at 5:47 AM

May 6, 2010 | Prep for 'Django in June' Camp 2010

We've put in a plug for Django in June already this year, but we want to give you New Englanders yet another reason to take advantage of the June 15-20 Gypsy Jazz experience. Camp Director, Andrew Lawrence has asked the instructors to offer a solo and transcription which students are invited to study before the camp (and then go over it in class). Jamie Masefield (Jazz Mandolin Project) has done one on the gypsy tune Swing Gitan.

Take a moment to look over the transcription PDF and get excited about this opportunity:
Jamie Masefied; Swing Gitan solo
(First he plays a slightly embellished version of the head, then two choruses)

Listen:
Audio: The complete solo at full speed
Audio: Head (embellished) at 70% speed
Audio: 1st chorus at 70% speed
Audio: 2nd chorus at 70% speed

We've heard from many who have attended sessions in previous years, and can testify to rave reviews. Get signed up!

Registration: Django in June 2010
Contact: Andrew Lawrence
Prep: Get Ready

Posted by Ted at 6:31 AM




May 4, 2010 | iReal Book for iPad now available!
We mentioned this app back in May of 2009, and we thought it was cool even on the small-ish iPhone size screen. When word of Apple's new iPad came out in March, this was the first app our circle of musicians talked about that would benefit from the larger 9.7 inch high resolution screen real estate, and we're happy to see iReal Book 2.6 for the iPhone/iPad is out as of April 27, 2010.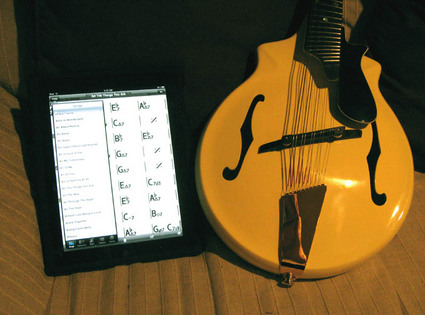 Some new enhancements came out in versions 2.4 and 2.5, including another 400 songs (900 total) and access to a user forum with a global exchange of new songs from other iReal Book owners and categorized by styles. Keep in mind the program also allows you to write and store your own user songs.
Our only hesitation is the vulnerability of the glass and aluminum casing in the should the iPad get knocked off a bandstand. Someone will need to come up with a good way to secure this without blocking the screen. A charging/docking station would be cool hardware, but with 10 hours of battery life, a musician diligent about recharging shouldn't have any problems.
All these songs and the convenient access for under $8.00, this app is an absolute must have for any iPhone/iPad owner. Highly recommended.
Visit iReal Book Website
Join iReal Book Forum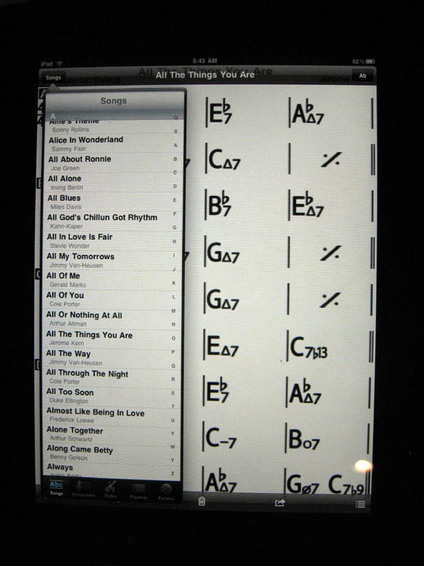 View YouTube demo of iPhone/iPod Touch: iReal Book Forum
Posted by Ted at 5:59 AM

May 2, 2010 | Breathtaking treasures at The Acoustic Music Company
This one is just killing us, a gorgeous used "Black Beauty" Weber Gallatin A with snakehead headstock, tortoise bound top and soundhole, quilted maple back and sides, Brekke bridge and high gloss finish. (Drooling...)
Our friend (and JazzMando sponsor) Trevor Moyle in Brighton, UK, has some of the most delicious new and used eye (and ear) candy you'll ever find on the planet. As proprietor of his store, The Acoustic Music Company, he's known for ordering on spec, the most amazing innovative instruments from world-premiere builders, as well as acquiring unusually good vintage instruments since opening his doors back in 2001. This is one of those amazing instruments and you can buy it here, please before it drives us crazy!
Buying from the United Kingdom in the US? No problem. It's pretty easy to convert currency (we did with Paypal), and according to the web information, shipping outside of the European Union, customers can get an additional 15% discount from the listed prices (in British Pounds). We've dealt with Trevor on personal transactions and can testify to great, honest service.
Browse the website from some incredible mandolins!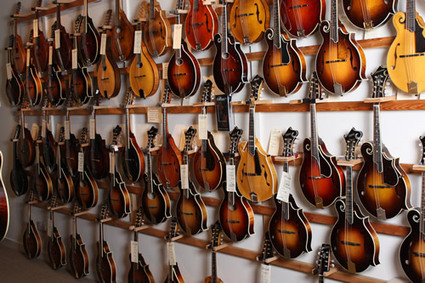 Website: The Acoustic Music Company
Posted by Ted at 7:22 AM