« The Ooks Of Hazzard | Main | Bob McCarthy Music; "Where I Live" »

May 16, 2010 | Classifieds find: Colorado builder David Griffin
We caught this fascinating Pagelli-5 inspired mandolin over on the Cafe Classifieds and had to find out more. Builder David Griffin describes himself as a hobby builder since 1995. This is instrument is his thirty-second, twenty of which have been mandolins. He tells us, "I know it ain't no F-5 but it can pass for one sonically. I'm sure the Jazzy crowd would love it!"
The instrument bears the general dimensions of a traditional F-5 mandolin with standard width at the 12th fret and nut, and is cut from bear-clawed sitka spruce top and crotch figured two-piece black walnut back and sides. Fretboard is gently radiused ebony with "banjo" sized frets, the finish is nitro laquer with oiled neck.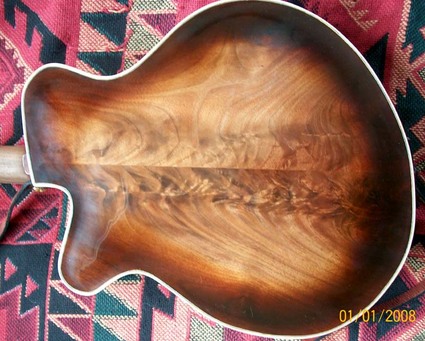 In addition to its unique silhouette, it's striking cosmetically with its multi-veneered headstock (top & back), curly maple bound fingerboard and pickguard, and the abalone purfling adorning the top and fingerboard. Redwood burl was implemented for the headstock, pickguard, and tailpiece.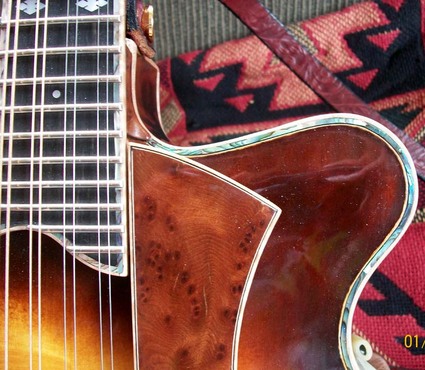 Its additional pro features included Mother of Pearl nut and gold Schaller tuners (black worm gears). Notice his handmade brass inset in the tailpiece.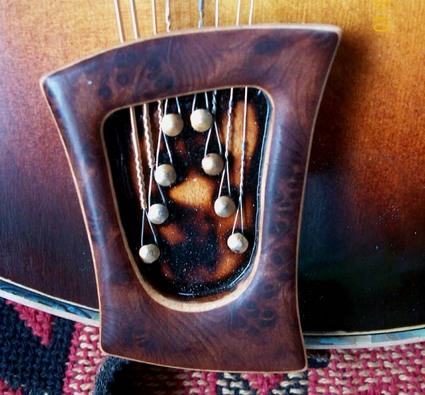 Interesting black walnut "Soundblade" (removable Kuhn style rubber foot mounting) for enhanced back resonance: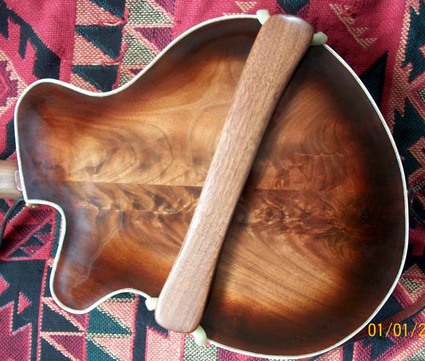 Looks like a seriously fun instrument!
He's listed it for $3400 at the Mandolin Café Classifieds website: Pagelli-5 inspired mandolin
Contact: David Griffin


Posted by Ted at May 16, 2010 12:21 PM