« New from K&M; KM15530B violin stand | Main | Marcos Moletta; Gypsy Jazz on Electric Mandolin »

May 28, 2010 | New from MandoMorphis: 2010
New from an Emerald City based cadre of highly talented eclectic fret musicians is an equally eclectic assortment of songs, mostly original and influenced from a diverse palate of folk roots, jazz, classical, and just plain free-blowing improvisational material. "2010" is the recorded compilation of a slew of Seattle musicians called "MandoMorphis." Ensemble members include Matt Sircely (Hot Club Sandwich, and frequent clinician at the Mandolin Symposium), Orville Johnson, Michael Connolly, David Tiller, Pete Frostic, Adam Larrabee, and the group's leader and designated Den Mother, Scott Schaffer.
All your favorite stringed instruments are included: violin, dobro, guitar, octave mandolin, but the one common thread is they all play mandolin at one-time or another on the project. It's a varied blend of deliberate musical calculation and free-spirit mayhem, but the one thing you can count on with this crew is energy. If you're into the aleatoric jam-band format, you'll have plenty of material to enjoy in the 17 song collection.
David Grisman meets Phillip Glass, the band never completely abandon the bluegrass driven instrumental textures and pentatonic vocabulary, but they inject a fresh contemporary and occasionally abstract harmonic sensibility. Be prepared for mando departure...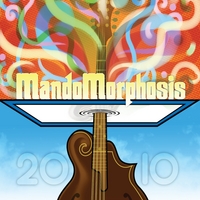 Purchase Information:
Band Webite: MandoMorphisis

Posted by Ted at May 28, 2010 5:20 AM