« Bob McCarthy Music; "Where I Live" | Main | JazzMando on Mandolin Moments; The Interview »

May 20, 2010 | Clean up your wardrobe. It's spring!
Spring has sprung; time to purge your old ratty T-shirts and get some new ones. We heartily suggest the addition of a JM Pick Shirt to add to your summer fashion ensemble. This high-resolution closeup graphic of the world-renown JM pick is emblazoned on a white short-sleeved, tear away label Tee, 100% cotton, and available in large, extra large, and XXL (recently restocked).
Extra large graphic, to take your friends' eyes off your gut
Stylish ribbed sleeve cuffs
Comfy Haynes 5.4-oz 100% preshrunk cotton
Neck rib is seamless, and TearAway tag easily be removed
Shirts available in Large and Extra Large $15.00 (includes First Class Postage USA domestic; contact us for outside US rates). Limited XXL available for $3.00 more.
Order through the JazzMando Merchandise Center.
JM Pick Shirt acquisition details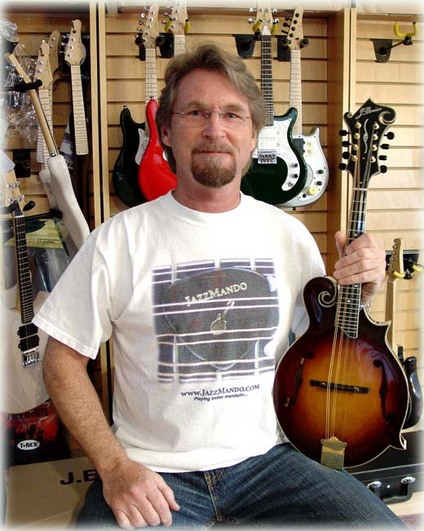 Pictured above is super hunk, Jeff Cowherd, creator of the fine JBovier line of mandolins. Very hush, hush is a secret project he's holding, and you have an exclusive glimpse of it here. We'd tell you more about this, but then we'd have to kill you afterwords. Read more about JBovier:
JBovier F5Z
JBovier EMC and EMC-5 electric mandolins
Posted by Ted at May 20, 2010 6:02 AM