Rick Trolsen and Gringo do Choro
June 20th, 2006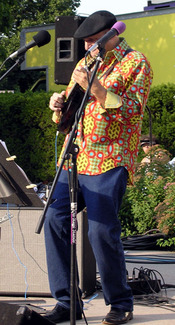 Featured with trombonist Rick Trolsen and his "Gringo do Choro," was jazz mandolinist John Eubanks in the 3rd Jazz in June concert, in Lincoln, Nebraska, Tuesday, June 20th. Based out of New Orleans, these world-class musicians delivered exciting, high-energy Brazilian jazz.

A virtuoso jazz multi-instrumentalist, Eubanks has played guitar with fellow Loyola University faculty John Mahoney and the John Mahoney Big Band as well as "Crescent City" renowned clarinetist, Tim Laughlin.

John is also in demand as a first-call session rhythm guitarist around the "Big Easy," and was slinging his "Vermont Bandolim," his Rigel A+ Deluxe mandolin in what turned out to be an exciting, entertaining evening concert of complex Latin Rhythms and lush Euro-Amercian harmonies.
Over 6,000 people turned out in attendance for this hot, and we mean hot, 96 degree evening. The stellar playing and arranging skills of bandleader and trombonist Rick Trolsen kept the eager crowd going all night.
Free admission to the public, the Jazz in June concert series is sponsored and underwritten by many local businesses and organizations and hosted by the gorgeous Sheldon Art Gallery on the University of Nebraska Lincoln campus. Concert information: Jazz in June with Rick Tolsen and Gringo do Choro.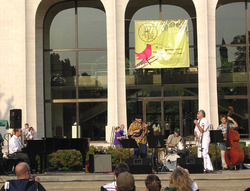 A fabulous opportunity for John Eubanks as well a premier opportunity for jazz mandolin in this high profile ensemble; the quintet of trombone, mandolin, piano, bass and drums blew for 2 hours to an engaged and appreciative audience. A rare treat, some of New Orleans best musicians, for this midwestern plains crowd.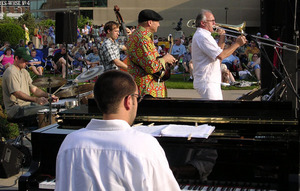 ---
Read CD review: Rick Trolsen and Gringo do Choro
Hear samples and purchase CD: Gringo do Choro CD