« August 2015 | Main | October 2015 »

September 30, 2015 | The Lick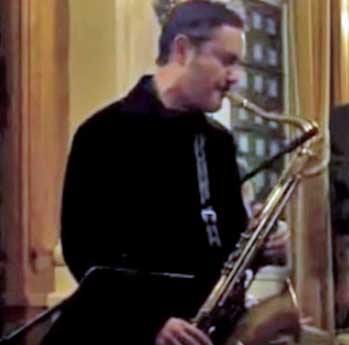 As we learn to improvise, we go through our musical development conjuring up a handful of motifs or signature, recognizable passages known colloquial as "licks."
They transpose and transpire across key, tempo, instrument and genre, often seven or eight notes, sometimes as simple as two. Aways discernible to an attentive ear as demonstrated in the video below.
Video Link: The Lick
Posted by Ted at 7:49 PM

September 20, 2015 | Classifieds find; DeCava Jazz Mandolin
There's a terrific opportunity for a boutique mandolin on the Cafe Classifieds from Connecticut guitar builder James DeCava. We've not had hands-on experience with his craft yet, but the seller is solid and has always had an eye for quality and perpetually great collection of fabulous instruments.
This is one of his signature models that usually weighs as a $5K, so the asking price is quite a steal at $1950. Doubt this will be listed long at that price.
Classifieds Link: DeCacava Jazz Mandolin
We scored some exclusive pics:
Specs:
Spruce top, maple neck, back, and sides.
Radiused ebony fretboard.
Fully bound body and neck.
Adjustable bridge.
Custom matching ebony pickguard & tailpiece cover.
Includes external Pick Up The World under bridge pickup with carpenter jack.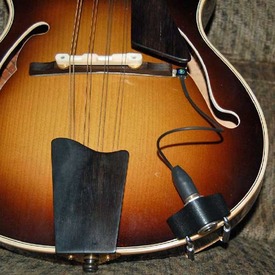 Posted by Ted at 7:33 PM

September 14, 2015 | Mandolin as stress relief
Serving in the military can be some of the highest pressure jobs and one Staff Sargent stationed in South Korea has found his solace in an activity we can all relate to--playing mandolin. DIVIDS, a media branch of our Armed Services explores this outlet in recent online article submitted by Cpl. SeoWon Lee, "Looking for Relief."
Life enhancing. Of course!
Read article: Looking for Relief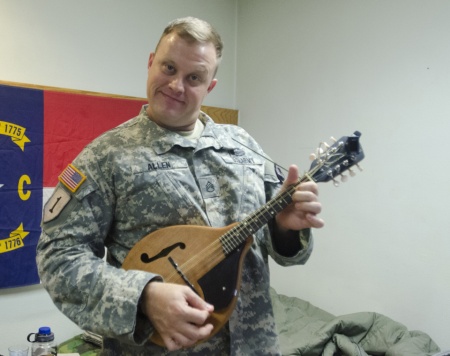 Staff Sgt. Anthony Allen

Posted by Ted at 5:29 AM

September 2, 2015 | Will Patton and Ninine Garcia, 2010
We posted this about five years ago, New England premier jazz mandolinist, Will Patton was in Paris prio for his pending CD project Flow (released in 2011) and was caught on tape prepping for a recording session with long time friend and fellow Django jazz picker, Ninine Garcia. The song is "Caporal Swing." He jokes about some of the language barrier between him and the accomplished French guitarist, "I'm ok at 'plus de fromage, s'il vous plait' but not the 'tag the outro with a minor 7 flat five.'"
Video link: Will Patton and Ninine Garcia in the Studio

Every one of Will's five CDs gets regular rotation in our player!
Read review: Will Patton Ensemble, "Flow"
More Will Patton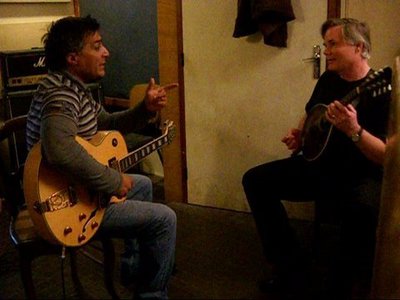 Mandolin Cafe Interview: 10 Questions for Will Patton
Posted by Ted at 9:13 PM