« Stellar chords. | Main | Mandolin as stress relief »

September 2, 2015 | Will Patton and Ninine Garcia, 2010
We posted this about five years ago, New England premier jazz mandolinist, Will Patton was in Paris prio for his pending CD project Flow (released in 2011) and was caught on tape prepping for a recording session with long time friend and fellow Django jazz picker, Ninine Garcia. The song is "Caporal Swing." He jokes about some of the language barrier between him and the accomplished French guitarist, "I'm ok at 'plus de fromage, s'il vous plait' but not the 'tag the outro with a minor 7 flat five.'"
Video link: Will Patton and Ninine Garcia in the Studio

Every one of Will's five CDs gets regular rotation in our player!
Read review: Will Patton Ensemble, "Flow"
More Will Patton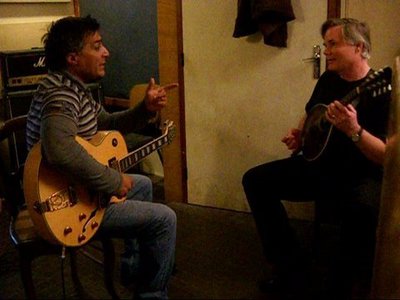 Mandolin Cafe Interview: 10 Questions for Will Patton
Posted by Ted at September 2, 2015 9:13 PM