« A decades-long love affair with an old-fashioned instrument | Main | Will Patton and Ninine Garcia, 2010 »

August 25, 2015 | Stellar chords.
Music theory tends to come to life better in context than the dry mathematics approach often associated with the understanding the structure in music. Such is the case with comprehending the m7b5 chord, the "Dominant Prep" in minor keys. Think minor 7 chord, but flat the 5th. (AKA, half diminished 7th.)
Better, run through the Victor Young Classic "Stella by Starlight" and you encounter a chain of the haunting 'iiv7b5 V7" pairs to stretch fingers and acclimate ears in real time. Real world, not just theory.
We ran a lesson in April 2013 in our Tips and Tricks column worth revisiting, "Stella by Starlight 'iiv7b5 V7' Fun." Take some time to play through this and see how knowing a few extra of these pairs can enhance your playing. Of course once you have a handful of inversions down, you can play them up and down the mandolin fretboard like a Boss.
Lesson Link: Stella by Starlight 'iiv7b5 V7' Fun.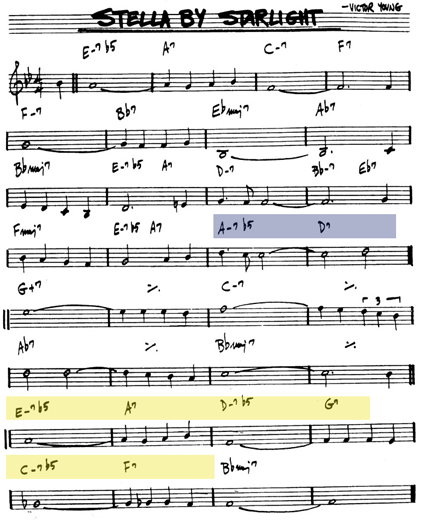 Posted by Ted at August 25, 2015 5:42 AM