November 11, 2015 | Another DeCava! Limehouse Blues
We posted a terrific Classified find a few weeks ago from New England builder James DeCava, his signature jazz-bodied 8-string mandolin. Confession: we ended up buying it and have simply been blown away by the quality craftsmanship, and the character in its tone. Strung up now with some Thomastik flawound strings, it may well be the best jazz sound we've ever encountered on a mandolin.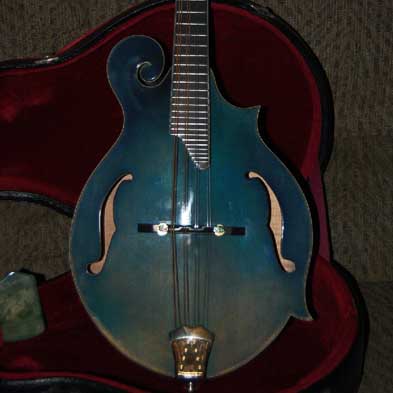 L'Artista "Limehouse Blues."
Now we need someone to save us from temptation and pick up the other instrument listed in the Mandolin Cafe Classifieds. This time it's his other signature mandolin build, the L'Artista "Limehouse Blues." We've been teased by the builder database overtime this instrument shows up on the front page of the Cafe, and now this one is looking for a home at a ridiculously low selling price of $2400!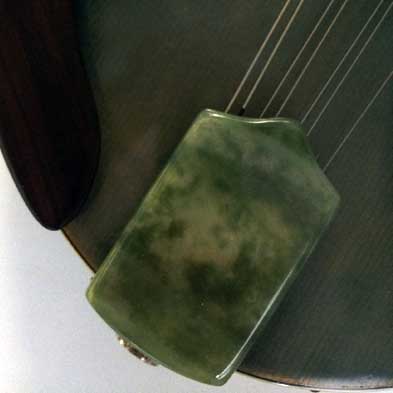 We dare you to beat us to the punch and pick this up before we do. We can vouch for the reputation of the seller having already done several smooth transactions with him.
From the ad description: "The instrument was inspired by the instrumental version of "The Limehouse Blues" performed by The Hot Club of France that helped to bring Django Reinhardt and Stephane Grappelli to the world stage. In addition to the unique color that appears to be somewhere between green and blue, there are a number of distinctive features of this mandolin including: Inlays include a Chinese Dragon on the front of the headstock, and Big Ben on the back of the headstock to represent the "Limehouse" section of London's Chinatown that served as the inspiration for the song. The mandolin construction features a red spruce top, figured maple back, sides and neck, with beautiful burl maple on the front of the headstock."
Cafe Ad: Limehouse Blues Mandolin
Builder Website: CeCava Guitars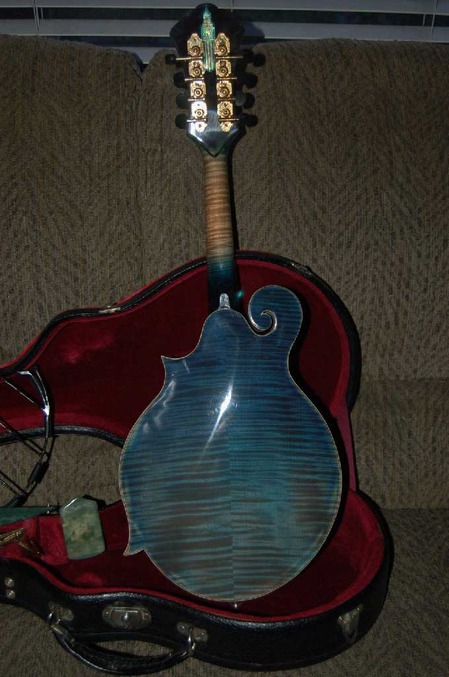 Did we mention--it's blue?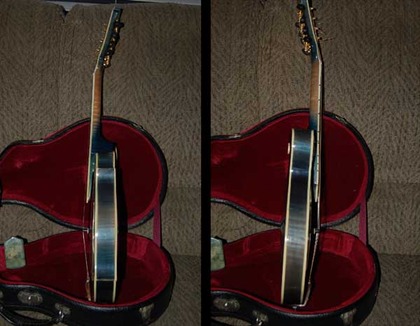 Posted by Ted at 9:30 PM

November 5, 2015 | JazzMando Pick and String Alternatives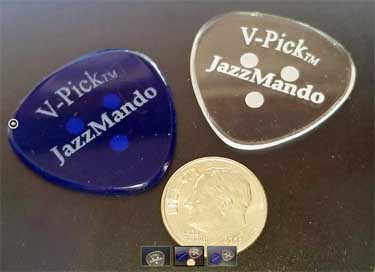 It's been a good run for us this past decade, but we are shuttering down the JazzMando Merchandise Center, including our online sales of strings, picks, and soon our books. We appreciate the patronage over these years and don't worry, we're not leaving you out in the cold.
Strings: What used to be Labella JM-11 JazzMando strings have disappeared, but with that, the quality control issues that plagued us for so long. We're confident you will be happy with the flatwound string we helped D'Addario develop several years ago, the EFW74 (formerly FW74).
Picks: The JM Proplec have been officially retired, but you can still get the 346 pick from any D'Andrea pick dealer, albeit without the gold stamping on the 2nd side. We've made a personal move to the JM V-pick, which we are happy to announce is available direct from the maker himself on the V-picks website.
Books: Getting Into Jazz Mandolin is still available from the publisher Mel Bay, or of course you can still get print copies through Amazon. Note the books no longer come with a CD, but the accompanying audio is now available through an online link.
Thanks for your support these past few years!


Posted by Ted at 7:30 AM

November 3, 2015 | The Mandolin Omnibook
As policy, we tend to shy away from promoting Crowdfunding projects on the site, but we have quite a number of industry friends showcased in this Kickstarter campaign, The Mandolin Omnibook. Within a few days of announcing, the project has already reached its modest funding goal.
According the description of the product, Author Alex Heflin is tackling "A collection of important jazz mandolin solo transcriptions, featuring solos by artists including Don Stiernberg and Jethro Burns."
Artist and song selections are pictured in the graphic below. Check out the video on the Kickstarter Page: The Mandolin Omnibook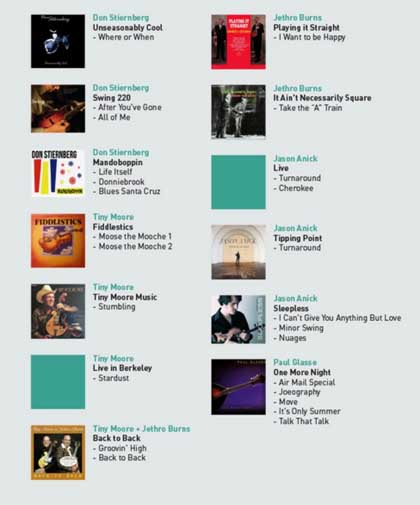 Posted by Ted at 8:47 PM

November 1, 2015 | Hamilton de Holanda with Brasilidade Geral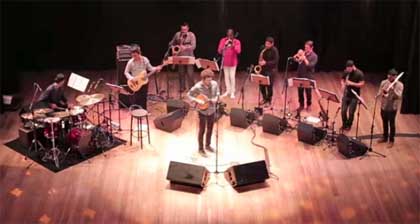 Nothing better than a mandolin playing in a horn band context. We love seeing our instrument function in the jazz world like a "legit" instrument, and the following video clip demonstrates why. Enjoy bandolim superstar Hamilton de Holanda performance with Brazil's Brasilidade Geral with us!
Video Link: Hamilton de Holanda with Brasilidade Geral; Carolina de Carol

Facebook Page: Brasilidade Geral
Music of Hamilton de Holanda
Posted by Ted at 5:59 AM

October 26, 2015 | Aaron Weinstein: Mandolin Chord Melody System
For the last six years, we've been marveling at the Chord Melody prowess of east coast US string magician Aaron Weinstein. The video clips from his YouTube Channel have stunned us with their concise but expert brilliance, breaking new aesthetic ground with incredible solo mandolin interpretations of classics from the Great American Songbook.
Aaron has taken this gift to the instrument one step further, cataloging his approach and taking us behind the wizard's curtain and exposing shareable components of his amazing compositional process with his new 52 page Mel Bay book, Mandolin Chord Melody System. It's immediately available for preorders (we've heard November for hard copies), and we couldn't recommend it any stronger.
We've read through it and hear us, there are tips here that will not only teach you some jazz tricks, but a new way of thinking the mandolin fretboard itself. His straightforward language and wry sense of humor will make this a pleasure to absorb and learn.
Order your copy now!
Purchase: Mandolin Chord Melody System, Aaron Weinstein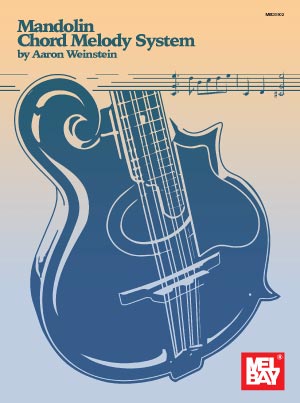 Read author commentary:Mandolin Cafe Interview
Video Link: Aaron Weinstein plays Gershwin's "LIZA"

Purchase music of Aaron Weinstein
Posted by Ted at 10:33 PM

October 22, 2015 | Paul Glasse; The Tilt circa 1990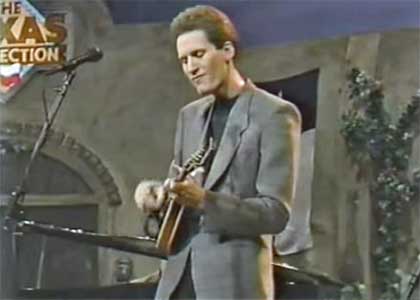 It's 25 years old, but this blast from the past Texas Connection video of jazz mandolin legend Paul Glasse remains golden. From his "One More Night" CD, this live recording of "The Tilt" is pure virtuosity. The original tune is a great demonstration not only of Paul's chops but the amazing musicians he's always surrounded himself with.
Caution. This one will get your heart going.
Video Link: Paul Glasse - The Tilt

Posted by Ted at 4:30 AM

September 30, 2015 | The Lick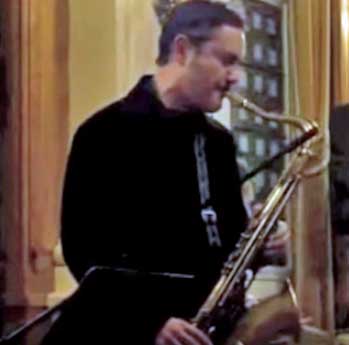 As we learn to improvise, we go through our musical development conjuring up a handful of motifs or signature, recognizable passages known colloquial as "licks."
They transpose and transpire across key, tempo, instrument and genre, often seven or eight notes, sometimes as simple as two. Aways discernible to an attentive ear as demonstrated in the video below.
Video Link: The Lick
Posted by Ted at 7:49 PM

September 20, 2015 | Classifieds find; DeCava Jazz Mandolin
There's a terrific opportunity for a boutique mandolin on the Cafe Classifieds from Connecticut guitar builder James DeCava. We've not had hands-on experience with his craft yet, but the seller is solid and has always had an eye for quality and perpetually great collection of fabulous instruments.
This is one of his signature models that usually weighs as a $5K, so the asking price is quite a steal at $1950. Doubt this will be listed long at that price.
Classifieds Link: DeCacava Jazz Mandolin
We scored some exclusive pics:
Specs:
Spruce top, maple neck, back, and sides.
Radiused ebony fretboard.
Fully bound body and neck.
Adjustable bridge.
Custom matching ebony pickguard & tailpiece cover.
Includes external Pick Up The World under bridge pickup with carpenter jack.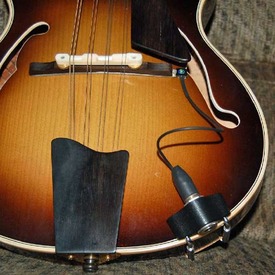 Posted by Ted at 7:33 PM

September 14, 2015 | Mandolin as stress relief
Serving in the military can be some of the highest pressure jobs and one Staff Sargent stationed in South Korea has found his solace in an activity we can all relate to--playing mandolin. DIVIDS, a media branch of our Armed Services explores this outlet in recent online article submitted by Cpl. SeoWon Lee, "Looking for Relief."
Life enhancing. Of course!
Read article: Looking for Relief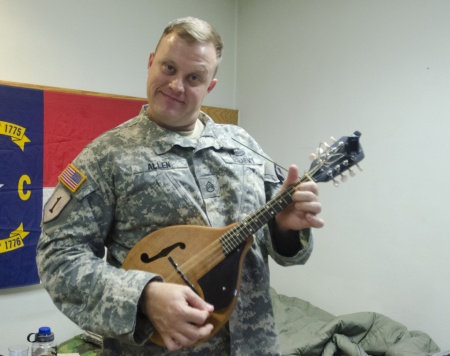 Staff Sgt. Anthony Allen

Posted by Ted at 5:29 AM

September 2, 2015 | Will Patton and Ninine Garcia, 2010
We posted this about five years ago, New England premier jazz mandolinist, Will Patton was in Paris prio for his pending CD project Flow (released in 2011) and was caught on tape prepping for a recording session with long time friend and fellow Django jazz picker, Ninine Garcia. The song is "Caporal Swing." He jokes about some of the language barrier between him and the accomplished French guitarist, "I'm ok at 'plus de fromage, s'il vous plait' but not the 'tag the outro with a minor 7 flat five.'"
Video link: Will Patton and Ninine Garcia in the Studio

Every one of Will's five CDs gets regular rotation in our player!
Read review: Will Patton Ensemble, "Flow"
More Will Patton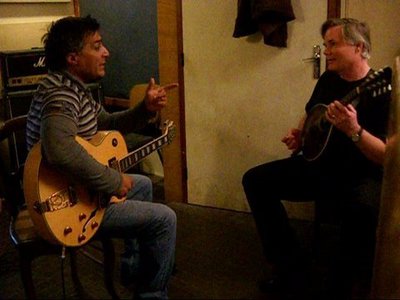 Mandolin Cafe Interview: 10 Questions for Will Patton
Posted by Ted at 9:13 PM