« The Mandolin Omnibook | Main | Another DeCava! Limehouse Blues »

November 5, 2015 | JazzMando Pick and String Alternatives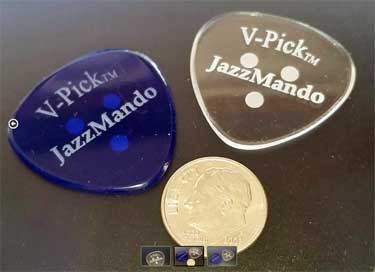 It's been a good run for us this past decade, but we are shuttering down the JazzMando Merchandise Center, including our online sales of strings, picks, and soon our books. We appreciate the patronage over these years and don't worry, we're not leaving you out in the cold.
Strings: What used to be Labella JM-11 JazzMando strings have disappeared, but with that, the quality control issues that plagued us for so long. We're confident you will be happy with the flatwound string we helped D'Addario develop several years ago, the EFW74 (formerly FW74).
Picks: The JM Proplec have been officially retired, but you can still get the 346 pick from any D'Andrea pick dealer, albeit without the gold stamping on the 2nd side. We've made a personal move to the JM V-pick, which we are happy to announce is available direct from the maker himself on the V-picks website.
Books: Getting Into Jazz Mandolin is still available from the publisher Mel Bay, or of course you can still get print copies through Amazon. Note the books no longer come with a CD, but the accompanying audio is now available through an online link.
Thanks for your support these past few years!


Posted by Ted at November 5, 2015 7:30 AM