« Reviewing Scurry Dominants | Main | Best of JM: Vamps. Circle of fifths »

March 13, 2014 | Again. Fingers/Ears/Brain
If you've been a reader here for a while, you're probably already familiar with our approach to learning the concepts we tackle. We believe that higher level intellectual process are most effectively learned through the physical. When you learned your fist chord, maybe a G major, your placed your fingers where the diagram showed you and you stamped it in your brain as "G chord." You learned another, maybe a D7, and you learned how to move from one to the next.
You probably learned to associate the names of the notes on the fretboard as you placed your fingers on the strings, and organized them intellectually by scale. After they became intuitive, you didn't think so much individual note, but groups. You learned chord "progression." When you developed a chord and scale vocabulary, this became your way of thinking, but it all started with something physical. Later it was reinforced by your ear--"I'm on the right note/chord because it sounds right."
The essence of FFcP was to develop your fingers and embed deeper music theory notions that would reveal themselves later as you improve in flexibility and control. Some have been confused by the extra notations we put in the exercises, harmonic analysis and terms like "guide tones" or "contrary motion." We encourage you to ignore them and treat the exercises like calisthenics for now.
If you stuck it out, you became ready to understand what you were playing after several weeks. We call this "Finger. Ears. Brain."
The philosophy of Fingers to Ears to Brain was the cornerstone of the Getting Into Jazz Mandolin book, and we tried to be consistent with that separating archived articles into titles under these distinctions, although there is obvious crossover.
1.) develop your fingers to find the correct notes, 2.) develop your ear to hear the notes your fingers play, 3.) develop your brain to comprehend the musical style and theory.
Our site archives have been indexed this way:
Fingers
Ears
Brain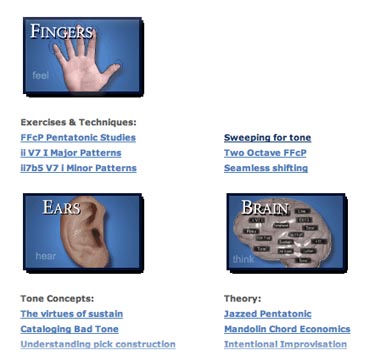 Enjoy the journey!

Posted by Ted at March 13, 2014 11:07 AM