« February 2010 | Main | April 2010 »

March 31, 2010 | The iPad Is Perfect for Sheet Music
Despite what the techno-elitist naysayers say, we've got an iPad enroute and simply can't wait. We chuckle every time we read a fiery negative reaction to this technological wonder. Sure, it has the tune storage capability of Apple's popular iPhone and iPod Touch, along with their signature touch screen space expanded four times. What we get excited about: page turns.
Think about having your music set in front of you, accessible with a literal swipe of the screen. There are already gadgets out there currently in use by professionals on stage that only serve as a music reader, and won't even allow you to surf the net like this will. Plus, those cost, $1000. Our 32 gig iPad was less than $600. Reading a Real Book off this, or a set list of 12 single sheets, with no paper fuss! Priceless...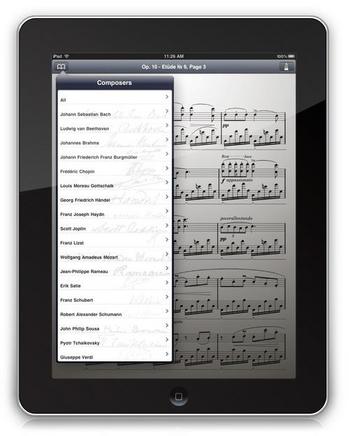 We'll also enjoy viewing the videos we like to rent on an iPod Touch, but with a significantly larger viewing area. We're even hoping we can get Mel Bay to put some of their popular books in this format, WITH immediate access to accompanying materials.

Can't be that far away!
Read Gizmodo blog: The iPad Is Perfect for Sheet Music

Posted by Ted at 5:18 AM

March 29, 2010 | Artinger Synth Mando in the oven
Intriguing sneak peak at a custom build electric mandolin from our Sarasota friend, Turner Moore from the craft of Artinger Guitars. Turner weighs in:
"This is a 4 day old, 4 string synth mandolin, mahogany body, quilted maple top and matching headstock, 1 DiMarzio Pro Track stacked humbucker pickup, RMC divided saddle synth piezo pickup (with dedicated onboard EQ), neck thru body construction, stained dark blue. The lightning bolt accent, a tribute to Bob Weir's Blue Modulus Lightning Bolt guitar, will be inlaid in the top and sealed under the finish (taped on in the pix). Matt is very excited about this one and has been working overtime!"

Looking forward to seeing how this turns out!...
Builder's website: Artinger Guitars

Posted by Ted at 6:12 AM

March 27, 2010 | Prof. John McGann & Co--Just in Time
YouTube brings us some incredible opportunities to sit in long distance on some casual, yet magical moments. Such is the case with the video account of JazzMando fave, prestigious Berklee School of Music educator John McGann, featured with some of the east coast's best musicians. Check out this rendition of the jazz standard "Just in Time" with stellar cast and the octave mandolin wizardry of the Professor.

John McGann- Octave Mandolin
Julian Lage- Guitar
Matt Glaser- Violin
Sonny Barbato- Accordion
Margaret Glaspy- Vocal
John Repucci- Bass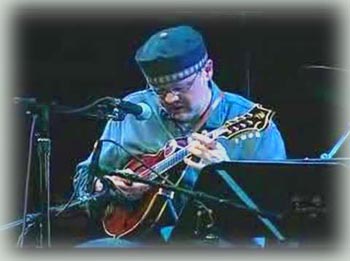 Artist's personal website: John McGann

Posted by Ted at 6:11 AM

March 25, 2010 | In case you missed it: Don Stiernberg Interview
You may have caught this when it came out, and even if you did, the Don Stiernberg Interview on the Mandolin Cafe resource website is worth a reread. We'll credit a tremendous amount of inspiration, really the initial impetus of starting the JazzMando website to this talented man. He answers some insightful questions from readers about theory, his personal influences, experiences under Jethro Burns' tutelage, and examines some interesting ideas about the paradoxical intersection of jazz and bluegrass music.
Take a few moments to read his words of wisdom, listen to the tunes, and when you get a chance, print off some of the free PDFs. Coincidentally, these are a good taste of the direction of his upcoming Mel Bay book, "Jazz Mandolin Appetizers," co-authored by the Site Administrator, Ted Eschliman.
Read: Mandolin Cafe: The Don Stiernberg Interview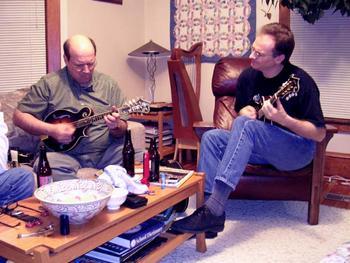 Don Stiernberg & Scott Tichenor, late night jam
View YouTube Video: Wave--Don Stiernberg


Posted by Ted at 6:55 AM

March 23, 2010 | Clark at Wintergrass
Coupla Fs, coupla Two-points, an A, an Octave, and a departure flat top guitar, one of our favorite builders made quite the appearance at this year's Wintergrass festival in Bellevue, Washington. We stole a picture off of Austin Clark's Facebook photo library, and had to share this with our readers. Matter of fact, yet another staff researcher, Charlie Jones has recently acquired gorgeous two-point Clark for himself. It isn't an iconic Clark JM, but with an aftermarket upgrade of a K&K pick-up, it will be darned close, sans block inlay and other minor cosmetics.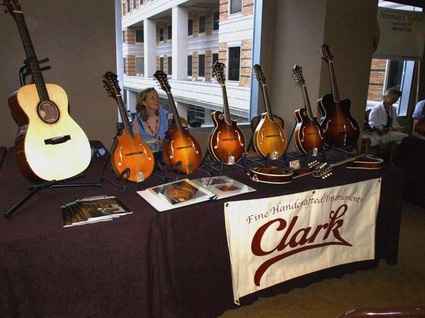 Clark Instruments at Wintergrass 2010
What can we say about Austin's craft? In a personal collection famous for an ever shifting "catch and release" inventory, the Clark JM stands the test of time here in the JazzMando Lab among many extraordinary instruments in longevity, and remains the Site Administrator's "go to" stage preference. We should also mention the master craftsman has restructured his prices, and is getting closer to what these fabulous instruments are worth, but they remain a terrific value and very much worth the wait.
They will only go up in value!
Read more:
Clark JM Review
Facebook Fan Page
Builder's Website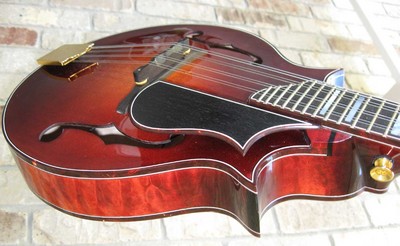 Posted by Ted at 5:37 AM

March 21, 2010 | 10-string project, Part II
We mentioned this in November of 2009, working with Rigel innovator Pete Langdell on a 10-string, fan-fret conversion of a gorgeous Vintage Creme R-200 Mandola, the 10-string project.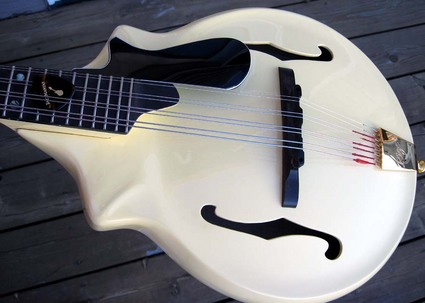 He's been kind enough to update us with some casual photography, documenting the progress. Initially, we had planned on just drilling some new holes for the extra course, but the complications of plugging old holes, and the new nut angle just didn't make sense. The simpler option really, was to start over with a new neck. You can see the new veneer overlay on the headstock (with the 10 tuners) and the magnificent math yielding the complicated angling to correctly intonate the new fretting: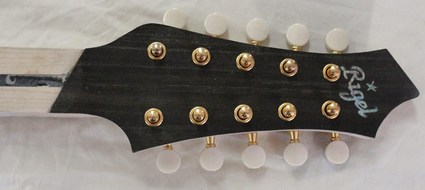 Next in the process of this very complex surgical procedure is the math behind the new bridge and tailpiece--not only adding the extra course, but the proper angle to make a mandola scale on one side of the instrument, and a mandolin on the other.
We'll keep you posted!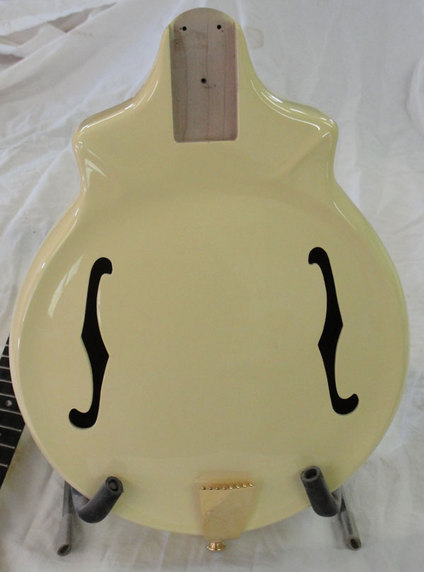 click pictures for closeup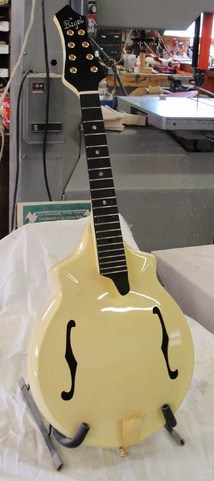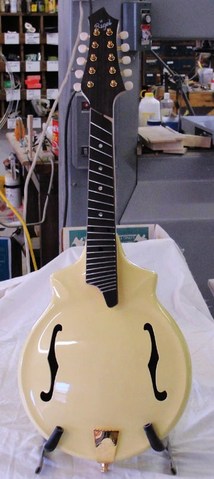 Before & After!
View more pictures of this magnificent instrument in our Facebook Gallery: Rigel R-200 Vintage Creme Mandola

Posted by Ted at 10:33 AM

March 19, 2010 | Happy Anniversary JazzMando, March 19
We're celebrating our March 19, 2003 birthday around the office today, but no seven-year itch here. Despite more than 1200 pages of content, we're still going strong and hope to continue to bring better mandolinning to the world.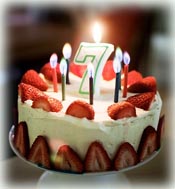 We started the site primarily focused on jazz theory on the fretboard, but later broadened out the mission to resources and assistance playing mandolin to include other genres, especially those that benefit from better-developed closed finger playing through our FFcP approach. We're also proud of the "affinity products" introduced along side our pedagogy, the JM series strings, JM picks, polish cloths, and even some collaborations on some great instruments over the years including the Rigel Q-95, Old Wave SoloComp JM, Clark JM, and of course the flagship "Getting into Jazz Mandolin" book.
In addition to our bi-daily news updates weekly tips column, and bi-monthly Mandolin Sessions columns, we're currently slaving away at a lighter approach book on a collaboration with premiere jazz mandolinist and co-author Don Stiernberg, our "Jazz Mandolin Appetizers" book. More playing, less talking on this one, hoping for a 2011 release.
We've got more in the works we can't tell you about yet, including a signature guitar-jazzbox mandolin from a major mandolin manufacture, and a new line of strings from the world's leading string manufacturer. (Shh...)
Sign on with some of our social networking sites if you haven't already:
Facebook: FFcP support group
Twitter: @FFcPmandolin
Mandolin Cafe: FFcP fans/support. What works for you?
Celebrate the event (and the onslaught of spring!) with a JM Pick Shirt!
Blast from the past: Check out an early version of the site: Wayback Archive
Posted by Ted at 5:17 AM

March 17, 2010 | Pentatonic revisited
We used to be very critical of Pentatonic scales around here, and for a very good reason. We knew many rock, blues, and folk musicians who could bleed the harmonic complexity out of their soloing, using the Pentatonic scales as singular improvisatory fodder, their bland vanilla structure leaving us longing for aesthetic direction and purpose.
Sure, you have your elemental 1, 3, and 5, the basic ingredients of the triad, and a couple benign neighboring tones 2 and 6, but nothing there pushes and pulls. No 4, no 7. It's the melodic equivalent of a song based on one chord.
Where Pentatonics CAN get fun is following the trail of some of the jazz greats, Coltrane, Parker, Tyner, enabling yourself to communicate poly-tonalities, grabbing the upper extensions of more complex chords; we go into more detail in our article Jazzed Pentatonics, if you're interested.
But to get there, you need to be facile, and able to move up the fretboard, across strings, and into all 12 keys--nothing out there better to get you there on a mandolin fretboard than the approach through our Pentatonic FFcP exercises, and the price is right.
How about free?
Check 'em out: Pentatonic FFcP

Posted by Ted at 5:45 AM

March 15, 2010 | Donna Lee on the electric baritone mandolin
JazzMando friend Danny Williams (AKA "BariMando") has just posted an inspiring rendition of the Charlier Parker favorite, "Donna Lee." We've been trying to master that head for months, and he seems to pull it off effortlessly.
Enjoy a little Bebop finesse: Donna Lee

Nice playing!
More on Danny Williams, Baritone Mandolin
View Charlie Parker version:

Miles Davis (trumpet), Charlie Parker (alto sax), Bud Powell (piano), Tommy Potter, (bass) & Max Roach (drums).
Posted by Ted at 5:01 AM

March 13, 2010 | Ludewig Dola
Terrific eye candy from our friend, Illinois builder Dale Ludewig, who confides, "A mandola, just dyed and sealed Tuesday afternoon. Going to a man who already has an EL mandolin. We were originally going to go with colors to match that but made a course change. Nice bird's eye, eh?"
The "EL" is in reference to the signature Ludewig mandolin series built for Canadian string tonemeister Emery Lestor. You can read about this weapon of MAS (Mandolin Acquisition Syndrome) destruction in our "Builders for the 21st Century" library, of which Dale takes a premium position.
Read more about potential pleasures and sonic opportunities in Ludewig Mandolins
Read review: Emory Lester A Model
Looks good enough to eat!

Posted by Ted at 5:56 AM

March 11, 2010 | Happy Birthday Jethro!
Everytime March 10th rolls around, we are compelled to pay homage to the great mandolin legend and personal hero, and especially this year for what would have been Jethro Burns' 90th birthday. We came across a terrific article by writer, K.F. Raizor repeated in her Raizor's Edge blog "Hey, Dude!"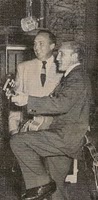 From the column: "On another occasion Burns fenced with his longtime partner at 35,000 feet. While returning from one of Homer and Jethro's engagements in Las Vegas Jethro was called to the cockpit of the plane. When he arrived he found the captain waiting for him. The captain informed Jethro he needed to be searched, and Burns consented. After he was patted down and his personal effects returned to him, the pilot apologized, 'I'm sorry, but we had it on good authority that you were smuggling drugs.'
'No problem.'
As Jethro started back for his seat the first thing he saw as he passed through the curtain was Homer, in his seat, doubled over in laughter. As Jethro neared Homer's seat Haynes asked innocently, 'Anything wrong?'
'Nothing,' Jethro replied. 'The captain wanted my autograph, that's all.'"
Happy Birthday, Jethro. You brought the world such joy, and we're reminded of this through your recordings and YouTube video libraries.
Read Article: "Hey, Dude!" (Be sure to listen to audio link at the bottom of the page.)
Previous JM birthday acknowledgements:
2007
2009

Posted by Ted at 5:45 AM

March 9, 2010 | Now, the notes just seem to come from out of nowhere.
Once in a while, we like to look back and reflect on the impact of the body of work here. We're ten days away from celebrating our 7th anniversary, and we can't help but ponder the core mission of JazzMando and what it has meant to our readership over the years, particularly the exclusive FFcP materials and of course the culmination, our "Getting Into Jazz Mandolin" book. (In case you didn't already know it, we do sell it for a pretty good discount here on the site.)
From you:
"I play Celtic & Old time, for the most part, the melody. I've discovered that, after doing these exercises on a semi-regular basis, I can pick up my mando, and play the tune up the neck, starting in different positions, with hardly ANY thought or problem! Amazing!
Barb
I've been practicing the FFcP daily. Aside from the exercises to my fingers, by keeping everything fretted as long as I can, I've improved on my tone. But I think that the big lift it has given me is that I'm realizing that wherever I put a finger down on the fingerboard, I can easily play a scale. So it's getting me more comfortable with the fingerboard, which is a huge achievement.
John
"So far I have noticed similar benefits--greater fluidity, better tone, confidence that I can start a run on any finger. That alone has been well worth the price. My plan is to take the time it takes, do the work, and not have specific expectations. I think it can't help but to improve my playing, but I am curious to find out what my fingers and brain are going to be able to do with it as I progress thru the book.
Good luck to us all. Maybe our secret sign can be a pinkie finger wave. "
Laura
"This whole FFcP makes any key easier and it really let's a guy play wherever he wants."
Kirk
"Been working on these a lot lately! Tonight I was improvising while my buddy was playing the guitar and I was really focused on running the 3rds and 4ths. WOW! Lots of fun there. I was feeling soo...ah...Jethro! The 3rds almost always work on any given progression in that key, the 4ths were a little more picky but it wasn't long and my ear began to hear where they could fit. I was really struck how much I kept thinking of Jethro's sound when doing it. He must have used it in various ways pretty often. I will be listening for it with a more critical ear that's for sure! FUN, FUN, FUN!! "
Ken
"I can see this is something I am going to have to do. Oh lord, here we go again. Countless hours buried in the basement music room!"
Rob
"To me the revelation of studying FFcP is the way it's connecting technical exercises with musical understanding and ear training. I've become aware of what scale degrees I'm playing, not only in the exercises, but in my playing generally, and it makes it a lot easier to pick tunes by ear, or creating variations over tunes I know."
Erik
"I love FFcP. Probably no single practice technique has contributed to my dexterity and strength as a player. Thank you Ted!! God bless you and your family!"
Robert
Join the FFcP 'Fretboard Yoga' Facebook Group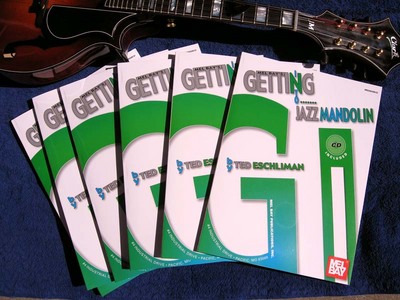 Posted by Ted at 5:33 AM

March 7, 2010 | Zdravitsa plays the Beatles
A little lip-syncing, or more accurately pick-syncing with members of this Russian balalaika orchestra under the direction of Andrei Krasnikov. (More members are actually on the audio recording than represented in the video.) The aesthetic melancholy of the lyrics of the popular Beatles tunes, "Yesterday" is expressed effectively instrumentally with the studio recording of the ensemble, and it's certainly interesting seeing the costumed musicians and some of the scenery in the video. This is also further proof that plectrum music doesn't have to be fast to be enjoyed...
More information: Zdravitsa (from Karachev in the Bryansk region)
Translated from the website: "Orchestra "Zdravitsa" is the only one of its kind in Russia. Its unique feature is in its unusual instrumental composition. It consists of instruments only of Russian origin; balalaikas of all kinds (piccolo, topstrings, second strings, alts, basses and contrabasses) guslies (stringed and key) and percussion instruments.
Lack of bayans and domras reduces technical and artistic opportunities of the orchestra, but at the same time makes the sound of the orchestra original and unique. Such "poor", in comparison with traditional, instrumental composition supposes higher demands to the repertoire. Small range of balalaikas and diatonic order of guslies (main instruments leading the melody) gives very narrow bounds for creating instrumentation of full value. Such simplified but not primitive orchestra sounding in combination with simple compositions gives the right to speak about "Zdravitsa's" own style. It may be characterized as "naive music"."
Yesterday (The Beatles), played by Russian Balalaika Orchestra 'Zdravitsa'


Posted by Ted at 8:19 AM

March 5, 2010 | Secrets of Stiernberg
In yesterday's Tips and Tricks entry, we leaked some text from an upcoming interview we helped coordinate with our friend and jazz mentor, Don Stiernberg. One particular answer to a series of great questions helped elucidate the process of gathering good material in preparing to improvise and the notion of exploring tonic center "zones" on the fretboard.
Read this for a teaser taste of the upcoming Mandolin Cafe interview:
Don Stiernberg on the "Big Picture" of improvising
Before you go there, though, enjoy the chord melody fret wizardry of Chicago's finest: Django Medley--Don Stiernberg
Posted by Ted at 5:45 AM

March 3, 2010 | First images: David Grisman/Eastman Lyon & Healy Mandola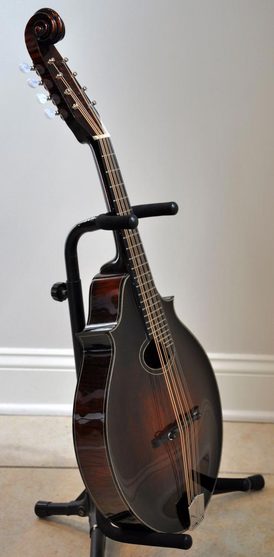 Our good friend, Scott Tichenor site author of the internationally acclaimed mandolin internet resource, Mandolin Cafe has had an exclusive opportunity for a sneak peak of Eastman Mandolin's latest cooperative project with David Grisman, number three, a Lyon & Healy mandola homage.
From Scott: "I was told this is a copy of David's original brown-faced Lyon & Healy Style mandola with a slimmer neck. The neck on the next prototype will be even a bit slimmer than this I was told, and the angle of the neck will be a bit more acute to enable a bit more bridge height, ie., a bit easier to play and have more bite is the goal in mind. The neck is quite a beast, I'll agree, but most vintage mandola necks are, and I applaud this minor change."
Great to see these classics brought back to life in current production, and no better company than Eastman Strings to see it to fruition. The next project we're even more excited about, for very personal reasons...
Dare we let the cat out of the bag?
Coming this summer: Eastman JM-1.
Let your imagination run wild.
See more pictures: Mandolin Cafe update

Posted by Ted at 6:45 AM

March 1, 2010 | Nashville Business Journal: Gibson Guitar hitting a sour note
The Gibson Guitar company has been taking it on the chin the last couple years. Far be it from us to defend the fret and tonewood dynamo with legends Bill Monroe and Les Paul in its distinguished past; we have little emotional investment or personal stake in the company's historic reputation. Other than a brief stay of a Gibson F-9 in the JazzMando arsenal almost a decade ago, no Gibson instruments, not even a modest tribute to the strong Florentine F5-clenching tradition here.
That said, we'll register the company has fended off some unfair blows with the latest government US Fish & Wildlife witch hunt, class action ambulance-chasers' lawsuit, and an investigation that not only included the guitar giant, but competitors Fender and Yamaha. We'll weigh in that we see the only victors being the legal profession, and the ill effects could eventually spill over onto the consumer. Profit assures innovation; progressive companies being gnawed at by greedy lawyers will ultimately result in players shorted in the long run.
The Nashville Business Journal weighs in: Gibson Guitar hitting a sour note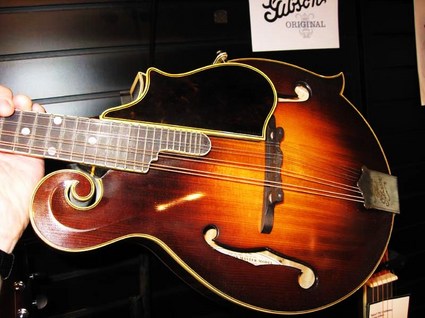 Posted by Ted at 5:51 AM