« New from Aebersold Jazz: Slower "Play-A-Long!" | Main | Django in June early registration deal ending 2/28/2013 »

February 25, 2013 | Jason Anick's new Arrow Jazzbo 5-string mandolin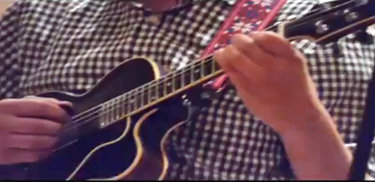 We've had the chance to check in with Boston based fiddle/mandolin prodigy Jason Anick in regards to his new 5-string Jazzbo guitar box acoustic mandolin. Our own experience with a personal 4-string Jazzbo was terrific, and were excited to help hook him up with the renown west coast builder Paul Lestock who crafted this fine instrument for him. You can see and hear what the instrument sounds like in the hands of its talent owner in the video below.
Jason weighs in: "I recently got a 5 string acoustic/electric "jazzbo" made by Paul Lestock and I couldn't be happier. The low C string opens up more potential for chords along with an extended range for soloing. Because of the larger scale length, the C string really rings out with good tone and doesn't sound too flabby or loose like other 5-strings I have tried in the past. The scale length isn't too drastic though, so it doesn't feel too different from playing a four string or regular 5-string. The semi-hollow body aspect gives it a little more acoustic sound and warmth which works great for swing and jazz. The intonation is perfect all the way up the neck, even way up on the C string. The Kent Armstrong custom pick-up that comes with it is a perfect match for the instrument, giving it the ideal clean jazz tone that is very versatile allowing for a a nice dynamic range and tone coloring. Un-plugged it surprisingly holds its on as an acoustic instrument, nice tone and loud enough for quieter musical settings. The craftsmanship of the 'jazzbo' is also something to be admired. Overall, it's an amazing instrument that I feel is the perfect fit for my style of jazz mandolin playing and I can't wait to record with it!"
We were curious how this would fit in with his current SAGA electric documented on his YouTube video Channel, "It doesn't however make my SAGA emando that I had previously been using obsolete, I see it more as owning a Gibson arch-top and a telecaster - each works better in different settings. I have been using the SAGA solid body more for playing with rock/country bands since it can gets more volume and cuts."
Lestock is not the easiest one to get a hold of and has maintained a reduced web presence the last few years, but is actively producing instruments. We're happy to see that!
Video Link: Jason Anick; "Sent Home"

Read last summer's interview: 10 Questions For Jason Anick
Posted by Ted at February 25, 2013 5:12 AM