« Classifieds find: Arrow G5 (5 String) Mandolin | Main | It's back! The Turbotune Peg Winder »

August 3, 2015 | Look back. Artsy from Clark Mandolins
We felt compelled to repost the following pics submitted five years ago of Boise wood genius, Austin Clark perpetually at the top of our short list of favorite builders. Austin's latest satisfied customer at the time is one of our favorite violinists, progressive string educator Darol Anger with a Clark creation, a terrific guitar-bodied octave mandolin.
Imagine Darol's instrument with its ever so slightly shorter scale in cherry cola-burst, block fret inlay bling, and only four strings tuned CGDA, and you've got a good picture of the signature JM tenor guitar we have in the oven. Estimated arrival 2-3 months.
Austin is the victim of his own success, perpetually trying to keep up with demand from his international acclaim these last years. He wrote us in 2010, "Things are busy here, trying to crank out a big batch after taking lots of vacation time. In this batch, I have 2 archtop guitars, an octave, an H5 dola an A5 and 2 F5s. Oh, and at the same time, I am trying to make 2 Dreadnaughts to take with me to IBMA."
We enjoyed some of his latest Facebook postings, some rather artsy shop photos.


Click images for closeup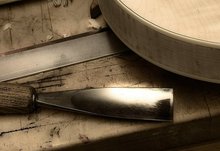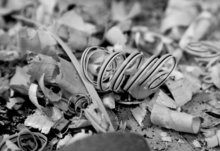 Photography by Eric Onasik
Join Clark Mandolins Facebook Page
Read review: Signature Clark JM mandolin
Read review: Signature Clark JM-5 guitar-bodied 5-string mandolin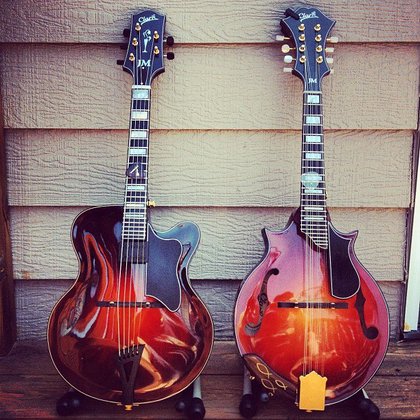 Posted by Ted at August 3, 2015 5:50 AM