« Nigel Forster Zouk | Main | Mandolin Cafe Eastman and Schertler Giveaway »

November 28, 2013 | One year anniversary, Peter Ostroushko; The Mando Chronicles
A year ago, we reviewed Peter Ostroushko's project, "The Mandolin Chronicles" an important collection to acquire for any serious mandolin aficionado. Although the jazz selections are only a small section of the total 52 tracks, the gestalt of the project is an encyclopedia of mandolin past and potential worth absorbing.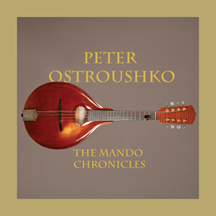 From our review:
"The three all-acoustic CDs contain four sections divided into Folk, Old World, Classical, and South American. As you would expect, the Americana includes Bluegrass (joined by Norman Blake!), but there's some ragtime and even a few cuts of mid-20th century jazz, with Texas Swing legend Johnny Gimble (recorded in Waco, TX).
His arsenal of instruments are summarily oval hole, and appropriately so. Despite intense technical pick facility and the high timbre of the mandolin, his sound envelopes the soul rather than pierces, the sweetness of his tone relaxes and delights at the same time. Spurts of fret pyrotechnics are certainly there, but never at the risk of showing off. He always seems to have fun without showboating."
Read review: Peter Ostroushko; "The Mando Chronicles"
Purchase CD: Amazon's Peter Ostroushko Store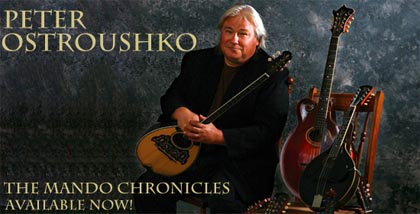 Posted by Ted at November 28, 2013 7:46 AM