« Deciphering the "Sus" chord | Main | One year anniversary, Peter Ostroushko; The Mando Chronicles »

November 26, 2013 | Nigel Forster Zouk
We had the privilege of interviewing UK builder Nigel Forster in 2009. His post-modern chic catches both eye and ear. You get a taste of this with one of his bouzoukis in the following recent YouTube video:
Irish Jigs, with Ian Stephenson and Andy May on an NK Forster redwood bouzouki.

JM: How are your mandolins different from the "traditional" instruments in concept and sound? (or how might they be the same?)
NF: There is much in common with a Gibson A model on a superficial level, but as any maker will know the main factors we have at our disposal to colour the sound of our work are the arching of the soundboard and back, the thicknessing of the plates, the position and shape of tone bars, the materials we use and the type of bridge we employ. By working with all of these my instruments have a very different sound to a traditional American instrument, but stay clear of the "tinkly" sound I often associate with European ones.
Let's face it, the best Bluegrass mandolins have already been made, but this cannot be said for the Celtic or Jazz Mandolin. What I was working towards was having the sustain and clarity of an English Mandolin coupled with the dark, woody bottom end of an American one. Many people making Mandolins for Jazz players try to get more sustain this is better achieved with an oval or round hole but because many players prefer the look of F holes makers find themselves sticking with that design as it more commercially acceptable. I prefer both the sound and the look of an oval hole so the decision is an easy one for me to make!
Read the rest of Nigel's interview.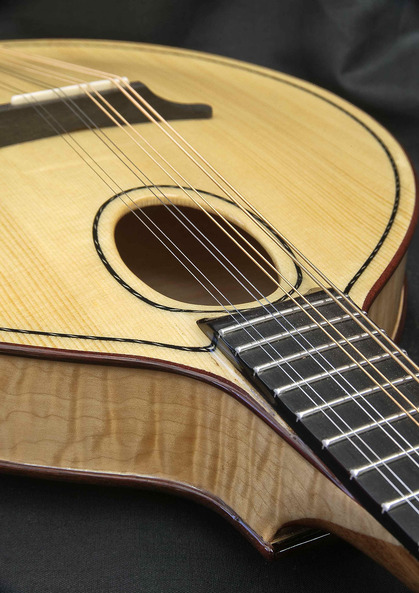 Website: NK Forster Guitars
Posted by Ted at November 26, 2013 5:24 AM