« One year anniversary, Peter Ostroushko; The Mando Chronicles | Main | Jazz Mandolin Appetizers; Don Stiernberg »

November 30, 2013 | Mandolin Cafe Eastman and Schertler Giveaway
Registration Is Open
Registration has commenced early for the Eastman MD515 Mandolin and Schertler giveaway. A lucky visitor will win this complete performance set of products. A single winning entry will be selected and notified on December 24.
Included in the total package is the best-selling Eastman MD515 Mandolin ($1,250), Schertler Resocoil pickup installed ($319.99), Eastman CAMD16-BLK fiberglass case ($180.00) and Schertler JAM150W amplifier ($1249.99).
What a sweet Christmas present for someone!
Sign up now: Eastman & Schertler Giveaway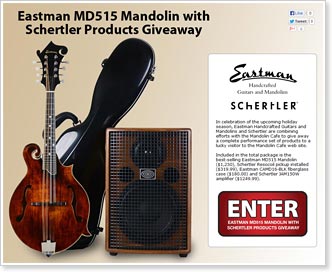 Posted by Ted at November 30, 2013 5:13 AM