« JazzMando V-picks are back in stock | Main | Guide Tones with Dan Haerle »

May 23, 2013 | Clark 2-point on the Cafe
We were first exposed to the tremendous craftsmanship of Boise Idaho luthier Austin Clark in the spring of 2007. We were hooked on the 2-point mandolin he sent for review, so much so that we ended up commissioning him for a personal upgrade of the same model instrument (block inlay and built-in pickup), and we've never looked back. We employed it so much, we recently had a magnificent 5-string jazz box mando that has stolen our heart as well. That makes two Clarks in the arsenal.
It's come to our attention that the original review instrument has turned up for sale on the Mandolin Cafe Classifieds website, and while we think the asking price is a tad ambitious, it's neither unreasonable, either. Especially when you consider Clark has emerged as a world class builder.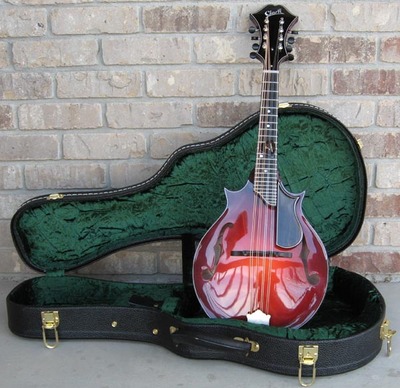 From our original review:
"Sweet. There's dainty sweet, like the bow-haired, lacy-dressed Kindergartner skipping her way to school. There's syrupy sweet, like the overloaded grape snow cone at the state fair. Then there's the natural, fruity sweet, a Yakima in-season strawberry, or Grandma's freshly baked apple pie. The latter are a healthy sweetness of nature, organic, carefully nurtured over time.
It's hard to put descriptions of sound into words; it's like portraying emotions with color. Some adjective commonalities work, but ultimately, the individual experiences of the reader will predispose personal interpretation of these words. When we say the Clark Two-point mandolin under review is "sweet," we want to be clear that this instrument packs a wide spectrum of the positives of sweet. Clean and never cloying, rich in harmonics without being harsh, subtle without being shallow, the Clark meets the demand for full, powerful linear sustain, devoid of smoky growl."
Read more: Austin Clark 2-point
Used Clark 2-point in Classified Ad
(No financial interest)
View website: Clark Mandolins
Posted by Ted at May 23, 2013 5:10 AM