« James Condino builder's website redesign! | Main | New from David Grisman, Martin Taylor, and Frank Vignola »

October 28, 2012 | Streams of 7th chords
In our weekly Tips and Tricks columns, we introduced some more 3-note chord magic, a steady flow of V7 chords you can stream all up and down the fretboard. The concept is quite simple: take the four different inversions of the V7 and inject a connecting membrane, a simple variation of the related m7 chord next to it. Start it in any key, but once this becomes a permanent voice in your chord vocabulary, you can shift nuggets of the patterns unconsciously.
Forget about the theory. We've even intentionally left the label off the connecting chord. Just play around with small sections of the exercise and enjoy the aural purity. Try them out in several dozen rounds of a simple blues pattern.
Note, we did tweak these as recently as yesterday, so if you previously downloaded the PDFs, you'll need to reprint the corrected version.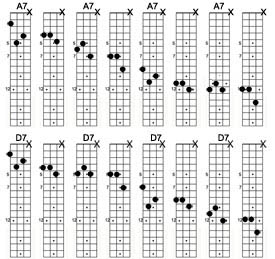 Review lesson: 7th Chord Streams
Shortcut to charts:
Print PDF: 7th Chord Streams Page 1
Print PDF: 7th Chord Streams Page 2
Posted by Ted at October 28, 2012 7:08 AM