« Streams of 7th chords | Main | Bobelock cases available »

October 30, 2012 | New from David Grisman, Martin Taylor, and Frank Vignola
We're obvious fans of acoustic string jazz. There's nothing like sitting down with a Reisling or a quality microbrew in quiet room with the dulcet tones of plectrum and the recent release "First Time Together" from the trio of global powerhouse jazz guitarists Martin Taylor and Frank Vignola teamed with 20th century mandolin innovator David Grisman embody the experience. The three are also supported confidently with the steady bass pizzicato of son, Samson Grisman.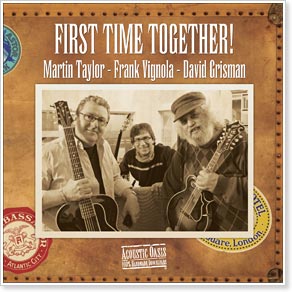 The songs are classic American Songbook showtunes, standards that have proven the test of time, presented in the typical jazz format, tune and variation with the gang trading extended solos throughout. Taylor, no stranger to collaborating with the Dawg in one of our favorites CDs, the 1999 quartet compilation "I'm Beginning to See the Light." Vignola has paired with other mandolinists, JMP's Jamie Masefield and recently mandolin prodigy, Josh Pinkham. Both guitarists yield plenty of space for Grisman to inject his forte plucks and signature pentatonic licks .
We enjoy this one and recommend you add it to your own library of essential jazz mandolin recordings.
Tracks:
The Surrey with the Fringe on Top
Avalon
Poinciana
I'm Confessin'
Tracy's Tune
I'll See You in My Dreams
Serafina
My Blue Heaven
Swang Thang
Newly Wedding
Diane
Michelle
Purchase information:
"First Time Tothether!" David Grisman, Martin Taylor, and Frank Vignola

Download prices:
MP3 $8.95
FLAC $10.95
FLAC-HD $12.95

Posted by Ted at October 30, 2012 5:04 AM