« March 10th. Jethro Burns' Birthday | Main | John Monteleone: The art of archtop making »

March 12, 2011 | We're thinking 'dola. Strings.
Word is out on the JazzMando JM11 strings, but not everyone is aware of the bigger sister JD13 "JazzDola" version, designed especially for 16-17" scale mandolas. Like the others in the JM family of strings, they yield a tamer series of overtones, rich in fundamental and round in tenor warmth.
Of course, they are more expensive initially than the phosphor bronze competitive product, but since they yield 3-4 times the string life, in the long run they really aren't any more of an investment. We've also dialed back the gauging, so their 13-43 gg are also easier on the fingers.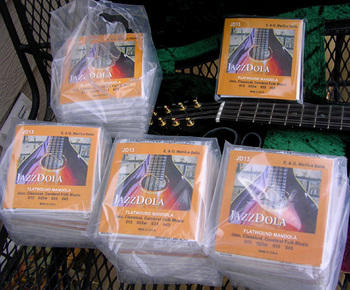 Pick up a set and try them out for yourself!
Good supply in stock, and ready to ship today.
Purchase Information: JazzDola JD13 flatwound mandola strings
JD13 (med-light) $32.50 Domestic and Canadian shipping included!
.013 plain .022 wound .033 wound .043 wound
Labella Custom Gauge Flatwound Mandola Strings
Buy in TWOs and save! $59.50 for two
Posted by Ted at March 12, 2011 5:24 AM