« Best of JM: Octave Splicing | Main | Words from Will Patton »

November 14, 2013 | Animated Sheet Music; So What
There's nothing like reinforcing the sense of hearing with that of sight. Sometimes we can take advantage of the visual cue to prompt creativity, as long as we don't let ourselves get trapped by them. We don't want to be a slave to sheet music, but there is something to be said about the benefit of roadmaps.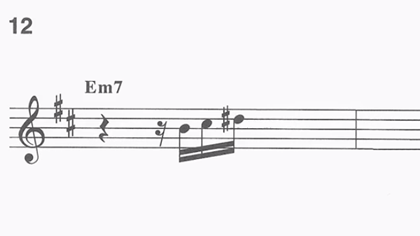 We've enjoyed studying some of the Animated Sheet Music YouTube videos for their insights into some of the classic Bebop performances of Charlie Parker and Miles Davis. We've embedded one below for you to sit back and enjoy. Sometimes seeing how Miles Davis worked around an Em7 chord is as helpful a just listening to it.
Video Link: Animated Sheet Music: "So What" by Miles Davis

Get sheet music: Miles Davis - Kind of Blue
Further
Minor 7th chord streams. So What?
Minor 7th Chord Streams. Under the hood.
Vamps. Minor modal
Advanced Pentatonic
The Muse Continuum. Improvisation and Inspiration.

Posted by Ted at November 14, 2013 4:51 PM