« Animated Sheet Music; So What | Main | Twelve Benefits of Music Education »

November 21, 2013 | Words from Will Patton
In April of 2011, we had the privilege of interviewing Vermont acoustic jazz string master Will Patton in the Mandolin Cafe online Ten Questions series.
Question: A mandolin fronting a jazz ensemble is a bit of a rarity. What barriers do you see in public perception of the mandolin as a legitimate jazz instrument, and how do you/we get over them?
Will Patton: Great question, one I've given a bit of thought to. First off, I've found that context again is important. The mandolin as a lead instrument is just going to sound better surrounded by violins, flutes, guitars, string bass and the like than by trombones, trumpets, sax, Hammond B-3 - it's just in the nature of the timbre. I once sat in on a blues with a happening jazz group, played what I felt was a cooking solo, but when the tenor player came in with this big, rich tone out of the Coleman Hawkins school, I felt a bit silly. Not my context.
Secondly, I think if most large cities had 8-10 mandolin players who knew 200 standards off book, could read and transpose, solo convincingly in any key and lay out changes behind other soloists, the perception of jazz mandolin would be some different. We expect this of jazz guitarists, but it's the exception for a mandolin player.
Read entire interview: 10 Questions for Will Patton
Further:
Cafe Interviews
Tips on improvising from the Pros; Will Patton
Looking back: What the Pros say about Good Tone
Lydian spice
Will Patton on Amazon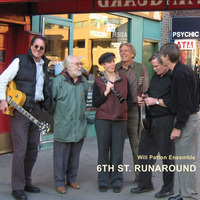 Posted by Ted at November 21, 2013 6:27 AM