« Mandolin Cafe hats now in red | Main | More Palsmeier 5-string! »

July 7, 2010 | Notes on your fretboard. Coming out of nowhere?
The foundation of all we do here is based on our FFcP approach to the fretboard. It's straightforward and systematic, but it can be an investment of time not all are willing to sacrifice. Still the payback is huge and we want to reflect on the thoughts of our readers on their success stories from the exclusive FFcP materials and of course the culmination, our "Getting Into Jazz Mandolin" book. (In case you didn't already know it, we do sell it for a pretty good discount here on the site.) The recurring theme for most is that "now, the notes just seem to come out of nowhere."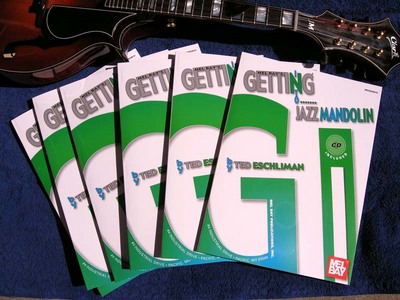 From you:
"One of the finest music instruction books EVER written and a must for any mandolinist. This reminds me that I haven't taken my mandolin out of its case in way too long...
Thanks Ted, for the effort and inspiration!"
Geoff
"Thanks! And did you come up with these? I can't get enough of them... so much so I can no longer feel my pinky, they are a tad addicting. Again, thanks!"
Alex
"I order a fair amount of books on the mando, but don't get around to study the techniques that much. Well, after reading your initial comments in which you "demystify" jazz (mando), it opened me up to not being anxious about learning it, so I have decided to go through your book in a systematic manner to begin learning the concepts, and committing them to "motor memory". I have been playing the scales in your book (which I learned studying the vioin for three years as a kid), but am now understanding the standard FFcP concepts. I know your book will help me to not have a fear of getting into jazz mando and not to be "phobic" about playing down the neck, and the like. Jazz has always been intimidating to me to try to get a handle on, even though I have always wanted to have a good grasp on it, because jazz mando is so cool"
Jim
"Just wanted to say THANKS for maintaining such a brilliant website. This site is a goldmine not only for mandolin players, but for any string players in general. I play guitar, classical and jazz mainly, and I've never found such a helpful site pertaining to technique and theory as this website, it's a gem. Anyways, thanks so much!!"
Harrison
"I play Celtic & Old time, for the most part, the melody. I've discovered that, after doing these exercises on a semi-regular basis, I can pick up my mando, and play the tune up the neck, starting in different positions, with hardly ANY thought or problem! Amazing!
Barb
I've been practicing the FFcP daily. Aside from the exercises to my fingers, by keeping everything fretted as long as I can, I've improved on my tone. But I think that the big lift it has given me is that I'm realizing that wherever I put a finger down on the fingerboard, I can easily play a scale. So it's getting me more comfortable with the fingerboard, which is a huge achievement.
John
"So far I have noticed similar benefits--greater fluidity, better tone, confidence that I can start a run on any finger. That alone has been well worth the price. My plan is to take the time it takes, do the work, and not have specific expectations. I think it can't help but to improve my playing, but I am curious to find out what my fingers and brain are going to be able to do with it as I progress thru the book. "
Laura
"This whole FFcP makes any key easier and it really let's a guy play wherever he wants."
Kirk
"Been working on these a lot lately! Tonight I was improvising while my buddy was playing the guitar and I was really focused on running the 3rds and 4ths. WOW! Lots of fun there. I was feeling soo...ah...Jethro! The 3rds almost always work on any given progression in that key, the 4ths were a little more picky but it wasn't long and my ear began to hear where they could fit. I was really struck how much I kept thinking of Jethro's sound when doing it. He must have used it in various ways pretty often. I will be listening for it with a more critical ear that's for sure! FUN, FUN, FUN!! "
Ken
"I can see this is something I am going to have to do. Oh lord, here we go again. Countless hours buried in the basement music room!"
Rob
"To me the revelation of studying FFcP is the way it's connecting technical exercises with musical understanding and ear training. I've become aware of what scale degrees I'm playing, not only in the exercises, but in my playing generally, and it makes it a lot easier to pick tunes by ear, or creating variations over tunes I know."
Erik
"I love FFcP. Probably no single practice technique has contributed to my dexterity and strength as a player. Thank you Ted!! God bless you and your family!"
Robert
Join the FFcP 'Fretboard Yoga' Facebook Group
Posted by Ted at July 7, 2010 6:54 AM