« New from Don Stiernberg, SWING 220 | Main | Hannes Coetzee, Tea Spoon Slide Guitar »

June 15, 2010 | JM11 shipment delays
We regret to bring news of a brief outage of JM11 JazzMando flatwound mandolin strings. We hope to be up and running with availability in two weeks. We'll still take orders, but all shipments will be back-ordered and shipped immediately after arrival.
The JM11s continue to gain global popularity, noted for their warmth and clarity of sound, as well as their comfort and smooth feel. We are happy to report the last batch of 200 sets have been free of intermittent defective D strings. If you experienced this or have purchased a set prior to this last winter that you have not opened, be on the lookout for intonation problems. What happens is they go out of tune about a half step at the 12th fret. (No need to panic, as this is only about 1 in 50 strings.) Feel free to contact us immediately for replacements; the defect is obvious immediately when the string is first installed.
We'll keep you posted as they become available, bet we expect them before July.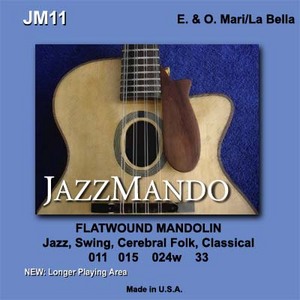 Read recent reviews of these strings: MandolinCafe post
Other items available in the JazzMando Merchandise Center: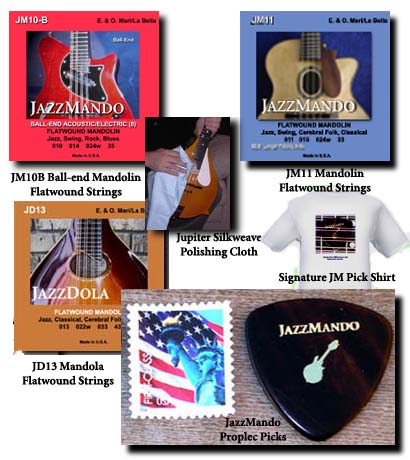 Posted by Ted at June 15, 2010 6:07 AM