« It's back! The Turbotune Peg Winder | Main | A decades-long love affair with an old-fashioned instrument »

August 12, 2015 | Jacobson Nautilus available
Yikes! This gem just popped up on the Cafe Classifieds, a rare unclaimed mandolin by Georgia builder Marty Jacobson. Described as packing "good power and a wealth of high end harmonics," this ovalish hole A-body would be a one of a kind with its Art Deco cosmetics and aesthetic panache.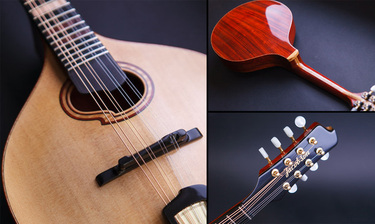 We reviewed another of his signature Nautilus instruments, a black face mandolin beauty last spring. This is a builder to keep your eye on. We expect him to continue to make a significant impact on the state of modern mandolin building.
View ad: Jacobson Nautilus #40 - Spruce Over Padauk Oval Hole Mando
More pictures and sound clips.
Read archive review: Jacobson "Nautilus" A-body Mandolin
Posted by Ted at August 12, 2015 6:03 AM