« Thinking of John McGann | Main | New from Snark: SN-G 'GLASSES' All Instrument Tuner »

March 31, 2014 | New: The Real Latin Book
In February, we reported the release of an intriguing addition to the Hal Leonard "Real Book" format series, the Real Jazz Solos Book.. The world famous publisher has expanded the series even more with the introduction of "The Real Latin Book." The 400 plus page collection will be a treat for the Latin enthusiast, and expansion of some of perennial jazz favorites like Jobim and other Bossa Nova hits of the late 20th century.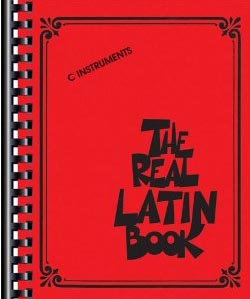 It might be a little much for a player solely into jazz, some of the Salsa, 60s & 70's pop, South American novelty, and other Latin styles might be esoteric for the musician just wanting to jam, but who knows, it might send you across borders you didn't expect. (You really can't fault a collection for being too "complete.") We found it a bit unfocused but then there is a lot of unfamiliar material packed in there. A style index would have been most helpful. The "casuals" musician could find some of these useful in an ensemble that regularly takes requests.
Unlike most fakebooks, this one includes the occasional "arrangement" as opposed to the traditional Real Book "sketch" notation of simple melody and chords. The customer of this book should have a good sight-reading skill set.
From the publisher's website: The ultimate collection for Latin lovers everywhere! 400 Latin standards in one Real Book collection, including: Adios * Agua De Beber (Water to Drink) * Aguas De Marco (Waters of March) * All That's Left Is to Say Goodbye (E Preciso Dizer Adeus) * Alma Con Alma * Always in My Heart (Siempre En Mi Corazon) * Amapola (Pretty Little Poppy) * Amor (Amor, Amor, Amor) * Antigua * Babalu * Besame Mucho (Kiss Me Much) * Bonita * Brazil * Call Me * Cast Your Fate to the Wind * Cherry Pink and Apple Blossom White * Con Alma * Copacabana (At the Copa) * Corazon Corazon * Desafinado * Don't Cry for Me Argentina * El Triste * Evil Ways * Feelings (?Dime?) * 500 Miles High * For Once in My Life * Frenesi * The Girl from Ipanema (Garota De Ipanema) * Granada * Himno Nacional Mexicano (Mexican National Hymn) How Insensitive (Insensatez) * It's Impossible (Somos Novios) * Killer Joe * Kiss of Fire * La Bamba * La Malaguena * Little Boat * Livin' La Vida Loca * The Look of Love * Malaguena * Meditation (Meditacao) * More (Ti Guardero Nel Cuore) * Never on Sunday * A Night in Tunisia * One Note Samba (Samba De Uma Nota So) * Oye Como Va * Paloma Blanca * Papa Loves Mambo * Perfidia * Por Amor * St. Thomas * Sway (Quien Sera) * Tico Tico (Tico Tico No Fuba) * Triste * Wave * What a Diff'rence a Day Made * and more!
Likely street priced under $30 ($35 retail), this may be something to consider adding to your collection. Just understand there may be a lot more material here than you'll ever get to. Also, don't confuse this with the previously existing Sher Publishing "The Latin Real Book."
Complete song list.
Publishers Link: The Real Latin Book .
Purchase on Amazon .
Posted by Ted at March 31, 2014 5:19 AM