« Traveling in space... with an instrument? | Main | Why music moves us. »

May 17, 2013 | Introducing 5-string chord pairs: 'm7b5 V7'
The 'IV V7' part of the 'IV V7 I' is pretty easy for any folk or blues musician to pick up. It's a major part of the DNA of western European music. Even the jazz version of this in the major key 'ii V7 I' is an easy segue, but once you tackle the minor version of this basic musical sentence, the 'ii7b5' lays down a bit of a speed bump for musicians.
We're introducing some 5-string chord strategies this summer, and our first stop is tackling the challenging part of the 'ii7mb5 V7 I' and showing how you can master it in all 12 keys, in the context of pairing with its V7 chord. Check out our latest Tips and Tricks article with a 1-page PDF download where we explain a little bit of the theory.
As always, even if theory isn't your thing, these 3-note voicings are good to get into your fingers and ears. Also, though a 5-string may not be in your arsenal, these chords are terrific for mandola and tenor banjo, and because of their transposable nature, you can ignore chord labels and just learn the blocks.
Enjoy article: 5-string chord pairs: 'm7b5 V7'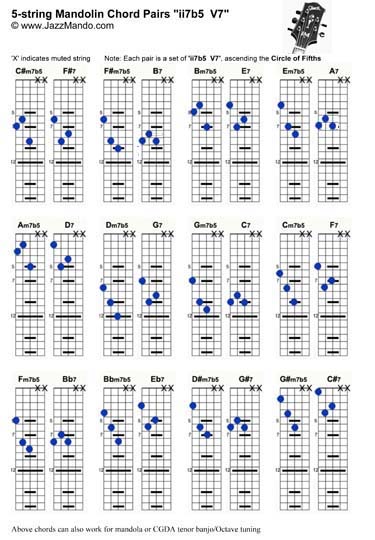 Posted by Ted at May 17, 2013 6:13 AM