« The latest from Don Julin | Main | Introducing 5-string chord pairs: 'm7b5 V7' »

May 15, 2013 | Traveling in space... with an instrument?
Premier jazz mandolinist Don Stiernberg likes to jest in his clinics one of the best features about playing mandolin is its ease of storing in the overhead compartment of an airplane. So we ask, how easy is it to take into outer space?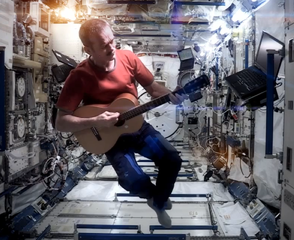 Canadian Astronaut Chris Hadfield resident of the International Space Station the last five months could tell you about traveling with his Larivee guitar, of course a bit larger than a mandolin. Most musicians spending an inordinate amount of time in isolation would probably want to pack their favorite instrument, the mandolin no exception.
One of his many amazing space "experiments," he recorded in space a magnificent cover of the 1969 David Bowie classic "Space Oddity," inarguably one of the greatest covers of the song.
Ever.
Enjoy his out-of-this-world version. Link: Space Oddity
Posted by Ted at May 15, 2013 5:25 AM