« Minutes go like hours when you sing | Main | Calling all readers. What do you like? »

October 6, 2012 | Burgundy "Big Softy" leather straps
We mentioned these last June, a personal favorite mandolin strap from Tennessee's Long Hollow Leathers, the "Big Softy." At the time they were only available in black and brown, but we've come across a limited supply of boutique burgundy at Dietze Music. These are not only high quality, supple and ergonomically designed, hand-made in the US, they are very reasonably priced, delivered for around $20 US (more for international shipping).
Purchase link: Long Hollow Big Softy Mandolin Strap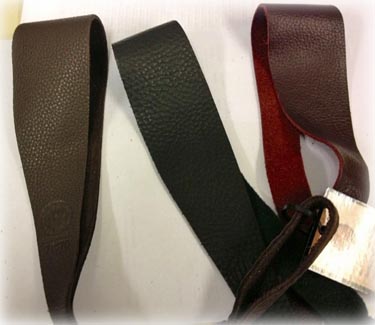 $15.99 (plus shipping)
Note: The shopping cart may give you some funky international shipping costs, but if you mention JazzMando in the comment field, the shipping can be reduced to $4.75 US Domestic, $6.00 Canadian, and $7.00 Europe and Australia. Price will be manually altered before it ships.
Posted by Ted at October 6, 2012 5:37 AM