« Riddled with Sus | Main | Prescription strength. Tone. »

March 5, 2012 | Brian Lock, Stardust & La Mer
About a year ago we introduced you to the wood and steel wizardry and craftsmanship of the Pecos, New Mexico builder Brian Lock with a hand-on review of one of his stunning Red Spruce and Red Maple two-point mandolins. We've enjoyed watching the veteran builder grow his unique style, further his signature silhouette with a delicious new signature model, his "Stardust" series, having interned under three of the greatest contemporary bulders in the 21st century, John Monteleone, Mike Kemniitzer, and Steve Gilchrist.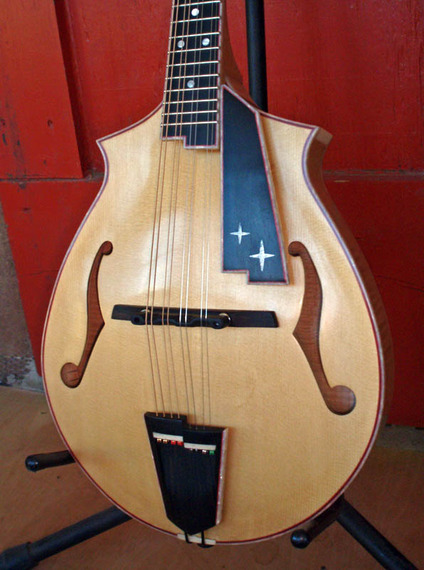 Brian weighed in with his rendition of the "jazzers dream." Constructed of Euro spruce and Sugar Maple, strutting a floating ebony tailpiece, he branded the series headstock with a red coral headstock inlay:
He later outdid himself in October, with his robin's egg blue showcase "La Mer." Outstanding!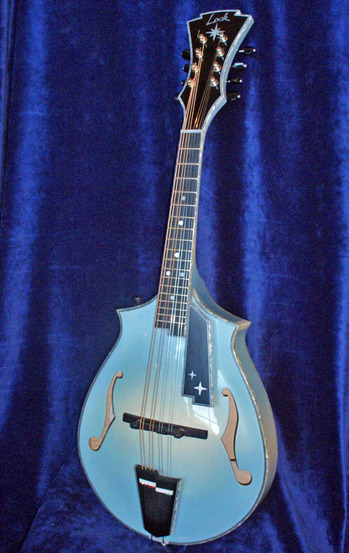 -Red Spruce top
- Sugar Maple back/sides/neck
- Ebony fingerboard, bridge, floating tailpiece, Bound and
inlayed pickguard
- Pearloid binding
- Ebony headstock veneer- front and back
- McIntyre acoustic feather pickup
- Carbon fiber neck rod
- MOP nut
Read archive review: Brian Lock Two-Point
Builder's website: Brian Lock Mandolins
Read up on other world class mandolin builders: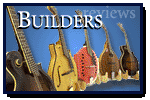 Posted by Ted at March 5, 2012 5:04 AM