« Book audio support available at Mel Bay | Main | Happy 2012, Mayans! »

December 30, 2011 | Peace: Jason Anick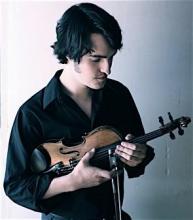 We're huge fans of the young New England acoustic string phenomenon Jason Anick. His mandolin skills are superb, but he's even better known for his swing fiddle talents.
He's one of those musicians to study closely, his improvisations are a magical weaving of science and art. See how masterfully he weaves the basic mathematical elements of music: scales, arpeggios, motifs, and lets his inner muse create wonderful lines and expressive phrases in this Horace Silver classic, "Peace."
Enjoy!
Video Link: Jason Anick Quartet, "Peace."
Purchase CD: Jason Anick, "Sleepless"
Visit artist website: Jason Anick
Posted by Ted at December 30, 2011 5:26 AM