« Nickel Creek retrospective | Main | The V7 Song... »

November 4, 2011 | New Limited Edition Blue JazzMando V-pick
The JazzMando V-pick introduced last August has met with remarkably positive feedback. Over 500 have already been shipped in the United States and around the world. Its fans rave about its secure, tacky grip, the beneficial reference dots in maintaining position, and the warm string fundamental it packs in healthy continuous pick strokes. V-picks has come into a limited supply of blue acrylic, and we couldn't pass on the opportunity to offer this to its fans.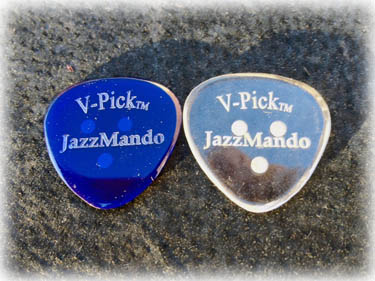 If there was any criticism in the V-pick, it was its transparency locating lost picks in the rare occurrence of a pick drop. In a poorly lit venue, sometimes it took a little extra hunting to find. The blue material addresses that, and lends a cool aesthetic at the same time. The material feels almost identical to the clear acrylic, although it might be a tad thinner (perhaps 1/10th of a mm thinner), but it's very close. We'll let you be the judge about any impact on playability or tone difference.
Also, the picks are entirely crafted by hand, because of this, the symmetry of the dots expose the slightest imperfection more so than the clear. This won't affect the playability, however. They still kick out great tone and feel very comfortable in the fingers.
Price on the blue raw material is significantly more expensive and they retail in singles for $14.95. We're offering the blue exclusively in bonus pick package, pairing them with a single clear pick at a specially reduce price of $19.95 ($24.90 value). Shipping is included (domestic and international).
Click to order:
JazzMando Blue V-pick single
1 Blue pick $14.95 (including shipping and handling)

---
LIMITED SPECIAL: JazzMando Blue V-pick with spare clear
2 picks $19.95 (including shipping and handling)

---

More V-pick models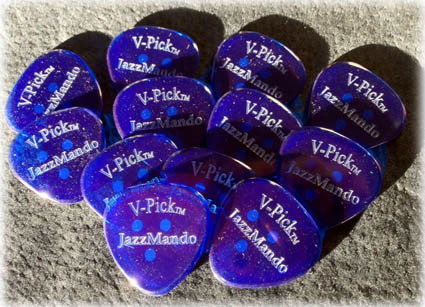 Original JazzMando V-pick details
Our other premium JazzMando prouducts:
JazzMando JM-11 Flatwound Mandolin Strings | JazzMando JM-10B Ball-end Flatwound Mandolin Strings | JazzDola JD-13 Flatwound Mandola Strings | JazzMando ProPlec Signature Picks | Jupiter Silkweave Polish Cloth | JazzMando JM11 String Shirt | "Getting Into Jazz Mandolin" Book and CD | JazzMando Case Lid Stickers
Posted by Ted at November 4, 2011 5:03 AM