« Let's go outside! | Main | Planet Waves PWPW1 String Winder »

March 22, 2011 | Romantic Melodies for Mandolin Solo
From our German friend and fellow Mel Bay author, Hans-W.F. Landau, "Romantic Melodies for Mandolin Solo," an intriguing collection of international classics to please yourself and audience. From the "Old World" "Ave Maria, to Scottish "Acrobatic Reel." and back to this side of the pond with "Sugarfoot Rag," this is an intermediate level 70 page fretboard collection published last year you can include in your performance repertoire or just personal woodshedding.
Starting off as a guitarist at the age of 11, Hans is well versed in the traditional folk styles, including flamenco and fingerstyle jazz guitar. In addition to performances and his writing, he teaches workshops in Europe.
Check the song listing on the Mel Bay website: Romantic Melodies for Mandolin Solo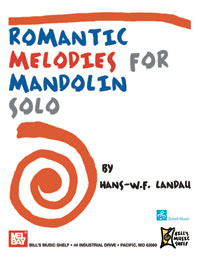 You might also be interested in downloading his earlier book now available in ebook format, Mandolin Instrumentals, which offers a chord melody approach to several popular instrumentals.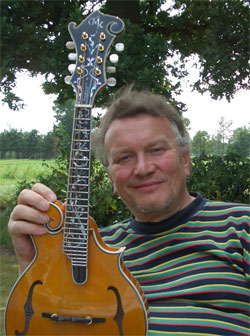 Posted by Ted at March 22, 2011 5:02 AM