« JazzMando 8th Anniversary | Main | Romantic Melodies for Mandolin Solo »

March 20, 2011 | Let's go outside!
Spring is here, officially that is. If you're in the northern hemisphere, you're gearing up for the change in seasons brought forth by the Vernal Equinox. This means t-shirts, shorts, and SPF lotion, very soon.
Speaking of going outside, how about our most recent Tips and Tricks entry by staff theory specialist Mark Wilson, "Going outside with Pentatonics?" If you have never gone beyond the primal simplicity of the five little notes in the Pentatonic scale, injecting them into the high octane sounds of Bebop jazz, now's your chance to take advantage of the dirty little secrets of Pentatonic improvising used by the greats, Charlie Parker, John Coltrane, Dizzy Gillespie and many more legends.
Mark gives you the road map to a whole new sonic frontier. There are also a wonderful two-page PDF exercise and cool accompaniment track for you to practice and jam over.
Enjoy!
Read article: Going outside with Pentatonics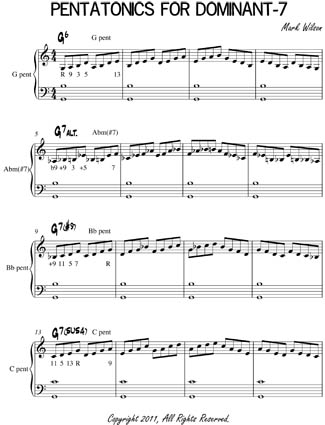 Posted by Ted at March 20, 2011 5:48 AM